Downtown Has Right R/x for Pharmacy Chain
LEASE: CVS signs up as sole tenant in shop across from Whole Foods.
Monday, March 9, 2015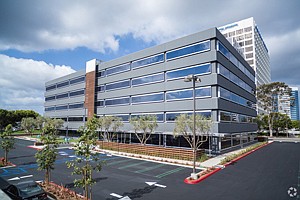 CVS Health Corp. is looking to cash in on the foot traffic expected from the much anticipated arrival later this year of downtown's first Whole Foods market.
The pharmacy chain has struck a deal with downtown's L&R Group of Cos. to be the sole tenant in a 15,000-square-foot store to be built at 812 S. Grand Ave., across the street from Carmel Partners' 770 Grand, a luxury apartment complex scheduled to open in November, where Whole Foods is taking about 42,000 square feet of ground-floor retail.
The retail and parking development, on the site of a parking lot operated by an L&R subsidiary, will house a pharmacy above a multilevel parking garage. CVS signed a 25-year lease valued at more than $22 million late last year, according to Colliers International's Adam Tischer, who represented the landlord.
CVS will be the sole retail tenant at the property, which will provide parking for both CVS and Whole Foods customers. Joe's Auto Parks will operate the parking garage.
Richard Landess of Irish Commercial Brokerage Inc. represented CVS. L&R Group was also represented by Matthew Fainchtein and Carter Magnin of Cushman & Wakefield.
Towering Deal
Wood Partners, an Atlanta developer of multifamily projects, and CBRE Global Investors of downtown Los Angeles have sold a 22-story luxury apartment high-rise project in downtown to Essex Property Trust Inc. of Palo Alto for $200 million or about $690,000 a unit.
Dubbed 8th+Hope, the project at 801 S. Hope St. is the first postrecession multifamily property to be built and listed for sale in downtown. The 300,000-square-foot, 290-unit glass-clad building was completed in August and is 55 percent rented.
Rents for the apartments, which range from 700 to 1,700 square feet, run from $2,774 to $7,060 a month.
"A lot of positive development and investment activity is taking place in downtown Los Angeles right now," said Brian Hansen, California director for Wood, a merchant builder.
Curtis Palmer of CBRE represented the sellers.
Hello, Kitty!
Sanrio Co., the Tokyo creator of the Hello Kitty brand, is relocating its Southern California office from Torrance to El Segundo, more than doubling the space it takes.
The company signed a lease for nearly 29,000 square feet at 2101 El Segundo Blvd., a five-story, 114,000-square-foot office building owned by Bixby Land Co. of Irvine. It will move this summer from its home in Torrance, where it takes about 15,000 square feet, according to industry sources, who estimate the new lease's term at about eight years.
Bixby bought the building in April 2013 for $12.5 million, or $109.42 a square foot, in a joint venture with Cornerstone Real Estate Advisers of Hartford, Conn., and last year completed a $25 million redevelopment to transform it into creative office space.
According to real estate data provider CoStar Realty Information Inc., monthly rents at the building are $3.40 a square foot, valuing the Sanrio lease at about $9.5 million.
Bixby is in lease negotiations for an additional 13,000 square feet of space that will bring the building to 89 percent occupancy, the company said. The building is now 80 percent occupied.
Jones Lang LaSalle represented Sanrio in the deal. Bixby was represented by Bill Bloodgood and Casey Benson of CBRE Group Inc. and Tony Ranger and Joe King of Madison Partners.
CityView Shifts Focus
H. Michael Schwartzman, former vice president of development at CIM Group in Los Angeles, has been named vice president of development at CityView.
Schwartzman, 49, will be responsible for overseeing the development of CityView's Southern California assets, including projects in Costa Mesa, San Diego and L.A.'s Koreatown.
At CIM, Schwartzman oversaw the Sunset Gordon tower project, a 22-story mixed-use property at 5939 Sunset Blvd. in Hollywood.
Sean Burton, president of CityView, said the private equity management and development company is looking to expand its development capabilities in California and elsewhere, and that Schwartzman's hire was part of a larger shift in that direction.
The developer was founded and is chaired by Henry Cisneros, former secretary of Housing and Urban Development in the Clinton administration and a former chairman of Univision Communications.
Staff reporter Hannah Miet can be reached at hmiet@labusinessjournal.com or at (323) 549-5225, ext. 228.
For reprint and licensing requests for this article, CLICK HERE.