Staples Center Runs Up Score With Suites, Seats
SPORTS: Venue plays up incentives to hit $100 million in VIP sales for first time.
Monday, March 2, 2015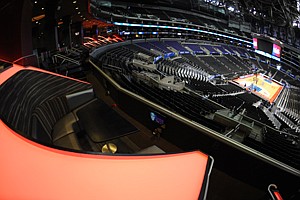 Staples Center has reached a new high.
For the first time in the building's 16-year history, facility owner AEG's premium sales department reached $100 million in annual sales for its suites and premier seating areas.
The deals came quickly: The fiscal year of Staples Center began Aug. 1, and reached its high point last week in just seven months. Of the $100 million, $13 million of the sales came through new contracts. The balance were renewals of existing deals.
"The sales team did a great job coming up with innovative incentives. Each deal is unique," said Lee Zeidman, Staples Center president.
Leases for the 150 suites at Staples Center start at $300,000 a year and contracts can be signed for terms of from 3 to 10 years. A lease gives the user access to all Kings, Lakers, Clippers and Sparks games as well as special events such as concerts and family shows. Premium seating slots, in the sections immediately beneath the suites at the extended center-court area, start at $15,900 a seat. Those reserved spots are granted the same access as suite holders; deals run for three-, five- and seven-year terms.
With both suites and premium seating, signing a longer-term contract locks in lower annual price escalations. A three-year deal for a $21,500 premium seat, for instance, carries an annual price escalation of 4 percent a year, while a seven-year deal locks in a 1 percent escalation.
While renewals and new sales helped the venue sell out its 150 suites and 2,377 premier seats for the sixth consecutive year, it was the addition of premium seating at the San Manuel Club, a dining area on the premier level, that pushed the venue past $100 million.
In the past, any premium ticket holder who purchased food at the club could linger at any seat there. But Staples Center management saw that many fans would spend much of the game sitting in the first row of those tables instead of in their seats and realized there was an opportunity to monetize that space.
As result, seven four-person tables were set aside in a new, semiprivate zone and offered at $150,000 a year; 18 private lounges were created that run $175,000 a year. Both offerings sold out, generating an extra $4 million for the arena. The club still offers dining, but the best sightlines are now reserved for those who signed contracts.
"We always look to upgrade premium inventory. People in Los Angeles have a tremendous amount of activities available to attend," said Zeidman.
Incentives abound
Although Staples Center has hosted seven National Basketball Association Finals and two of the last three National Hockey League Stanley Cup Finals, adding value beyond the traditional renewal incentives was still a priority for the sales team. Last year, as part of the renewal process, Staples Center brought a group of 20 longtime clients to the PGA's Masters golf tournament. The suite holders, who had all been with the arena since it opened, were given arranged transportation, accommodations and tickets to the final round.
"We wanted to create a bucket list opportunity for our clients," said Michele Kajiwara, vice president of premium seating. "They represent millions of dollars to the building. What we spent was well worth it."
They offered a similar trip for ticket holders to see the Kings' Feb. 21 outdoor game played against the San Jose Sharks at Levi's Stadium in Santa Clara.
Such trips are common, according to Tony Knopp, chief executive of TicketManager, a Calabasas company that helps companies manage and track returns on investment for their sports tickets. However, he said Staples Center has done a better job providing extra value to suite holders while not lowering prices.
"On a given night, approximately 30 percent of suites can be unsold for half the teams in the NBA and NHL," said Knopp. "Several teams have even removed some luxury suites from the arena."
Staples Center hosts about 250 events annually. This year's concerts include shows by Barry Manilow, Bette Midler, Nicki Minaj, Snoop Dogg, Ice Cube and five sold-out Taylor Swift shows. Private events, such as the Grammy Awards, are not included with suite packages.
In addition to its record-setting year at Staples Center, the department sold out all 12 Nokia Theatre L.A. Live private boxes.
For reprint and licensing requests for this article, CLICK HERE.