Living Doll
Mattel casts sales fortune with big-screen tie-ins
Monday, June 29, 2015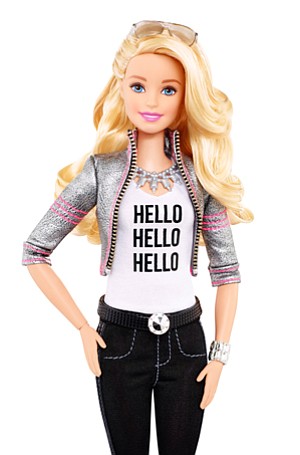 She wouldn't be the first blonde plastic starlet to make it big in Hollywood, but can Barbie become the next film sensation?
That's what El Segundo's Mattel Inc. is banking on, hoping to reverse slumping sales of the iconic doll and other toy lines with film tie-in opportunities.
But Mattel is a late arrival at the Hollywood party, trying to replicate the success competitors Hasbro Inc. and Lego Group have had over the past few years in monetizing their brands through movies in an era when toys linked to entertainment content outsell those that are not.
"I think Mattel was late to recognize the changes underway in consumer preferences," said Stephanie Wissink, an analyst who follows Mattel for investment bank Piper Jaffray in Minneapolis. "At the same time, the marketplace evolved faster than the company could pivot and change. … Mattel has lagged in its investment around content but they are now pivoting their approach."
That slow response has contributed to a rough few years for the toymaker, which has seen its sales and profits slump – and its stock plunge. Mattel shares hit an all-time high of $47.82 at the end of 2013 but have since lost 44 percent of their value. Shares closed June 24 at $26.74.
Barbie's troubles go back even further than Mattel's recent struggles, with sales having fallen for three straight years. Now, executives hope a hit movie could reverse the fortunes of the aging doll, which has been on store shelves since 1959. They say they recognize how important content is in selling Barbie and other toy lines.
"Now, more than ever, entertainment content has a tremendous impact on iconic consumer brands like ours," said Richard Dickson, Mattel's president and chief operating officer, in a statement to the Business Journal. "Consistent with our strategy to partner with recognized leaders in a variety of business-critical areas, we are working closely with the world's top studios, best filmmakers and talent to create blockbuster theatrical content."
Tremendous impact
For starters, Mattel has teamed with Culver City's Sony Pictures Entertainment to make a live-action Barbie comedy and an action movie based around its Masters of the Universe characters, which include He-Man, who was already played by Dolph Lundgren in a 1987 live-action film. Mattel is also planning to bring other brands to the big screen.
This move comes after other leading toymakers have recently been reaping big rewards from closely aligning with film companies.
For reprint and licensing requests for this article, CLICK HERE.
Prev Next