Living Doll
Mattel casts sales fortune with big-screen tie-ins
Monday, June 29, 2015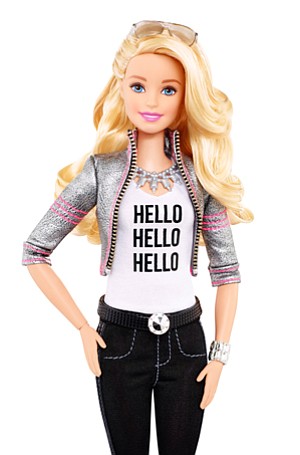 She wouldn't be the first blonde plastic starlet to make it big in Hollywood, but can Barbie become the next film sensation?
That's what El Segundo's Mattel Inc. is banking on, hoping to reverse slumping sales of the iconic doll and other toy lines with film tie-in opportunities.
But Mattel is a late arrival at the Hollywood party, trying to replicate the success competitors Hasbro Inc. and Lego Group have had over the past few years in monetizing their brands through movies in an era when toys linked to entertainment content outsell those that are not.
"I think Mattel was late to recognize the changes underway in consumer preferences," said Stephanie Wissink, an analyst who follows Mattel for investment bank Piper Jaffray in Minneapolis. "At the same time, the marketplace evolved faster than the company could pivot and change. … Mattel has lagged in its investment around content but they are now pivoting their approach."
That slow response has contributed to a rough few years for the toymaker, which has seen its sales and profits slump – and its stock plunge. Mattel shares hit an all-time high of $47.82 at the end of 2013 but have since lost 44 percent of their value. Shares closed June 24 at $26.74.
Barbie's troubles go back even further than Mattel's recent struggles, with sales having fallen for three straight years. Now, executives hope a hit movie could reverse the fortunes of the aging doll, which has been on store shelves since 1959. They say they recognize how important content is in selling Barbie and other toy lines.
"Now, more than ever, entertainment content has a tremendous impact on iconic consumer brands like ours," said Richard Dickson, Mattel's president and chief operating officer, in a statement to the Business Journal. "Consistent with our strategy to partner with recognized leaders in a variety of business-critical areas, we are working closely with the world's top studios, best filmmakers and talent to create blockbuster theatrical content."
Tremendous impact
For starters, Mattel has teamed with Culver City's Sony Pictures Entertainment to make a live-action Barbie comedy and an action movie based around its Masters of the Universe characters, which include He-Man, who was already played by Dolph Lundgren in a 1987 live-action film. Mattel is also planning to bring other brands to the big screen.
This move comes after other leading toymakers have recently been reaping big rewards from closely aligning with film companies.
On the strength of $468 million in worldwide box office for last year's "The Lego Movie," which was distributed by Warner Bros, Denmark's Lego saw its 2014 revenue climb to $4.3 billion, a 13 percent bump over the previous year. Three more Lego films are in development.
Meanwhile, Hasbro, headquartered in Pawtucket, R.I., has enjoyed huge success with the four movies based on its Transformers toys. That franchise, distributed by Paramount Pictures, DreamWorks and United International Pictures, has become the eighth-highest-grossing film series of all time and boosted toy sales in the process. Earlier this year, Hasbro, surpassed Mattel's market cap to become the most valuable publicly traded toy company.
Mattel, meanwhile, has struggled amid slumping sales and weak demand for its core brands, which include Barbie, American Girl and Hot Wheels. In its annual report for last year, the company reported net income of $499 million, down 45 percent from the year before. Sales slid 7 percent to $6 billion.
That prompted shakeups at the company. Former Chief Executive Bryan Stockton was fired in January, replaced by longtime board member and Chairman Christopher Sinclair. In March, the company announced it would lay off 107 employees at its El Segundo headquarters.
New approach
Over the past few months, the company has announced a handful of partnerships – including one with Google Inc. to develop a virtual reality version of its classic View-Master toy – and promised to focus on innovation. Last month, the company struck a deal to link more of its traditional toys to technology by partnering with Hong Kong mobile game developer Animoca to create games based on Mattel products.
But executives are also betting on movies, hoping Barbie, Masters of the Universe and other toy lines will get a retail boost in the wake of a blockbuster.
Entertainment isn't entirely new for Mattel, but much of its content has been released direct to DVD – Barbie has featured in 31 such animated tales since 2001. On the big screen, she is a supporting character in Pixar's "Toy Story 2" and "Toy Story 3."
But Mattel is working on higher-profile content and partnering with Sony to execute the first stage of the plan.
Diablo Cody, Academy Award-winning screenwriter of "Juno," is at work on the script for the Barbie movie, which is due to begin filming at the end of this year. The film's release date and cast have yet to be announced, although "The Wolf of Wall Street" actress Margot Robbie is considered a frontrunner to play the title role. Overseeing the film is Hannah Minghella, president of production at Sony film production unit Columbia Pictures.
Analyst Wissink said the Barbie movie and other film tie-ins might help boost Mattel's sagging sales – but it's not clear how much or for how long.
"It's difficult to know if these upcoming movies will change the performance of the brands, but if they follow the pattern of other content tie-ins, we should see some lift," she said. "The bigger question is if that lift is followed by sustainable demand or if the demand is only strong when the content is in the marketplace."
For reprint and licensing requests for this article, CLICK HERE.