Incubator Turns Up Heat With Additional Services
TECHNOLOGY: Science credits system for successes such as Dollar Shave Club.
Sunday, June 28, 2015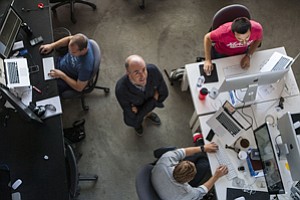 Dollar Shave Club grabbed headlines last week for raising a $75 million Series D round that took the online razor seller's valuation north of the $600 million mark.
The Venice e-commerce and viral video darling, which claims to account for 7 percent of all razor sales in the United States, was able to reach that height thanks in part to an early push from its friends at Science Inc., a Santa Monica operating company that's equal parts tech incubator, venture capital firm and consultancy.
Science was Dollar Shave Club's first investor, stepping up before the startup raised its $1 million seed round in March 2012.
"We benefited greatly from the relationship," Michael Dubin, Dollar Shave Club's chief executive, said in an email. "They were incredibly important early on in helping me think through the mechanics of raising money, while also offering very valuable operational guidance."
What makes Science unique is its in-house team of 30-plus employees who provide expertise in finance, media buying, campaign management, data analytics, design and social media to its portfolio of more than two dozen businesses. The idea is to have the full-time staff work closely with founders to scale the business by acquiring customers as quickly and efficiently as possible. Many of the companies work under the same roof at Science's Second Street headquarters.
"Over time, we started realizing … there were areas we could help the early stage investments operate, said David Fink, Science's chief revenue officer.
Science was co-founded in 2011 by former Myspace Chief Executive Michael Jones and Peter Pham, a sales and business development executive at businesses such as Denver image-hosting company Photobucket.
"It's like a whole army of people who have learned lessons in very similar companies," said Buck Jordan, managing partner at Santa Monica venture capital firm Canyon Creek Capital. "There's some tribal knowledge that translates to new Science companies."
Customer growth
In the four years Science has been around, its principals have formalized that structure and built out a large infrastructure to support it.
"We've professionalized what some would call an agency," said Fink. "We work hand in hand with organizations to understand their growth needs."
That assistance includes identifying how many customers should come from Facebook versus search-engine marketing, how to convert ad clicks into transactions though engaging design and calculating the lifetime value of a customer.
While you might think that involves getting the best results for the least amount of money, that's not the case, explained Fink.
"There was a time when marketers thought, How do you get the cheapest traffic to your site?" he said. "We've realized the better approach is: How do I spend the most amount of money to beat the competition?"
Influencer marketing is another vital component of Science's growth strategy. Two companies in its portfolio, Famebit and HelloSociety, work with other Science startups to help them acquire customers by crafting campaigns on YouTube, Instagram, Vine, Pinterest and Snapchat, which feature popular users on those platforms known as influencers.
That approach was a key selling point for the newest company under Science's roof, Quarterly Co., a subscription service that sends customers gift boxes filled with items hand-picked by celebrities every three months. Science became a minority investor earlier this month.
"Famebit was our first conversation," said Quarterly founder and Chief Executive Zach Frechette. "We are excited to take advantage of all the resources that Science has to offer."
The growth strategy has worked so well that Science has spun off its media and marketing team into a company called Science Growth Labs, which offers its services to third parties such as Marina del Rey e-card maker JibJab Inc., and a number of others.
With breakout successes such as Dollar Shave Club and online dog-sitting service DogVacay, which raised a $25 million Series B round in November, the opportunity to work with Science's team comes at a price.
While an accelerator like Venice's Amplify.LA will take an equity position of between 5 percent and 15 percent in exchange for a $250,000 to $500,000 investment, Science often takes a bigger cut, though Jones, its chief executive, said there are no set terms in place and every deal is different.
"There's no benchmark for equity or ownership," said Jones. "It's a different way to approach investing and building companies."
But Canyon Creek's Jordan said that even though founders might be giving up more equity up front, it could pay off down the line thanks to the shortened learning curve that Science's team provides.
"You're going to give a larger portion of equity, but you're probably going to raise at a higher valuation" in subsequent funding rounds, he said.
Gil Elbaz, founder and chief executive of Century City location data company Factual Inc., said Science's investment and operational approach is often useful for solo founders without a large team around them.
"Many sole founders express how lonely it is to be held accountable all by themselves," said Elbaz, who's also a founding partner at Century City venture capital firm TenOneTenVentures. "Science kind of acts as an alternative to looking for a co-founder. With the vested interest they have, they're really going to roll up their sleeves."
For reprint and licensing requests for this article, CLICK HERE.