New Matter's 3-D Printers Start Shipping
Wednesday, June 24, 2015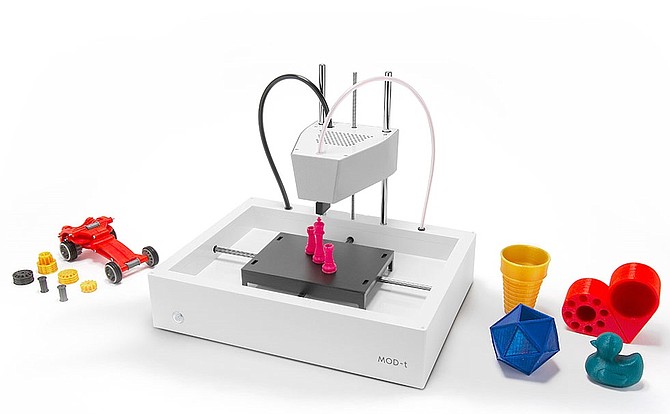 Consumer 3-D printing companies have struggled lately to balance consumer expectations and price, but New Matter thinks it has found the sweet spot.
A little over a year since starting as a fundraising project on Indiegogo, New Matter, which is being incubated at Pasadena's Idealab and has raised an additional $6.5 million in venture capital, shipped its first 3-D printers this week. The startup believes it can soar where others have stumbled by selling 3-D printers that are cheaper and more user-friendly.
"The mission from day one was to make 3-D printing more accessible to everyone," said Chief Executive Steve Schell, "to get it out to a more mainstream audience."
Many believed 3-D printing would replace traditional manufacturing and retailing because the machines could conceivably produce any object on-demand. Limitations in the strength and appearance of 3D printed objects and high asking prices for 3-D printers, however, have dashed those expectations.
Leading consumer 3-D printing company MakerBot Industries of New York, for example, this April laid off 20 percent of its workforce, after its 3-D printers, which are price in the thousands of dollars, failed to sell well.
New Matter believes it won't suffer the same fate, as its MOD-t 3-D printer is priced at $399.
"Our approach is to get the equation right," Schell said. "I don't believe for New Matter to be successful we have to be the cheapest. We need to be affordable and within the family of 3-D printers we need to be the best."
To make it easier for new users to start using the MOD-t 3-D printer, New Matter has collected a library of vetted 3-D printing designs on its website and configured the printer to be operated via a Wi-Fi connected desktop or laptop computer.
Not wanting to disappoint consumers like its predecessors have, New Matter is also working on educating its prospective customers on the best uses for 3-D printing.
"If your end goal is an object that is very standardized, 3-D printing may not be the best for that because mass manufacturing with mold injection is much cheaper," said Schell. "Personalization and customization" is where 3-D printing excels.
"The applications that I am most excited about today are the creative ones," he said. "Printing a picture frame and making it personalized for you… your personal stamp on these objects around your home."
Schell doesn't think that the 3-D printing hype is wrong, just a little early.
"It's an evolution in the market that we are going through," he said. "The first step was the makers. Eventually, the next step is to get (3-D printing) to that state where it's a pragmatic appliance at home."
Technology reporter Garrett Reim can be reached at greim@labusinessjournal.com. Follow him on Twitter @garrettreim for the latest in L.A. tech news.
For reprint and licensing requests for this article, CLICK HERE.