Rapper Puts Opposition to Beer Deal on Record
ALCOHOL: Snoop Dogg alleges Pabst sale spun to deny him payday.
Monday, June 22, 2015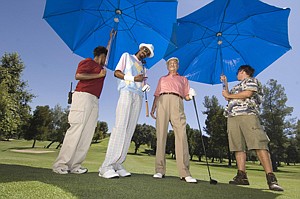 Snoop Dogg wants Westwood beer giant Pabst Brewing Co. to know he still has his mind on his money and his money on his mind.
But the rap star, whose legal name is Calvin Broadus Jr., is anything but laid back about it. This month, he went after the beer maker, saying he's due a 10 percent stake in its Colt 45 malt liquor line as part of an endorsement deal he struck with the brand's former owner.
The battle comes as celebrities, whose endorsements have long been coveted by consumer brands, have become increasingly savvy about cutting more sophisticated deals rather than taking a one-time check for their services. In part, that's because these deals can serve as a hedge against short-lived entertainment careers or, in the case of the music business, a broad decline in record sales.
"They definitely need other revenue streams," said Kevin Tighe, chief executive of Manhattan Beach startup WeBrand, which connects businesses with celebrity endorsers. "Even if they aren't getting paid off of it for a while, they're becoming much more relevant. It's something going on that's helping to extend their career."
The deal between Broadus and Pabst, finalized in 2011, was set up to pay the rapper $250,000 initially plus royalties from Colt 45 sales and merchandise, according to the contract filed by Broadus' lawyer in Los Angeles Superior Court this month. It also called for him to get a big payday if the brand was sold.
At the time, Pabst was owned by C. Dean Metropoulos, a billionaire investor based in Connecticut. Metropoulos bought the beer company, founded in Milwaukee in 1844 by German emigrant Jacob Best, in 2010 for about $250 million and moved its headquarters to Westwood.
The company owns several brands: Schlitz, Old Milwaukee, Lone Star and Colt 45, but is best known for its Pabst Blue Ribbon, or PBR.
PBR, a favorite among hipsters and college students for reasons of irony more than flavor, was in 1935 the first beer to be sold in cans. Today, Pabst is the third-largest brewing company in the United States, according to the nonprofit Brewers Association.
In 2011, Pabst introduced Blast by Colt 45, a fruit-flavored malt liquor, which Broadus was tasked with promoting as a brand ambassador.
More money
Broadus, as Snoop Dogg, rose to fame in 1992 when rapper and producer Dr. Dre featured him on an album. Broadus' debut album was released the following year and quickly took over the gangsta rap scene. He released his 13th studio album, "Bush," last month, and it promptly hit No. 1 on Billboard's list of R&B and hip-hop albums.
Seeing the rapper's popularity, Pabst sought to tap his deep fan base (12.3 million Twitter followers). But these deals have increasingly become a two-way street, and there was upside potential for Broadus as well if the partnership worked.
Celebrities, said Tighe, also have a lot to gain from such contracts.
"People are making less and less money, especially in the music world," Tighe said. "They're making a lot less money from sales, so they're making most of their money from these types of deals. … 50 Cent made more money from his Vitaminwater deal than he did from all his music. So when it works, it works."
Rapper 50 Cent and his management famously negotiated an endorsement deal with Glaceau, maker of Vitaminwater, which is now owned by the Coca-Cola Co. That deal gave the artist a stake in the company that would escalate if certain benchmarks were hit. The terms were confidential, but it has been reported that the musician could take as much as 10 percent of the business and is now estimated on the strength of that deal to have a net worth of about $500 million.
"The bottom line is every marketer is looking to cut through the clutter and celebrities can help you do that," said Philip Rebentisch, president-elect of the American Marketing Association Los Angeles. "Celebrities are perceived as royalty in this country."
But endorsement deals, he said, can be a double-edged sword.
Nike Inc. and Anheuser-Busch Cos. pulled the plug on high-dollar endorsement deals with former professional cyclist Lance Armstrong, who won seven consecutive Tour de France titles, after his use of performance-enhancing drugs came to light.
Brands, in general, need to avoid being associated with misbehavior, Rebentisch said, because it could ultimately lead to a drop in revenue and reputation.
"If there's a dispute, you want to be able to fix it in-house," he said. "You don't want it to blow up because who's going to be at the losing end of that PR battle? The fans, in general, are going to be loyal to the star they follow."
While the media focuses on deals that go south after a celebrity gets wrapped up in controversy, the fights that land in court are more often traced back to money, said Kent Raygor, partner in the entertainment, technology and advertising group at Sheppard Mullin Richter & Hampton in Century City.
"These types of disputes are triggered simply because the company is making a lot of money off (a celebrity), so a celebrity will try to sue to get a better deal," said Raygor, who mostly represents businesses but has represented some celebrities. "It sounds kind of obvious but the main way to avoid disputes down the road is to be fair to the celebrity."
Brewing battle
Broadus is claiming that he's seeking his fair share of a deal struck with Metropoulos by his Century City company, Spanky's Clothing Inc. The agreement, according to court documents, expired in January of last year.
At issue is a "phantom-equity" clause within the contract that Broadus says would grant him 10 percent of the net sale price attributable to the Colt 45 brand in the event a deal was completed before January 2016, according to the complaint.
Pabst was sold last year for a reported $700 million to beer entrepreneur Eugene Kashper with backing from San Francisco private equity firm TSG Consumer Partners.
"Upon discovery of the sale, (Broadus and his company) reached out to Pabst to discuss Mr. Broadus' right to collect 10 percent of the price realized by Pabst stockholders in connection with that portion of the sale attributable to the Colt 45 brand family," Broadus' attorney Alex Weingarten says in the complaint. "Despite the sale, Pabst has taken the very convenient position that no transaction has occurred such that … the phantom-equity clause would be triggered."
Weingarten, partner in the Century City office of Venable, said he was unable to elaborate on the case. Broadus, through his attorney, also declined further comment.
The rapper has sued both the buyer and the seller, alleging they structured the deal in a way that would cut him out.
Pabst's new owners, on the other hand, claim they were not aware of the dispute until the case was filed this month.
"Pabst Brewing Co. has been under new ownership and new management since November 2014," a spokeswoman said in a statement. "We have not been contacted by Snoop Dogg or his representatives about this issue. We are investigating the matter and would be happy to talk to Snoop or his representatives to try to get to the bottom of this."
The beer company declined further comment and its previous owners could not be reached for comment.
Raygor, the entertainment attorney at Sheppard Mullin who's not involved in this case, said it's historically less common to see similar disputes end up in court. But at the same time, he added, as more endorsement deals are made, more legal feuds are sure to follow.
"You're going to see increasing numbers of these types of disputes," Raygor said. "One of the biggest growth areas I've seen recently is advertising-related law."
For reprint and licensing requests for this article, CLICK HERE.