Late Billionaire's Net Worth Likely to Stay Unknown
INVESTMENT: Analysts expect smooth handling of Kirk Kerkorian's estate.
Monday, June 22, 2015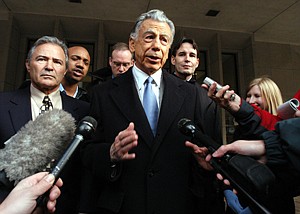 Kirk Kerkorian was once the wealthiest man in Los Angeles – by a wide margin – and still ranked among the wealthiest Angelenos until his death last week at the age of 98.
The multibillionaire, worth an estimated $6.5 billion, ranked No. 6 on the Business Journal's list of the Wealthiest Angelenos this year. His fortune, built over decades in the casino and entertainment industries, once topped $16 billion, the biggest stack ever accumulated here. And for six years, he topped the Wealthiest Angelenos, a record run surpassed only recently by biotech and tech investor Patrick Soon-Shiong.
Now that he's gone, though, it's not clear where his vast wealth will go – or what it amounted to in the end.
Through Beverly Hills' Tracinda Corp., Kerkorian owned a 16 percent stake in Las Vegas casino operator MGM Resorts International, worth about $1.8 billion. But other than those shares, Kerkorian had few disclosed holdings. (The Business Journal's calculations of Kerkorian's wealth relied substantially on estimates, as did valuations by other publications.)
His business was handled through Tracinda, a private holding company that doesn't have to publicly declare its investments, other than its big MGM stake. Executives there declined to comment.
Assuming Kerkorian handled his estate with the sophistication befitting a multibillionaire, there's unlikely to be anything that would give the outside world a peek.
Tim Lappen, a partner who runs the family office group at Century City law firm Jeffer Mangels Butler & Mitchell, said he expects Kerkorian's estate to be handled smoothly – and privately.
"Given what I know about him, I would expect that there'd be no court case and I'd expect that within a year or so all of the documents that need to be filed and transfers that need to be made will be done," Lappen said. "I'm not aware of any drama that would make this other than a straightforward situation."
Lappen, who has no involvement in Kerkorian's estate planning, said he would expect much of Kerkorian's remaining wealth to go to charitable foundations and to his two daughters, Tracy and Linda, for whom Kerkorian named both the holding company Tracinda and his now-defunct charitable arm, the Lincy Foundation.
Though Kerkorian shut down the foundation in 2011 and gave its $200 million in assets to UCLA to support medical research and other programs, Lappen said it's likely Kerkorian – a rare captain of industry who didn't splash his name across his donations – put a charitable component in his estate plan.
For reprint and licensing requests for this article, CLICK HERE.
Prev Next