Games Over
Empty Staples Center leaves eateries hungry for diners
Monday, June 22, 2015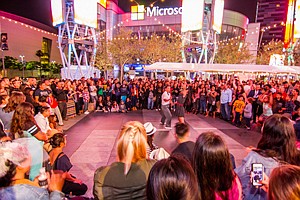 Sometimes that's not possible. AEG officials estimate this year they lost out on as many as six to eight dates that were left unfilled by other events. (Those are the six to eight home games the Clippers might have played had they advanced to the third or fourth rounds, and gone the distance in seven-game series.)
Those missing dates and nights booked with smaller events are a stark contrast to the swarm of activity the Staples Center and nearby businesses have grown accustomed to. Over the previous three years, the arena hosted an average of 18 basketball and hockey playoff games a year – more than twice the number of games played this year – with games often played as late as the middle of June. This year, the final playoff game came May 14.
While AEG officials said the arena operator's loss of revenue from the empty dates has been minimal, those eventless nights can have a big impact on restaurants and bars.
Prendergast said that when he consulted on a project at LA Live a few years ago, he projected that a business could do about 10 times more business on a game or event night than on an eventless one. So, if a business projects $5,000 in sales on a normal business day, it could potentially see sales of about $50,000 when there's a game.
With a dozen fewer playoff games this year than last, that adds up to big money.
"You're probably losing somewhere in the neighborhood of half a million to a million in sales," Prendergast said. "So, without the Lakers and the Kings in the playoffs, you're dead in the water. There's nothing going on."
He said that's especially tough for business within LA Live proper, where he said tenants pay as much as $7 or $8 a square foot a month – a super-premium price that can only be justified by the kinds of crowds drawn by sporting events.
More than sports

But some businesses point out that sports aren't the only attraction bringing customers to the area.
Javier Cano, vice president and market general manager overseeing both the Ritz-Carlton and JW Marriott hotels at LA Live, said the majority of the hotels' business – about 65 percent – is made up of group bookings and conventions.
He said the hotel is often at full occupancy, regardless of what's on tap at Staples, and that would-be customers wanting to stay at the hotels to see a playoff game are often unable to book a room anyway.
For reprint and licensing requests for this article, CLICK HERE.