Games Over
Empty Staples Center leaves eateries hungry for diners
Monday, June 22, 2015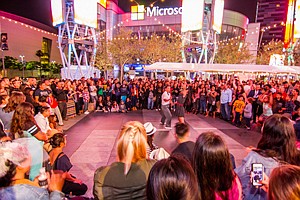 The basketball-hockey playoff season in Los Angeles usually means thousands of fans cramming into Staples Center, and thousands more hanging out at LA Live to catch a game over drinks and food.
But with the Clippers eliminated after the second round of the National Basketball Association playoffs and hoop rival Lakers and pro hockey's Kings absent from the postseason, it's been a quiet few months at Staples – and neighboring businesses are feeling the pinch.
With just seven postseason games, all for the Clippers and the last one more than a month ago, this year marks the arena's slowest playoff season since 2007, when the venue hosted just two.
For bars and restaurants, both at LA Live and elsewhere near the downtown arena, that means fewer patrons and fewer hours for workers, said Ricardo Avila, general manager of El Cholo's outpost on Flower Street, just a block east of Staples.
"We notice when there's no Clippers, Lakers and Kings," Avila said. "We prepare less food, schedule less people."
Paige Cram, director of marketing and events at Tom's Urban at LA Live, said restaurants there are used to the ebb and flow of crowds depending on the Staples schedule, but this spring has been noticeably quieter.
"There are fewer people coming to LA Live," said Cram, whose company also operates Live Basil Pizza and Smashburger at the complex. "The effect I think is the same for all three locations."
When nearly 19,000-seat Staples is full, surrounding businesses can score big bucks, drawing huge crowds before, after and often during games. But that also represents a risk to restaurants' bottom lines as sales are so dependent on events, said Jerry Prendergast, a restaurant consultant with West L.A.'s Prendergast & Associates.
"You don't get in the car and say, 'Let's go to LA Live and go to Fleming's,'" Prendergast said. "Why drive down there to go to dinner when there's a Fleming's in Beverly Hills and in Newport? So, it's driven totally by the Staples Center and it's really driven by sports."
Empty dates
Events at Staples, as at many large venues, are often booked years in advance. But in keeping with its deals with all three sports team tenants, Staples must leave dates open from mid-April to June until each wraps its postseason run.
When a team is eliminated early or, as in the case of this year's Lakers, it's clear a team isn't bound for the postseason, Staples owner Anschutz Entertainment Group might be able to find other – albeit smaller – events to bring business to LA Live.
Sometimes that's not possible. AEG officials estimate this year they lost out on as many as six to eight dates that were left unfilled by other events. (Those are the six to eight home games the Clippers might have played had they advanced to the third or fourth rounds, and gone the distance in seven-game series.)
Those missing dates and nights booked with smaller events are a stark contrast to the swarm of activity the Staples Center and nearby businesses have grown accustomed to. Over the previous three years, the arena hosted an average of 18 basketball and hockey playoff games a year – more than twice the number of games played this year – with games often played as late as the middle of June. This year, the final playoff game came May 14.
While AEG officials said the arena operator's loss of revenue from the empty dates has been minimal, those eventless nights can have a big impact on restaurants and bars.
Prendergast said that when he consulted on a project at LA Live a few years ago, he projected that a business could do about 10 times more business on a game or event night than on an eventless one. So, if a business projects $5,000 in sales on a normal business day, it could potentially see sales of about $50,000 when there's a game.
With a dozen fewer playoff games this year than last, that adds up to big money.
"You're probably losing somewhere in the neighborhood of half a million to a million in sales," Prendergast said. "So, without the Lakers and the Kings in the playoffs, you're dead in the water. There's nothing going on."
He said that's especially tough for business within LA Live proper, where he said tenants pay as much as $7 or $8 a square foot a month – a super-premium price that can only be justified by the kinds of crowds drawn by sporting events.
More than sports

But some businesses point out that sports aren't the only attraction bringing customers to the area.
Javier Cano, vice president and market general manager overseeing both the Ritz-Carlton and JW Marriott hotels at LA Live, said the majority of the hotels' business – about 65 percent – is made up of group bookings and conventions.
He said the hotel is often at full occupancy, regardless of what's on tap at Staples, and that would-be customers wanting to stay at the hotels to see a playoff game are often unable to book a room anyway.
The traffic from hotel conventions and neighboring activity from the Los Angeles Convention Center, such as the massive Electronic Entertainment Expo it hosted last week, helps sustain merchants including Red Mango, a frozen yogurt and smoothie shop.
Kathy Hamill, who owns the Red Mango franchise at LA Live, said May was a slow month for the shop, though not a terrible one.
"We have a lot of options to keep us sustained even when games aren't happening," Hamill said.
For example, AEG hosts a yearly event called Summer in the City to drive traffic to the area on what planners call dark nights – that is, nights when no events are scheduled at Staples or the Microsoft Theater (formerly the Nokia Theater).
The events attempt to lure patrons with free performances, graffiti art demonstrations and pop-up retails shops as well as free parking and discounted restaurant prices. Those events can bring in as many as 10,000 people, according to Hamill.
That's not equivalent to the more than 20,000 fans who might descend on Staples and LA Live for a playoff game, but it's better than nothing for restaurants.
"We have to be a little more focused and do a little more work to get people down here with incentives," said Cram of Tom's Urban.
For reprint and licensing requests for this article, CLICK HERE.