Games Over
Empty Staples Center leaves eateries hungry for diners
Monday, June 22, 2015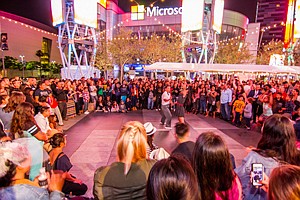 The basketball-hockey playoff season in Los Angeles usually means thousands of fans cramming into Staples Center, and thousands more hanging out at LA Live to catch a game over drinks and food.
But with the Clippers eliminated after the second round of the National Basketball Association playoffs and hoop rival Lakers and pro hockey's Kings absent from the postseason, it's been a quiet few months at Staples – and neighboring businesses are feeling the pinch.
With just seven postseason games, all for the Clippers and the last one more than a month ago, this year marks the arena's slowest playoff season since 2007, when the venue hosted just two.
For bars and restaurants, both at LA Live and elsewhere near the downtown arena, that means fewer patrons and fewer hours for workers, said Ricardo Avila, general manager of El Cholo's outpost on Flower Street, just a block east of Staples.
"We notice when there's no Clippers, Lakers and Kings," Avila said. "We prepare less food, schedule less people."
Paige Cram, director of marketing and events at Tom's Urban at LA Live, said restaurants there are used to the ebb and flow of crowds depending on the Staples schedule, but this spring has been noticeably quieter.
"There are fewer people coming to LA Live," said Cram, whose company also operates Live Basil Pizza and Smashburger at the complex. "The effect I think is the same for all three locations."
When nearly 19,000-seat Staples is full, surrounding businesses can score big bucks, drawing huge crowds before, after and often during games. But that also represents a risk to restaurants' bottom lines as sales are so dependent on events, said Jerry Prendergast, a restaurant consultant with West L.A.'s Prendergast & Associates.
"You don't get in the car and say, 'Let's go to LA Live and go to Fleming's,'" Prendergast said. "Why drive down there to go to dinner when there's a Fleming's in Beverly Hills and in Newport? So, it's driven totally by the Staples Center and it's really driven by sports."
Empty dates
Events at Staples, as at many large venues, are often booked years in advance. But in keeping with its deals with all three sports team tenants, Staples must leave dates open from mid-April to June until each wraps its postseason run.
When a team is eliminated early or, as in the case of this year's Lakers, it's clear a team isn't bound for the postseason, Staples owner Anschutz Entertainment Group might be able to find other – albeit smaller – events to bring business to LA Live.
For reprint and licensing requests for this article, CLICK HERE.
Prev Next