Revenge Fuels Energy Fight
MANUFACTURING: Ex-exec looks to zap former family firm.
Sunday, June 21, 2015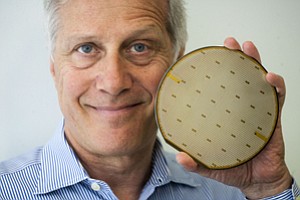 For Alex Lidow, revenge is a dish best served fast, cheap and efficiently.
The former chief executive of semiconductor manufacturer International Rectifier Corp. is still smarting from the way his family departed that company, which was co-founded by his father and grandfather in the late 1940s. Pushed out, he claims, nearly a decade ago from the company they built, Lidow went on to form a competitor, Efficient Power Conversion, just down the street from International Rectifier's El Segundo offices.
In April, the company released what it said is a cheaper, more efficient product that could upend the $30 billion power conversion market dominated by International Rectifier.
"I am going to go after their gut," Lidow warned. "I'm their worst nightmare."
Power conversion involves creating tiny devices that convert electricity from one form to another, enabling all manner of electrical gadgets to function. Till now, silicon had been the preferred medium for power conversion processors, but as that element reaches the limits of its efficiency, attention has focused on new materials.
Lidow had been looking at one of those, gallium nitride, before he left International Rectifier in 2007, figuring the time when silicon would be replaced was near. The efficiency of silicon for power conversion had been improved to the point where any subsequent fine-tuning would be cost prohibitive.
"You can't get a high return on a capital investment," Lidow explained.
His focus on gallium nitride came, he said, because it has intrinsically better properties.
And if anyone should know, it's Lidow. He helped invent International Rectifier's silicon-based power conversion device, which was released in 1979 and has been the company's core product ever since.
Turbulent history
International Rectifier was the brainchild of Lidow's father, Eric.
A Lithuanian Jew, Eric Lidow fled to the United States from Nazi Germany in 1937 after studying electrical engineering at the Technical University of Berlin. He arrived in the country with $14 in his pocket and no command of English, but 10 years later co-founded International Rectifier with his father, Leon. It has come a long way since then.
By the time the company was sold to German competitor Infineon Technologies for $3 billion in January, it was posting annual sales of $1.1 billion. While the family members were long gone, Alex Lidow did make money from the sale as a shareholder.
Eric Lidow retired at 93 as chairman of International Rectifier in 2008, and Oleg Khaykin, its then-president and chief executive, sang his praises, saying in a statement, "The legacy of Eric's leadership during his 60 years at IR will remain."
For reprint and licensing requests for this article, CLICK HERE.
Prev Next