Independent Virtual Reality Studios Benefit as Early Movers
Wednesday, June 17, 2015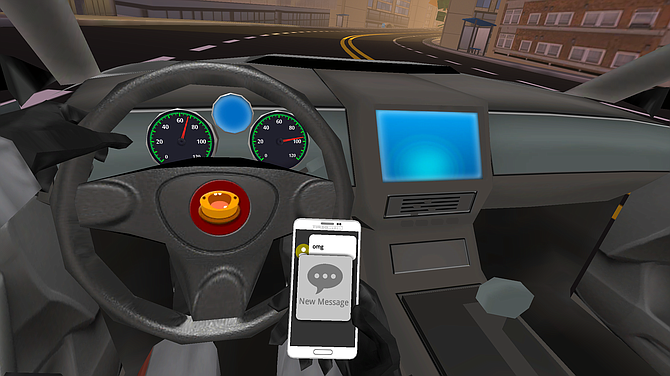 As big players in the virtual reality industry try and suss out a path forward, local independent gaming studios and hobbyists are finding some early victories.
"It's a lot easier for us to pitch games in the last six months compared to last year," said Holden Link, founder of Los Angeles virtual reality gaming studio Turbo Button. "We've been doing this as hobbyists and passion projects for long enough that we have the skills to pull it off, whereas a lot of other teams are just getting started. That's worked out in favor of a lot of the indies who got on board early."
Still profiting handsomely from their blockbuster console games, but not wanting to be caught out of the loop, many large gaming companies are granting small contracts to independent developers in Los Angeles, often to develop cutesy, experimental virtual reality games.
For its part, Turbo Button has been showing studios a virtual racing game called SMS Racing, in which players must send virtual text messages as they drive around a track. The game helps acquaint players and studios alike with the best approaches to building, selling and playing virtual games.
"There's a lot of companies looking at what happened with mobile and how some of them got caught off guard with the explosion of mobile games," said Link. "Even if virtual reality is not a sure bet in their eyes yet, a lot of them want to get started somehow."
The direction virtual reality is headed in remains unclear. While rapid advances in headsets such as Oculus Rift have created a lot of buzz, motion control devices – the hardware necessary for simulating movement – appear to be lagging.
At the E3 video game conference at the Los Angeles Convention Center this week, manufacturers displayed a variety of motion control devices, including motion-sensing virtual guns, virtual walkers and gloves; no device, however, was especially compelling.
Still, with motion control hang-ups in mind, gaming companies are preparing for a world where virtual reality is their next big money maker.
"There are some very bullish forecasts for how many headsets we will be selling over the next couple of years," said Link. "If those games are going to be coming out, for the people who have the headsets, for some of those projects the teams have to get started on them now."
Technology reporter Garrett Reim can be reached at greim@labusinessjournal.com. Follow him on Twitter @garrettreim for the latest in L.A. tech news.
For reprint and licensing requests for this article, CLICK HERE.