Early Kickoff For NFL Cases
LAW: Plaintiffs field suits over team relocation, stadium plans.
Monday, June 8, 2015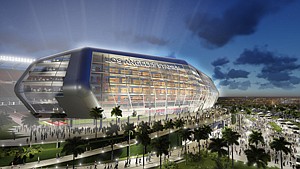 Pro football won't be played in Los Angeles until next year – at the earliest – but the games have already begun.
Rather than Inglewood, Carson or Pasadena, the line of scrimmage is taking shape in Los Angeles Superior Court, where litigants have begun to stake their claims for or against particular proposed projects. And once the National Football League makes a decision about allowing a team to move to Los Angeles – which might come as soon as this fall – local courts could see teams of lawyers in a blitz of litigation, creating a years-long bounty for L.A. attorneys.
"It's inevitable," said Felix Tinkov, an early litigant. "Projects of this size don't move forward without lawsuits challenging virtually every aspect of them."
With the San Diego Chargers, Oakland Raiders and St. Louis Rams all apparently moving ahead in their quests to call Los Angeles home for the 2016 season, many expect a series of lengthy court battles as residents, developers, league officials and government agencies squabble over the details of the NFL's return to the country's second largest market.
A handful of cases have already been filed and Ed Casey, a partner in the land-use practice at Alston & Bird's downtown L.A. office, said he and other land-use attorneys are ready to play defense as the cases keep rolling in. The next wave of litigation, he added, is likely to hit any day – even before the NFL decides whether to allow a team to move here.
"I don't think they're going to wait whatsoever," he said. "I think we're right there. I would expect it to happen very soon."
But another attorney, who asked not to be named because his firm represents an NFL team – one not considering relocating to Los Angeles – said it won't be until the league makes a decision that the cases will really start piling up.
"Everything is sort of speculative and obviously the courts are not in the business of deciding issues that are not ripe yet," he said. "Once a team is identified, I think that's when you know it's going to happen and that's when you'll see an uptick in litigation."
The deadline for teams to apply for relocation is Feb. 15, though league officials have said that date might be pushed forward.
If the NFL approves a team's relocation bid, the attorney whose firm represents a team said, it's likely to prompt a flurry of legal battles from whichever team (or teams) are blocked from making the move.
"Movement in the modern NFL of franchises isn't common, and because the biggest moneymaker in football – and really all of sports – is television revenue, geographic location is sort of the whole ball of wax," he said. "The relative size of the television market means the difference between breaking even and having a multibillion-dollar franchise. … Anytime there are issues with respect to that, you'll probably see litigation. I would not expect them to work that out amicably if everybody doesn't get precisely what they want."
And it's not only those who lose out that are expected to head to court. Complaints from residents and nearby cities about negative economic and environmental impacts from a stadium are also likely to land before a judge.
Heating up
Even though so much remains uncertain, court battles have already started.
The Voice of San Diego, a nonprofit online news organization, last month sued the city of Carson, accusing it of violating public information laws.
Shortly after the Chargers and Raiders announced in February that they would pursue a shared, $1.7 billion stadium in Carson, the Voice asked the city for records of any communication among its officials, the two teams or the league, said Tinkov, the early litigant who's representing the news organization.
That request escalated into a legal battle when the city told the Voice that no such public records exist.
"Something doesn't smell right," Tinkov said. "There is no way a deal of this magnitude ever goes forward without individuals meeting and discussing and communicating."
Carson City Attorney Sunny Soltani balked at the allegations last week, calling the lawsuit frivolous.
"We ran a search on our server – we even went beyond what they're asking for – and there are no such documents that exist on any device that's in control of the city," Soltani said. "This is a complex, sophisticated deal. It was negotiated between attorneys and it was presented to the council at the council meeting. The entire deal was approved publicly."
The Voice's request, she added, was very narrow as it asked only for communication records involving the city's three council members and mayor. She said the deal was handled entirely by lawyers, which means most records are protected by attorney-client privilege.
A trial date is set to be scheduled in the fall.
Tinkov said his is merely the beginning of a flood of cases pertaining to the NFL's possible return to Los Angeles.
That said, moves by both Carson and Inglewood might have forestalled one potential challenge to a stadium project.
Playing defense
The proposed Carson stadium, as well as Rams owner Stan Kroenke's plan for a $1.86 billion stadium on the former site of the Hollywood Park racetrack in Inglewood, dodged major bullets when they bypassed a state law requiring an extensive environmental review by qualifying for ballot initiatives and, subsequently, getting approvals from the respective city councils. Projects approved through ballot initiatives are exempt from California Environmental Quality Act, or CEQA, review, blocking the go-to hammer that opponents of projects pick up when they want to stop or stall developments.
"Since CEQA tends to be the single largest nexus of development lawsuits, that's not likely to happen in Carson and Inglewood," Tinkov said.
Meantime, just as the Voice's case was launched, another local NFL-related case wrapped up.
In that case, a group of resident associations in Pasadena accused the city of failing to properly take into account the negative impacts of increased traffic, air pollution, noise and neighborhood parking that could arise from its decision to allow an NFL team to use the Rose Bowl as a temporary home during stadium construction.
The Coalition for Preservation of the Arroyo moved in 2013 to halt a Pasadena ordinance allowing an NFL team to use the Rose Bowl for up to five years. It lost in Los Angeles Superior Court, and late last month an appeals court upheld that ruling after finding that Pasadena adequately addressed the environmental impacts in its initial investigation.
City officials have said there have not been discussions with any NFL team about using the historic venue temporarily. The court's ruling simply means that the option is there.
If Los Angeles provides a home-field advantage for some litigants, the relocation of a team will keep lawyers busy on other fields as well.
Legal disputes that could impact the Rams' move west are already heating up in Missouri.
The city of St. Louis, rushing to put its own stadium deal together, was challenged in April by the agency operating the Edward Jones Dome, the Rams' home field. The agency challenged a city ordinance requiring a public vote before city funds can be used to build a new professional sports facility.
Then, late last month, six Missouri lawmakers filed an action against Gov. Jay Nixon to block the state from issuing $250 million in state revenue bonds to support a proposed $985 million stadium in St. Louis.
For reprint and licensing requests for this article, CLICK HERE.