Early Kickoff For NFL Cases
LAW: Plaintiffs field suits over team relocation, stadium plans.
Monday, June 8, 2015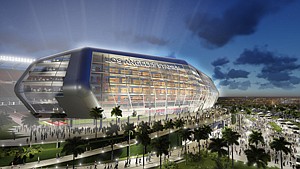 Pro football won't be played in Los Angeles until next year – at the earliest – but the games have already begun.
Rather than Inglewood, Carson or Pasadena, the line of scrimmage is taking shape in Los Angeles Superior Court, where litigants have begun to stake their claims for or against particular proposed projects. And once the National Football League makes a decision about allowing a team to move to Los Angeles – which might come as soon as this fall – local courts could see teams of lawyers in a blitz of litigation, creating a years-long bounty for L.A. attorneys.
"It's inevitable," said Felix Tinkov, an early litigant. "Projects of this size don't move forward without lawsuits challenging virtually every aspect of them."
With the San Diego Chargers, Oakland Raiders and St. Louis Rams all apparently moving ahead in their quests to call Los Angeles home for the 2016 season, many expect a series of lengthy court battles as residents, developers, league officials and government agencies squabble over the details of the NFL's return to the country's second largest market.
A handful of cases have already been filed and Ed Casey, a partner in the land-use practice at Alston & Bird's downtown L.A. office, said he and other land-use attorneys are ready to play defense as the cases keep rolling in. The next wave of litigation, he added, is likely to hit any day – even before the NFL decides whether to allow a team to move here.
"I don't think they're going to wait whatsoever," he said. "I think we're right there. I would expect it to happen very soon."
But another attorney, who asked not to be named because his firm represents an NFL team – one not considering relocating to Los Angeles – said it won't be until the league makes a decision that the cases will really start piling up.
"Everything is sort of speculative and obviously the courts are not in the business of deciding issues that are not ripe yet," he said. "Once a team is identified, I think that's when you know it's going to happen and that's when you'll see an uptick in litigation."
The deadline for teams to apply for relocation is Feb. 15, though league officials have said that date might be pushed forward.
If the NFL approves a team's relocation bid, the attorney whose firm represents a team said, it's likely to prompt a flurry of legal battles from whichever team (or teams) are blocked from making the move.
Prev Next
For reprint and licensing requests for this article, CLICK HERE.