Leasing Vet Signs Up for Retail Megadevelopment
REAL ESTATE: Ed Sachse aims to get stores to buy into boom in South Park.
Monday, June 1, 2015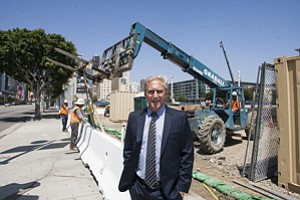 Beijing developer Oceanwide Real Estate Group broke ground in April on Oceanwide Plaza, a $1 billion mixed-use megadevelopment in downtown L.A.'s South Park neighborhood, across from Staples Center. The developer has tapped Beverly Hills real estate services firm Kennedy Wilson Holdings Inc. to lease the 166,000-square-foot retail portion of the 1.5 million-square-foot project on a 4.6-acre site at 11th and Figueroa streets. The assignment poses challenges: Retail has lagged in the development boom taking place downtown as mixed-use developments often attract residents long before the shops and restaurants that cater to them. Ed Sachse (pronounced Sack-see), executive managing director of Kennedy Wilson's brokerage group, said the retail component of Oceanwide Plaza, which will include a 183-room hotel and 504 condominiums, should draw traffic from nearby entertainment complexes and serve up retail to an area undergoing a residential development explosion. The Business Journal spoke with Sachse about the challenges facing retail at the blocklong complex, which is slated for completion in 2018.
Question: There are so many mixed-use projects coming on line in the next few years in South Park. How will you deal with the competition?
Answer: I think the addition of more retail in the area is a benefit to everyone because it attracts a critical mass and makes South Park a destination. So I don't look at it as competition. I look at it as continuing to gentrify South Park.
Are you in talks with potential tenants yet?
Not yet. We are finishing up marketing materials, but our process is just beginning. We have several restaurants and retailers that are starting to reach out now.
Is it too soon to start reaching out to retailers?
I think anchor retailers and major restaurants are more comfortable planning this far in advance. It's a high-profile project for them because, when you watch a Lakers or a Clippers game, there's always that flyover shot showing the exterior of downtown Los Angeles, and that's great exposure for brands. Smaller retailers may have more trouble committing this early, but that's OK. We're going to hit the majors first and it will evolve from there.
Have you ever worked with anything on this scale before?
We worked with the Solair project on Wilshire on Western, which wasn't quite as big, it was a little more than 40,000 square feet of retail and 175 condo units.
There are some mixed-use projects downtown that have vacant storefronts. Are you concerned about that?
We have been seeing our mixed-use projects lease. Retailers are most concerned about access to customers, and here they have a large built-in customer base with all the housing and hotel units.
What do you see as the biggest challenge facing the leasing of this project?
Our biggest challenge might be having tenants really understand how downtown Los Angeles and, specifically, South Park is under transformation over the next few years. It's a challenge to explain how massive the growth will be in South Park alone, with 4,600 new units under construction or planned and 1,500 hotel rooms.
Why do you think retail has lagged downtown?
Retail requires densities to survive, so it's natural that you need the residences to come. And once there is a critical mass of residences, the retailers follow. It started with bars and entertainment facilities. It's similar to how Third Street Promenade evolved, where the restaurants became popular and the rest of retail followed.
But the residences are there, as are restaurants.
There just hasn't been a critical mass of retail built in the area except L.A. Live, which is entertainment and food. A lot of (the available retail spaces) are smaller and retailers like to cluster. That's just the way people shop: They like to have alternatives. Oceanwide's 166,000 square feet of space itself is enough to create a destination and a cluster.
Why is it a challenge to explain the growth downtown – everyone is writing about it?
Well, I can't really explain what they're not seeing because we just started marketing. But I think you need to take them to the hot spots so they can see how it's really changing. It's about educating them.
What about other factors, like the homeless population downtown?
I think it depends on the area. That does affect retailers farther east. South Park is unique. There is a South Park security patrol. You can call them up and there are security guards on a Segway operated by the Business Improvement District that will come pick you up.
For reprint and licensing requests for this article, CLICK HERE.