Driving Interest
NONPROFIT: Petersen Automotive Museum turns to high-tech exhibits, exterior facelift to improve attendance.
Monday, June 1, 2015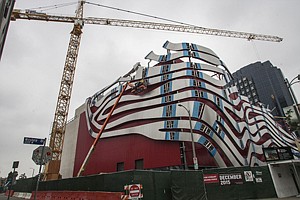 Think of it as "Extreme Makeover," museum edition.
The Petersen Automotive Museum recently unveiled its flashy new façade, midway through its 14-month renovation that, when completed in December, will see the 20-year-old showplace reimagined as an institution of the future.
The $125 million effort – of which $90 million has been secured – will result in not only a new exterior but redesigned interiors intended to house more interactive, forward-looking exhibits. New staff has also been brought in to design programming and lure corporate sponsorships in an effort to grow the visitor base beyond car fanatics.
"You could walk through in 30 minutes and be done," Adam Langsbard, Petersen's chief marketing officer, said of the old configuration. "There was not a whole lot of reason to come back."
But with the support of corporate partners such as Belkin International Inc. in Playa Vista, Microsoft Corp., Panasonic Corp., the American Automobile Association, BMW and Ford Motor Co., among others, the reimagined museum will go high tech. In addition to new exhibits, a mobile application is in development, Langsbard said, to provide multilanguage, self-guided tours with beacons that direct visitors while other devices will bring up video on guests' mobile phones to learn more.
Langsbard, the first person to hold the chief marketing officer position at the museum, has taken a partnership marketing approach to develop the corporate relationships feeding the new strategy.
"We represent the largest car market in the U.S.," he said. "If you have even a semblance of connection to the auto industry, you should hear what we want to say."
New York architecture firm Kohn Pedersen Fox Associates designed the flowing, metal ribbons that surround the structure. Scenic Route Inc. in Pacoima designed the more active interior.
"We've moved from a really passive, slow stroll into an energetic experience where visitors could spend two hours in the museum and want to come back," Langsbard said.
Once completed, the Petersen's three redesigned floors will hold 25 new galleries full of technology and software, much of it donated by businesses ranging from automobile manufacturers and oil and alternative fuel companies to magazine publishers and makers of computer cables and wiring.
These businesses are natural partners for an automotive museum, said Terry Karges, the museum's executive director.
"These donors are either providing in-kind or financial support to build something that will allow us to do the storytelling we are capable of doing as a museum," said Karges. "It also makes sense from an industry view that of course they would support a museum that helps them tell their story."
For reprint and licensing requests for this article, CLICK HERE.
Prev Next