Shoe Seller Sees Next Step As Brick-and-Mortar Shop
FOOTWEAR: Sole Society's expansion plan boosted by money from Nordstrom.
Sunday, July 26, 2015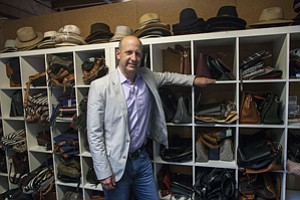 Sole Society introduces as many as 25 shoe styles a month and as many as 15 bags and accessories. Shoes sell for $59 to $149, other products range from $20 to $90. Now the company is expanding into apparel, partnering this month with L.A. brand StyleSaint to offer T-shirts and dresses priced from $38 to $119.
Next up is opening a retail store. While Sole Society has had success online and through its wholesale partnerships with Nordstrom and QVC, Onestop's Tomich said brick-and-mortar retail presents a different set of challenges.
"It's all about location," Tomich said. "You need to have a strong planning allocation, inventory control and merchandising in the company but really scale that up with brick-and-mortar stores."
He added that having Nordstrom as a partner can be beneficial for Sole Society as the retail giant has extensive experience in the brick-and-mortar space.
"I think (Sole Society) will learn a lot," he said. "Nordstrom has a good history of letting businesses flourish."
Sole Society's Solomon added that having Nordstrom as a partner will give the company an opportunity to get advice as the brand continues to grow.
Sole Society hasn't settled on a location for its retail store, but Solomon expects it will open later this year in the L.A. area. When it opens, he said that the focus will be to attract customers and build the Sole Society brand, regardless of whether customers shop online, in the store, at Nordstrom or through QVC.
"In the end, she doesn't really care if she's buying it online, at Nordstrom or in store," he said of his ideal shopper. "If the value is right and the style is right and the quality is right, then we're going to build a loyal customer."
For reprint and licensing requests for this article, CLICK HERE.
Prev Next