Going Well
CBRE Group sets up new HQ as home base to push building standard program for offices.
Monday, July 20, 2015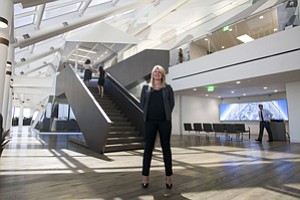 When CBRE Group Inc. moved its headquarters to downtown from West Los Angeles two years ago, much was made of an old-line business moving into an open-plan, "creative" office space.
Turns out, that was only the beginning.
The $12.6 billion real estate services company has put is executive offices at 400 S. Hope St. at the forefront of what it believes is the next wave of workplace efficiency, one that takes into consideration the environment as well as the general well-being of employees.
As a showcase for a new certification program called the Well Building Standard, the offices have boosted air quality by using a filtration system; nontoxic furniture, paint, floors and cleaning chemicals that reduce allergens; and humidity controls to keep the environment comfortable. Its vaulted, windowed ceiling and wrap-around window wall have been tinted to minimize heat while allowing daylight to enter, which is said to improve peoples' attitudes. Its water coolers hold purified water and a $50,000 circadian lighting system was installed to help keep natural biological rhythms in check.
"Our drivers are: How do we attract the best and retain the best?" said Beth Moore, a managing director of CBRE's Occupier Advisory and Transaction Services group. "That's going to come into play more and more."
The steps to certification include more than air quality: There are no soda or vending machines in the office, but fruit and healthy snacks abound.
"People are getting more active throughout the environment," Moore said. "Sitting is the new smoking."
The Well Building Standard is the brainchild of Paul Scialla. His New York company, Delos, came up with the standards and he formed the International Well Building Institute in 2012 to administer them.
Well Building certification is earned by meeting a set of criteria for quality of air, water, nourishment, light, fitness, comfort and the mind. The idea is that workers in such environments will be healthier, happier and more productive. Entire buildings, either new or renovated, can meet the criteria, which the institute said were based on seven years of medical research as well as two years of pilot testing and peer review.
"It's about reducing cost; what is one sick day worth?" said Phil Williams, executive director of Delos. "We can't guarantee no one gets sick. But the odds are that better air, better nutrition, water, etc., if we do those, the odds are you're going to be less sick and the probabilities are you're going to produce better work."
Scialla's institute formed a partnership with the certification arm of the U.S. Green Building Council to review projects for the initial Well Building designation and again every three years to ensure performance standards are met.
Total costs to get certified vary based on project and scope, but registration fees range from $1,500 to $10,000. Certification costs start at $4,000 and range from 8 cents to 23 cents a square foot, according to the institute.
CBRE said its certification process cost $146,775, or 1.7 percent above the overall cost to renovate about 48,000 square feet on two floors.
As a pilot project for the Well Building standard, CBRE is using the space to show off its workplace strategy consulting services.
A survey conducted by the company found that among the roughly 250 employees working at the headquarter offices, 83 percent said they felt more productive. Three-fourths said the new workspace has had a positive impact on their performance and 92 percent said the space has had a positive effect on their health and well-being.
So far, about 16,000 visitors have toured the space, the company said. The overall certification program is still in its infancy – just over 10 million square feet of commercial, institutional and multifamily projects have been certified around the globe. The Los Angeles County office market alone has nearly 190 million square feet.
L.A. developer Ratkovich Co. is among those that have applied for Well Building certification to promote the Bloc, its blocklong mix of hotel, retail and office space under construction in downtown L.A.
"For us, it was another way for us to differentiate our space from every other office space downtown," said Clare De Briere, Ratkovitch's chief operating officer and executive vice president. "It's a maverick program; it's worth it for us to take that chance because intuitively it makes so much sense. It attracts the kinds of tenants we want."
Regardless of whether or not developers find the certification a successful marketing lure for tenants, the program has created a cottage industry of businesses eager to offer products and services to meet the standards.
Generating business
Suppliers of ergonomic furniture, wellness consultants and architects are all getting new business from the program.
"We're in a very competitive market, and we want to be on the bleeding edge of providing value to our customers," said Jesse Bagley, chief executive of Irvine's Interior Office Solutions Inc., which sells ergonomic furniture such as height-adjustable desks. The company is planning to open a downtown L.A. showroom that would be certified as a Well Building interior.
"If all we are is, I want to sell you a work station, desk, chair and conference room table, we're going to die on the vine," Bagley said.
Chari Jalali, director of interiors for the Culver City office of architecture firm HOK served on the peer review panel of the Well Building Standard, and other members of the firm take the accredited professional workshop in the standard.
HOK is working on its first Well Building project, the William Jefferson Clinton Children's Center in Port-au-Prince, Haiti, a children's medical center, which will also be a LEED Platinum-level building. The LEED certification, for Leadership in Energy and Environmental Design, is an energy-efficiency standard for buildings also administered by the Green Building Council.
There's no formal way to measure the effects of the Well Building Standard, as it is too new. But that's OK, say its supporters.
Ratkovich has moved about 30 employees into 12,000 square feet of Well Building-certified space at the Bloc. De Briere said the company hosts lectures there on healthier living with doctors from the California Hospital Medical Center and holds exercise classes for employees.
"We've gotten almost everybody off daily drinking of Diet Coke, except one person," she said. "And there's a competition going on with weight loss. It's starting to have trickle-down effect."
Plus, De Briere said, Ratkovich is seeing the tenants it targets sign on because of Well Building Standard certification – which is advertised and explained on its website and offered to tenants who are willing to pay a premium to have their spaces built out to meet the certification goals, among them public relations firm Golin.
De Briere understands that the benefits have not been empirically proved, but from what she has seen they are there.
"Right now, there's a lot of anecdotal (evidence), but it's really compelling," she said. "This is what LEED was 15 years ago."
For reprint and licensing requests for this article, CLICK HERE.