Firm Took Marketing Path To Stand on Immigration
INTERNET: MiTú viewed Donald Trump uproar as means to engage audience.
Sunday, July 19, 2015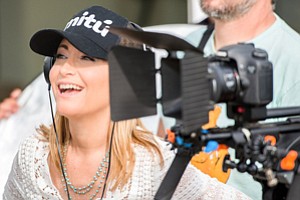 Viral social media campaigns are often the product of weeks and months of meticulous audience research, followed by strategy meetings where content messaging and distribution timetables are haggled over by hordes of marketing executives.
But others, such as a recent #Imnotacriminal hashtag campaign launched by Santa Monica Latino digital media company MiTú, are born on a moment's notice.
Almost immediately after Donald Trump's incendiary comments about Mexican immigrants hit the Internet after his June 16 presidential campaign announcement, MiTú's head of marketing, Ivan Figueroa, sprinted into the office of co-founder and President Beatriz Acevedo with an urgent plea.
Acevedo said that Figueroa told her she needed to get on WhatsApp immediately and contact the company's biggest stars, many of whom are Mexican, and tell them what's going on.
A longtime cable television producer, she co-founded the online video network in 2012 with Roy Burstin, its chief executive, and her husband, Doug Greiff, who serves as chief creative officer.
MiTú now boasts a roster of roughly 3,000 Latino influencers who create a variety of lifestyle and entertainment content aimed at millennials. The firm generates revenue from video ads and branded content.
Figueroa's idea was to encourage MiTú's creators to respond directly to Trump's comments, in which he labeled Mexican immigrants as "criminals, drug dealers," and "rapists," by posting positive messages to Instagram, Twitter and Facebook using the hashtag "Imnotacriminal," and encouraging their millions of fans to do the same.
Acevedo loved the idea and grabbed her phone to start reaching out to MiTú's most popular celebrities. While she sends a regular email newsletter to all of the firm's creators, she knew a more direct more approach was called for on this occasion.
"We wanted this to happen within minutes," said Acevedo. "We literally just got punched in the stomach and had a reaction."
Since then, more than 6,000 people have participated in the campaign, with more than 14 million people viewing the #Imnotacriminal posts across all platforms.
Going viral
MiTú bypassed YouTube to convey its message, citing the urgency of the moment.
"We launched on Twitter because this platform is still the best for in-the-moment campaigns," Acevedo said. And Instagram, she added, is the fastest growing social-media platform among Latinos.
According to data released by the Pew Research Center in February, 38 percent of Hispanic Internet users are active on Instagram, compared with 21 percent of whites.
But Acevedo and her colleagues knew that additional content was needed to keep the momentum going, so they did what they do best: produce videos.
For reprint and licensing requests for this article, CLICK HERE.
Prev Next