Stores Look to Take Back Streets
REGULATION: Owners hope to limit legalization of rival vendors.
Monday, July 13, 2015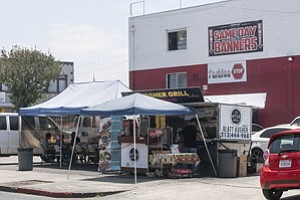 Hundreds of owners of brick-and-mortar restaurants and stores, along with several local business leaders, are urging L.A. city officials not to legalize street vendors, squaring off against street-vending advocates who have been making headway at City Hall.
Though some business owners say vendors boost business, others argue such vendors take away sales, block access to stores and leave trash on sidewalks. And that's with street vending now illegal. Making it broadly legal would make these problems much worse, store owners fear, which is why they want legal street vending to be tightly regulated and limited to specific areas.
"We're very upset about this," said George Comboianu, owner of Combo's Pizza & Deli in Hollywood. "It's bad enough here now as it is. If the city makes street vending legal, more vendors will come and we will lose more business."
Comboianu is one of hundreds of restaurant and store owners who have come together, along with the leaders of several business improvement districts, to oppose an expected move by the city to legalize street vending.
Street vending is illegal throughout the city, with vendors' products subject to seizure at any time by law enforcement authorities. The law does allow for the creation of special vending districts, but not one has been established since a short-lived district around MacArthur Park failed in the late 1990s.
But after years of campaigning by street-vendor advocates, L.A. officials next month are expected to recommend legalizing and regulating street vendors across either the entire city or large swaths of it. A City Council committee is expected to take up the proposal later this summer, with full council action possible before the end of the year.
Going legit
Besides legalizing street vendors, the proposal is expected to address at least some of the concerns brick-and-mortar businesses have raised over the years. It would likely require vendors to pay for city permits, undergo Los Angeles County health inspections and not obstruct businesses or pedestrian access to sidewalks.
"Vendors want to be legitimate businesses, to go through the same permitting process and hurdles that other legitimately recognized businesses go through," said Mike Dennis, director of community organizing for the East Los Angeles Community Corp., a nonprofit behind the vendor legalization campaign. "But above all, they don't want to face the constant threat of harassment from law enforcement."
Over the years, street vendors have complained bitterly about the threat of law enforcement sweeps that result in confiscation of their wares and/or food products. Only by legalizing street vending, advocates say, can this threat be removed.
In recent months, the vendors have been joined by the owners of some brick-and-mortar stores who say street vending draws people to an area and provides a pathway for some vendors to open full-fledged stores.
Last month, a coalition advocating for legalization released an economic study saying that street vending provides a $500 million stimulus to the local economy.
Lost sales
But the pushback has been equally fierce from business owners who say street vendors have an unfair advantage because they don't have to pay rent, workers' compensation or a host of other costs, allowing them to sell virtually identical food and other products at a fraction of the cost.
"I sell a combo meal for $9 and they can sell it for $4," said Michael Zarabian, owner of Cohen Restaurant, a kosher Mediterranean eatery in downtown's Fashion District. "With that kind of price differential, where do you think customers are going to go?"
Zarabian said he now counts about 15 food vendors selling everything from hot dogs to fruit cups within a three-block radius of his restaurant, three times as many as there were just a few years ago.
As a result, Zarabian said, he's been forced to close on weekends.
"And this is just when street vending is illegal," he said. "If it becomes legal, there will be many more vendors rushing in. It's going to be very hard for me to remain open at all."
Dennis said that concern is overblown and that most vendors don't pose a threat to brick-and-mortar businesses.
"Most of the people who buy a taco off the street from a vendor are not looking for a sit-down restaurant meal," he said. "There's a separate market out there for food sold by vendors."
Of course, this isn't just a food fight. Sigifredo Lopez, owner of Pacoima sports and school uniform maker and retailer Uniform Kingdom, said street vendors selling uniforms have set up stands within blocks of his business – and sometimes right in front of his doors.
"They are stealing my customers and they also block access to my store," Lopez said. "When I call the police to report this activity, nothing happens."
As a result, he said, his business has fallen dramatically in recent years. He had eight employees in 2010 and just two now.
On that point, Dennis said his group supports a regulation that would keep vendors at least 20 feet from storefront entry areas and require at least five feet of passing room for pedestrians on sidewalks.
Trash pileups
Business owners, along with their landlords, also complain about the accumulation of trash on sidewalks as a result of food vendors. They say some of the trash is left behind by the vendors themselves while other trash is dropped by vendors' customers.
"Every single morning, we have to go mop up in front of our store and try to deal with overflowing trash bins," Hollywood pizzeria owner Comboianu said. "If we don't, then flies gather and find their way into our restaurant and create problems for us with the health department."
Cleaning up the trash from vendors is also an expense for business improvement districts.
"It's not just the health problems, but the trash also becomes an assault on the senses that keeps customers and tourists away," said Kerry Morrison, executive director of the Hollywood Entertainment District. "That makes it an assault on our pocketbook when we have to go clean up the mess several times a day."
Dennis, the vendor advocate, said the trash problems are unjustly laid at the feet of vendors.
"If tourists throw trash down on the sidewalk, how does that become the vendor's responsibility?" Dennis said.
Pushing for limits
Store owners and business group leaders say they don't want a total ban on street vending, just strict limits. They say street vending should be confined to specific zones – though it's not clear where those would be – or that there should be a cap on the number of vendors allowed on a block.
"We think the vending district concept should work, with adequate enforcement," said Carol Schatz, chief executive of the Downtown Center Business Improvement District. "But if the city decides it wants to go in another direction, then it must be very strictly regulated. We're talking things like limits on number of vendors per block and making sure every vendor carries liability insurance."
Schatz added that any legalization of street vending must be accompanied by a substantial increase in enforcement. She said the reason why the vending district around MacArthur Park failed after just a few months was the lack of enforcement that allowed scores of vendors to set up stands without paying permit fees.
"They undercut the prices charged by the vendors who followed the law," she said.
For reprint and licensing requests for this article, CLICK HERE.