Labor Buds
Pot shop staffers build buzz for union's local
Monday, July 13, 2015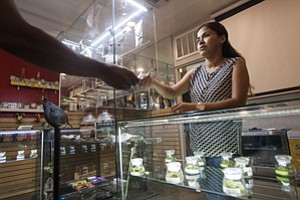 When Daniella Hernandez and her co-workers at marijuana dispensary Robertson Caregivers joined a union in March, she got sick days, a raise and the courage to finally tell her traditional family what she does for a living.
"I don't like to tell people I work for a dispensary because they'll think I'm a bad mother," said Hernandez, 25, who has a toddler and a first-grader. "Knowing we're in the union made it OK to tell my parents."
Robertson in West Los Angeles is one of more than 70 L.A. dispensaries that have signed neutrality agreements with Local 770 of the United Food and Commercial Workers, vowing not to interfere if employees choose to organize. Like the West L.A. collective, more than two dozen pot shops have gone on to sign contracts. Many that haven't are waiting until they have enough workers to make it feasible because UFCW prefers to work with employers that have at least 10 employees.
What's more, it wasn't a fight to unionize.
"The dispensaries came to us," said Rigoberto Valdez, the local's director of organizing, a result of a 2011 tussle with the Los Angeles City Council that temporarily banned medical marijuana in 2012. "A group of workers were afraid the city would ban cannabis and asked if they could unionize."
Though organized labor and medical marijuana workers might seem strange bedfellows, it's largely proved a successful marriage of convenience. The union adds an air of badly needed legitimacy to the industry and the collectives offer a lifeline, albeit small, to a union facing dwindling numbers nationwide.
"When private-sector union density has fallen below 7 percent, unions are looking to almost any place they can build up their membership base," said Chris Tilly, director of UCLA's Institute for Research on Labor and Employment. "Medical marijuana workers might be a little more on the fringe, but on the other hand, workers have been organizing pharmacists for a long time and certain health care and retail workers."
Friend in need
UFCW's local chapter actually has bucked that trend of falling membership in recent years. Though it did face a period of losing workers to nonunion stores such as Wal-Mart, Local 770 stanched the bleeding by adding 1,500 members to its ranks between 2012 and 2014, according to annual reports filed with the Labor Department. It had more than 31,000 members last year, of which more than 200 were medical marijuana workers. That was partly because it devoted a quarter of its budget to a growth initiative.
It also helped that the union's growth efforts coincided with a 2012 temporary dispensary ban that imperiled the local medical cannabis industry.
Valdez explained that when workers approached UFCW that year, the union talked to some responsible employers and put together a large group and stopped the ban.
"When they approached me in 2011, I'd been operating for five years, and I had hired a lobbyist and tried to talk to the City Council with him on my own and got nowhere," said Matthew Dunn, owner of downtown L.A. dispensary Kushmart, which had a neutrality agreement in place since 2011 and unionized in March. "When the union approached, it sounded like they could help us."
Indeed, it did. The coalition worked with the city and eventually reached a compromise in 2013 on Proposition D. The ordinance forbids new pot shops from opening, but allows 134 that were registered under the 2007 interim control ordinance to stay open with limited immunity from prosecution, so long as they meet certain criteria. It also raised city tax on medical marijuana from $50 to $60 for every $1,000 sold.
"We wouldn't have had that success without their resources, contacts and experience," Dunn said of the union.
Future fights
Kushmart took a few years to sign its first union contract because it had to move several times while dealing with competition from illegal dispensaries and trying to find a compliant location. It finally settled in a new downtown space in spring 2014.
"The union was very patient with us," Dunn said. "We were barely staying afloat; we had to move so many times."
Upholding Proposition D also works in the union's favor because when rogue shops shut down, more business is funneled to union collectives, buoying them and enabling them to hire more workers.
Though contracts can vary, unionized dispensaries must start their workers at about $12 an hour; give their employees paychecks, not cash; offer sick and vacation days, health insurance; and follow grievance processes before firing workers. There are collectives that even offer full health care benefits.
"Some aren't there yet and can't afford to be," Valdez said. "But we don't want to put dispensaries out of business."
For reprint and licensing requests for this article, CLICK HERE.