Under the Skin
Façades help buildings with energy costs, lighting
Monday, July 6, 2015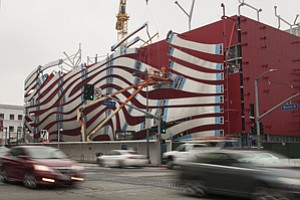 The white honeycomb exterior surrounding the Broad, Eli and Edythe Broad's downtown L.A. museum nearing completion, isn't just another pretty face next to the Walt Disney Concert Hall. It's a highly functional, complex system tasked with protecting the treasures inside.
Whether it is keeping sunlight and condensation off of artwork, reducing energy needed for air conditioning or just looking very cool, high-performance façades, or skins, are coming to dominate the architectural landscape in Los Angeles.
"We see a lot more of these kinds of projects today than even five years ago," said Roger Fricke, senior vice president of preconstruction for general contractor Matt Construction. The Santa Fe Springs company is overseeing the building of the Broad, the renovation of the Miracle Mile's Petersen Automotive Museum with its flashy metal-ribbon façade and the new building at South L.A.'s California Science Center that will enclose the Space Shuttle.
Five years ago, façades consisted of a basic glass wall that diffused light to reduce the sun's radiant heat inside a building. While glass has since advanced with other properties and functions, façades have evolved into highly engineered shapes formed out of steel, concrete and other materials that help make structures even more energy and light efficient.
In other words, today's eye-catching façades are not just aesthetic.
"Why worry about the efficiency of (an interior heating or cooling) system if I can make it so that I don't have to deal with the problem in the first place?" Fricke said. "That's where the skin comes into effect."
In addition to saving on energy costs, buildings need to comply with California's tough sustainability and energy building codes.
The state's energy-efficiency standards are set by the California Energy Commission and are applied to both residential and nonresidential buildings under the California Code of Regulations. Title 24 of those regulations requires that energy-efficiency standards for new and renovated buildings be updated every three years.
The standards mandate buildings use the most energy-efficient technologies and construction, and maintain the environmental quality outside and inside.
That set of rules, said Dennis Rustad, director of virtual construction for Matt, is the primary driver behind the advances in façade technology and the reason he estimated that 90 percent of buildings being built in the L.A.-area have high-performance façades.
"Today, the way the energy codes are, you're not going to get a permit unless you can demonstrate that the façade is going to achieve the requirements of Title 24," he said. "It has to be a higher-performing skin."
The trend isn't limited to new buildings or even full rehabs.
L.A.'s Giroux Glass Inc. cuts and installs glass for many high-performance façades. Its products include glass with low emissivity, or low-e, coatings that keep radiant heat from transferring into a room; photovoltaic glass that converts sunlight to electricity; and electrochromic glass, which changes from clear to shaded with the flip of a switch. It will install the latter at a restaurant at the 72-story U.S. Bank Tower downtown, said Bob Burkhammer, Giroux's executive vice president.
"All owners of buildings, if they are looking for a high-performance building, the key is the high-performance façade," Burkhammer said. "It has to start with the exterior because that's the most exposed to the elements."
Keeping up
Douglas Noble, associate professor at USC's School of Architecture and chairman of its doctoral program, said the popularity of high-performance façades is evident at the annual Façade Tectonics conference he puts on. Attendance has grown, he said, to as many as 500 from the 200 who attended the inaugural event in 2008.
"This topic is going to be the hottest new wave in our business in a long time," Noble said.
In addition to a skin that helps the Conrad N. Hilton Foundation's new 23,000-square-foot, two-story home in Agoura Hills use an air ventilation system rather than power-hungry cooling fans to help meet a goal of producing as much energy as it consumes, Matt will also build a high-performance skin on the 170-room Waldorf Astoria Beverly Hills hotel, a façade that will reduce street noise for guests and minimizes the energy used to cool the interior.
The Broad museum's high-performance façade has a different purpose. The irregularly shaped honeycomb cells, collectively referred to as the veil, are made of fiberglass-reinforced concrete. It was designed by New York architecture firm Diller Scofidio + Renfro to keep the elements from damaging the art collection on view inside, particularly on the 25-foot high, glass-walled third-floor gallery.
"It's controlling the light in the building, which is the ultimate mission here, and it's also acting as a very high-performance, highly energy-efficient design for the building and deflecting radiant heat," Fricke said. "We don't have to deal with that from (a heating, ventilation and air-conditioning) perspective. That is going to save them a lot of money from an energy-use perspective."
Almost as important as controlling sunlight, high-performance façades on museums help keep the interior and exterior walls at similar temperatures so condensation doesn't form on the backs of paintings and other artwork, Fricke said.
The curved metal ribbons hung to form a wavelike pattern encircling the Petersen museum were designed mainly to wow people, Fricke said, but the highly reflective metal will also keep the museum's interior cooler because the metal reflects sunlight from the building.
For reprint and licensing requests for this article, CLICK HERE.