Landlords See No Room for Rent-Control Changes
REAL ESTATE: City of L.A. proposals could kill creation of more units.
Monday, July 6, 2015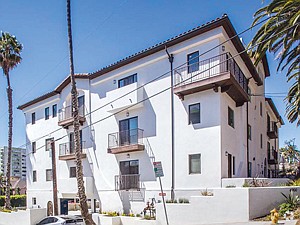 L.A. apartment landlords are growing increasingly anxious as city officials begin to crack down on tear-downs of old apartment buildings to make way for newer ones where units can command higher rents.
Last week, Mayor Eric Garcetti and City Councilman Gil Cedillo unveiled a proposal to have the city better track demolitions and rebuilt apartment structures.
The proposal follows a pair of motions introduced last month by Councilman Paul Koretz. Among other things, his motions called for an annual citywide cap on the number of rent-controlled units that can be demolished.
Rent-control advocates said the steps are necessary to keep more units covered by current, more affordable rates. Landlords countered that the moves will only add to their financial burden and discourage them from replacing aging apartment stock and adding units in a city that desperately needs more rental housing.
"This is yet another disincentive for landlords to build replacements and additional units," said Jim Clarke, executive vice president of trade group Apartment Association of Greater Los Angeles.
Clarke said landlords are still reeling from a city move a few years back to dramatically increase relocation payouts that they must make to tenants evicted under the Ellis Act; those payouts are now approaching $20,000 a tenant.
The Ellis Act, passed by the California Legislature in the 1980s, allows landlords to evict all the tenants in a rent-controlled building in order to "exit the business," either through a sale of the property or by converting the property to another use.
Demolition limits
Now the city is looking more closely at demolitions and replacement buildings under the Ellis Act.
One of Koretz's motions would require the city's housing department to explore placing an annual citywide cap on the number of rent-controlled units demolished.
Cedillo's motion, which has Garcetti's backing, looks at a relatively new feature of the city's rent-control law: its application to newer buildings. The city's rent-control law initially only applied to pre-1979 buildings. But the City Council passed a law in 2007 that if rent-controlled apartments were demolished and then replaced with new apartments within five years, the new units would fall under the Rent Stabilization Ordinance.
That's exactly what happened with an apartment building in Hollywood that a real estate investor recently bought from CIM Group. That building, which replaced a rent-controlled apartment building that was demolished in 2012, was completed last year. (See "Surprise Knock From Rent Control" in the June 29 issue.)
Under the expanded rent-control law, the landlord may charge market rates when signing up new tenants for projects that replaced rent-controlled buildings in that five-year window. Rent increases are then held to a level set by a city agency – usually about 3 percent a year.
Cedillo's motion calls for the city's housing department to sign off on all demolition permits for rent-controlled apartment buildings as well as permits for any replacement buildings. And the city would have to more closely track the inventory of rent-controlled units removed through invocation of the Ellis Act.
The city is already reviewing all properties that have been demolished under the Ellis Act since 2007 to make sure that all replacement apartment buildings comply with the rent-control law, according to Anna Ortega, director of the rent stabilization division of the city's Housing and Community Investment Department.
Ortega said that few landlords should be surprised by the city review. Even if a new owner comes on the scene, the demolition would be recorded in the files required to secure building and operating permits.
Of more concern to landlords is that these moves appear to be laying the groundwork for further reforms of the city's rent-control law. Among the reforms being considered is an increase in the affordable-unit set-asides for newer buildings that are subject to the rent-control law.
Currently, landlords have two choices: They can have all new units come under the rent-control ordinance or they can have most of the units rent at market rates and be offset by a percentage of units that meet federal affordability standards of 80 percent of area median income. That percentage is set at either 20 percent of the total units or 20 percent of the number of units that had been demolished in the old rent-controlled building, whichever is less.
The city is considering changing that standard to greater of those two numbers.
For reprint and licensing requests for this article, CLICK HERE.