Directing Money
BANKING: East West takes lead role in helping Chinese investors break into movie business with U.S. studio deals.
Monday, July 6, 2015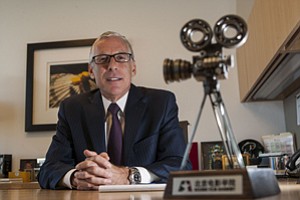 Coming soon to a theater near you: Chinese investment.
Not content to simply reshape the L.A. skyline, Chinese money is now coming for Tinseltown, its path eased by Pasadena's East West Bank, which has become a key player connecting those investors to Hollywood studios.
East West led the financing for Lions Gate Entertainment Corp.'s $1.5 billion co-production and distribution deal with Hunan TV, China's second-largest broadcaster. The bank was also the sole financier for an arrangement between Burbank's STX Entertainment and Huayi Bros. Media Corp., the largest privately held film company in China, to co-produce and finance at least 18 movies over a three-year period.
Deals like these have helped the bank rapidly scale its film finance business, said Bennett Pozil, East West's head of corporate banking and leader of its film finance division. It has funded more than $1 billion in film loans since Pozil joined in 2011, and is the only bank with a significant entertainment lending practice in the United States and China.
Pozil said a major motivation behind the deals is that Chinese entertainment firms – many of which are publicly traded and flush with cash – want to make sure they get in on big studio films. Ticket sales translate in any language.
"The biggest studio pictures break box-office records in every country," he said. "So if a film is going to break a box-office record in China, and if China's going to have the largest theatrical box office eventually, why wouldn't you want to have a piece of that movie?"
Beyond economics
Pozil said deals like the agreement Hunan inked with Santa Monica's Lions Gate are emblematic of the Chinese film industry's ambition to become a global player.
"The vast majority of Chinese pictures are local," he said. "They play very well in the Chinese market. But international sales are not the same as what you would find for English-language pictures. They don't travel the same way."
That's caused firms like Hunan to look east for inspiration.
"One of the things that the Chinese companies look at is how to export Chinese pictures," Pozil said. "One of the ways is by studying the international business, and one way to do that is Hunan investing in Lions Gate. It gets beyond the economics."
Christa Thomas, managing director at SunTrust Sports & Entertainment Group in Century City and a longtime film finance veteran, has observed the same thing.
"Chinese investors are looking for expertise," she said. "It's not just a financial return – it's expertise as they build their own indigenous film industry. The Chinese are not looking to re-create Bollywood, they're looking to create a global film industry."
Pozil said Lions Gate had been thinking about how to position itself to best capitalize on the Chinese market for years, and its executives spent more than a year getting to know their counterparts at Hunan, which carried weight across the Pacific.
"They approached it always as a partnership and not as a one-sided deal," Pozil said.
A secondary incentive for some of these deals is that many of these Chinese entertainment companies are public or will be soon. Having formal ties to an established Western studio has a lot of appeal to Chinese retail investors.
"For them it's a big selling point to say, 'In addition to the Chinese pictures we have, we're also investors in these big studio movies,'" he said.
Found in translation
Hunan might have plenty of reasons to be interested in Lions Gate, but it's less clear why it needed East West to get a deal done.
Pozil said he and his team spent years on the ground establishing their bona fides in Chinese film finance, positioning the bank as the natural firm to connect the two sides. "We decided to dive in and immerse ourselves," he said. "I needed to surround myself with mainland bankers so that all of our communication could be done in local language. And just really get to know the landscape from a local perspective."
Half of Pozil's team cultivates the U.S. market, the other half is oriented toward China. And there is Pozil, who has been in the film finance industry since the early 1990s and has deep Hollywood connections.
"Lions Gate, for example, needs someone who understands their business," Pozil said. "But our client is the Chinese company and they're not really interested in an American-style loan. They're interested in a Chinese-style loan. We have the capability of making a Chinese-style loan offshore."
Pozil didn't want to elaborate too much about the difference between the two, so as not to divulge some of East West's secrets, but he said the emphasis on collateral is stronger in the American flavor than the Chinese version.
While he acknowledged some Chinese firms prefer to make acquisitions by just writing a check, he thinks the role East West plays in financing these co-production deals is fairly obvious: "Why does anyone borrow money instead of paying cash?"
Its high-profile nature has made the film industry a longtime target of vanity investors, and the next playboy or industrial heir to lose millions on a movie won't be the first – or hundredth.
But while SunTrust's Thomas isn't fully convinced that all the investment out of China is strategic rather than naïve – "There's a little bit of both" – she did acknowledge a level of sophistication that hasn't always been there with previous funders du jour.
"I've seen a lot of cycles of investment into Hollywood, and each time – in retrospect – it turns out that it was essentially dumb money," she said. "But there is a strategic element to the Chinese activity that may make this a little different. The American companies seeking investment from China are not just seeking money. They're also seeking access to that market on favorable terms."
That's why Pozil is counting on more American-Chinese film partnerships to become a consistent part of East West's business, and not just another passing fad.
"Our client base is high-level companies in China who are major players in the media space," he said. "Whatever they're doing offshore is a part of a long-term, well-thought-out strategy."
For reprint and licensing requests for this article, CLICK HERE.