Protein Engineer Sees Software as Building Block
biotech: Protabit hopes for boost from licensees' work with its program.
Monday, January 26, 2015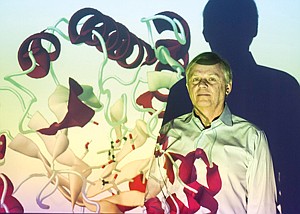 Such software could be helpful, for example, when designing a drug to determine if it'll actually bind to a site on a targeted protein.
"It would be very time consuming to go in the lab and synthesize the drug and measure it," Olafson explained. "But on the computer you can sketch it and then in an hour you can start running the calculation." The formula would still need to be tested, though.
"It's still an art rather than a science to get the calculations to perform well," he added.
Olafson stayed at MSI through a series of mergers and acquisitions before leaving in 1995.
"We were still trying to develop technology with commercial potential," he said of his work with Mayo, who now chairs Caltech's division of biology and biological engineering. "Monsanto was looking at technologies to do protein engineering, approached Steve and said we're interested in what your lab is doing. Is there some way we can work together?"
The pair co-founded Protabit in 2009 with Benjamin Allen, who just finished his Ph.D. in Mayo's lab, and signed a research deal with Monsanto to develop computational protein design software. Protabit got $9 million over four years, according to Olafson, and Monsanto got perpetual exclusivity to use the technology in agricultural biotech. But Protabit still has the rights to use the software in other fields.
"Part of our commitment to bringing new technologies to agriculture is identifying innovators we can work with to deliver solutions for our farmer customers," Christi Dixon, a Monsanto spokeswoman, wrote in an email. "Our work with companies like Protabit is an example of that commitment to collaboration."
Protabit staffed up to about a dozen people and rewrote its code from scratch: Monsanto wanted a program free of claims it was developed at a university or under federal support, Olafson said.
Leveraging its tech
The substantial income from Monsanto stopped in 2013 when the four-year deal came to an end, and Protabit decided licensing its software to a broader audience might be a better source of funding than chasing grants. It also dovetails with the company's primary goal of developing its own novel proteins for areas including biofuels, materials, commodity chemicals, biologics and pharmaceutical industries.
Protabit now employs about 10 chemists, biologists and coders working out of its 3,000-square-foot office in a Lake Avenue corporate midrise, a small wet-lab bench space at the Pasadena Bioscience Collaborative and a lab on the research end at Caltech.
Even as the company begins marketing its software, Protabit will continue to seek to develop its own proteins.
One such endeavor is a U.S. Energy Department-funded collaboration with Caltech and Northwestern University to develop enzymes that will activate methane, the first step in converting the natural gas to biofuels or other commodity chemicals.
If successful, such catalysts could offer an inexpensive way to transform methane into a more usable fuel and reduce demand for foreign oil.
Prev Next
For reprint and licensing requests for this article, CLICK HERE.