Protein Engineer Sees Software as Building Block
biotech: Protabit hopes for boost from licensees' work with its program.
Monday, January 26, 2015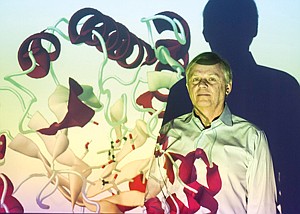 There might come a day when energy companies are able to inexpensively capture methane that's flared into the atmosphere when pumping oil out of wells and convert it to gasoline.
Proteins, essential molecules of all living things, can be enhanced for use in a variety of commercial applications including industrial manufacturing, making new drugs or even converting waste into more valuable products at less cost than other chemical processes.
Among the biotech companies chasing those opportunities is Pasadena's Protabit, which engineers proteins. It has even developed a computer platform that expedites the process. Its algorithm models different combinations of protein building blocks, helping to streamline the process of discovering useful ones.
While Protabit is primarily focused on discovering its own innovative proteins, it's decided to license a user-friendly version of its platform as another revenue stream. For about $5,000 a month, a company that works with proteins but isn't able to develop its own computational protein design program will be able to use a cloud-based version of the Protabit software called TriadWeb. Protabit is finalizing the details and plans to launch the service in the next few months.
Protabit aims to sell its software to companies whose products reach a broad range of markets, according to Julia Allen, an analyst with Lux Research Inc. in Boston who tracks companies using biology to produce new chemicals.
"A lot of the chemicals we look at can go into textile, automotive, agriculture markets, consumer packaged goods," Allen said. "It's such a broad reach that it's almost hard to define into a narrow discussion."
Though it seems like Protabit might be enabling the competition with its own secret sauce, Chief Executive Barry Olafson isn't worried. In fact, he welcomes it.
"We would love it if somebody would use our software to make a better cellulase (an enzyme) and tell the world, 'We were able to make the software because we used Protabit's technology,'" he said.
Designer seeds
The company has benefited from such partnerships in the past. In particular, a four-year contract with agricultural biotech behemoth Monsanto Co., which helped launch Protabit out of Stephen Mayo's Caltech lab in 2009.
Olafson and Mayo both got their doctorates at Caltech, where they met and started their first company, Molecular Simulations Inc., formed in 1984 with their mentor William A. Goddard III. MSI was a computational chemistry software company, using mathematical formulas to predict how molecules would interact with each other.
Prev Next
For reprint and licensing requests for this article, CLICK HERE.