LAX Hotels Aim To Land Events
Monday, January 26, 2015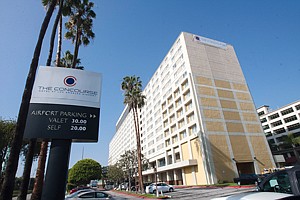 Hotels near Los Angeles International Airport are freshening up with new paint, carpet and furniture – but not in their guest rooms.
They're revamping conference and event spaces as they try to attract more weddings, conventions and corporate meetings. Hotels lining Century Boulevard near the airport, including the Crowne Plaza LAX, Hilton Los Angeles Airport and Sheraton Gateway LAX, have spent millions upgrading their meeting and event spaces in the past year. Last week, Concourse Hotel LAX joined in, announcing plans to build an outdoor event space, which would be one of the only such spaces near LAX.
Jeff Rostek, managing director of Concourse, said the event lawn should be open for business this spring. He's hoping it will attract more weddings, parties and other big events, which translate into additional revenue and more room stays.
"It's going to be one of a kind to the market and, hopefully, pull business from some of our neighboring markets as well," he said. "There's definitely an opportunity in the LAX market to have big social events."
Hotels refresh rooms and event halls every so often – it's sometimes required by big hotel brands such as Hilton and Sheraton – but the recent surge comes as hotels, many of which put renovations on hold after the recession, have seen business rebound and are now convinced money spent on renovations will pay off.
Bruce Baltin, senior vice president of real estate consulting firm PFK Consulting in downtown Los Angeles, said those investments are especially important now for hotels near LAX.
Hotels near the airport are already among the most booked in the city but have lower than average room rates, thanks to negotiated rates for airline crews, corporate clients and stranded airline passengers, he said. So with low rates and rooms already full, the most obvious way of bringing in more revenue is to attract more events.
"That airport strip runs a very high occupancy, but has relatively lower room rates than other parts of the city," Baltin said. "So, they're looking for their opportunity to increase (revenue)."
Sleeping in
Crowne Plaza overhauled its 14,000 square feet of meeting space in the summer, while Hilton LAX updated its large ballroom early last year.
Michael Washington, general manager of Sheraton Gateway, said that since the hotel debuted its newly remodeled meeting rooms last year, business has been brisk.
The hotel spent $3.5 million updating its 50,000 square feet of meeting spaces to look more contemporary by installing a geometric patterned carpet, new lighting fixtures, paint and custom furniture in shades of mustard, black and cream.
Washington said that since the renovations he has noticed more event bookings.
"The economy is much better and people are meeting more," he said.
In particular, he said there has been an uptick in the number of small meetings – ones that might need only a conference room – and short meetings that last just a day.
"I noticed a lot of guests getting off our airport shuttle bus, but they had no luggage," Washington said. "A lot of people flew in from San Diego, Las Vegas, San Francisco and Seattle and were flying back home later that day."
Concourse, which will be renamed next year to Hyatt Regency Los Angeles Airport, has also seen an uptick in small meetings and is replacing office space at the hotel with a conference room geared toward those events, according to hotel executives. But the hotel's big-ticket addition, the event lawn, is aimed at much bigger events, ones that will bring as many as 750 guests to the hotel.
The new event lawn, centered around the hotel's swimming pool, will connect to the Concourse's 14,000-square-foot grand ballroom.
Rostek said the hotel's event business is not as robust as it should be and expects the updates and additions to bring in more clients.
"We're not hitting our potential," he said. "When we have this completed renovation, I think we'll be sold out every weekend."
Outdoor competition
Baltin said hotels at the airport have a lot of meeting space and are very aggressive in competing for corporate meetings and social catering business, such as weddings and charity events.
Events usually bring in additional hotel guests – such as family members staying for a wedding – and even single-day events mean additional revenue from room rentals and food and beverage services. Those are lower-margin items compared with booking rooms, but Baltin said it's still attractive to hoteliers.
In addition, having an outdoor space with the advantage of California's sunny weather is a plus.
"Event lawns as a whole in the hotel business in Southern California do very well and are a good advantage," Baltin said. "I think the event lawn at the Concourse is, frankly, a good idea. It'll help them."
But another hotel consultant, Alan X. Reay, president of Irvine's Atlas Hospitality Group, is less optimistic, saying an outdoor event space doesn't make sense so close to the runways of LAX.
"If you had a choice of being at an outside venue (would it be) in Santa Monica or Marina del Rey or LAX, right underneath the flight path?" Reay said.
Rostek acknowledged there will be noise from jets coming and going, but he said customers know what they're getting into.
"People who are doing business at the airport already know," he said. "I think it's just about giving us a unique selling feature and something that differentiates us from the market."
For reprint and licensing requests for this article, CLICK HERE.