Shareholders'Suit Risks Rise
law: Class-action attorney shifts focus to only wealthy investors.
Monday, January 19, 2015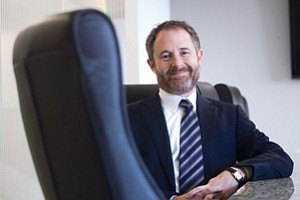 Peter Binkow's office looks fairly typical for that of a successful Westside lawyer, except for the set of poker chips on his small conference table.
He built his reputation betting against big companies as a founding partner of Glancy Binkow & Goldberg, a Century City law firm that represents shareholder plaintiffs and consumers in class actions against corporations.
But now he's starting his own practice, Binkow & Wagner, where he'll represent larger shareholders, such as hedge funds, in the same types of cases. It's a move prompted by three recent court decisions that have delivered a major blow to consumer class actions and fundamentally changed corporate malfeasance suits, Glancy Binkow's bread and butter.
One decision in particular figures to cut into the firm's practice representing shareholders against corporations by potentially forcing shareholders to pay their target's legal fees if they lose. If Binkow were to lose a case under the old system, it would only cost him the time and money he spent pursuing it, and shareholders would be out nothing. But if shareholders face the possibility of paying seven-figure legal fees to fancy corporate law firms, only those with ample resources – such as the hedge funds Binkow now hopes to represent – will be willing to play at such high stakes, even if they have a strong hand.
Remember those poker chips? Knowing when to call a corporation's bluff – and when to fold – is a key part of succeeding in Binkow's line of work.
"Often where there's smoke, there's fire," he said. "And part of the expertise in this business is saying, 'Does that smoke look like the kind of smoke that's worth investigating?' "
Detroit law city
Binkow met his partner and fellow Detroit-area native Lionel Glancy when he was studying law at USC. Their fathers knew each other. When Glancy decided to add an associate to his then-sole proprietorship in 1994, the elder Glancy called the elder Binkow, and the partnership was born. The third name partner, Michael Goldberg, joined in 1996.
Glancy Binkow grew slowly before scoring a few big wins in the mid-2000s, then began to scale up its personnel and pursue bigger cases. It took lead counsel roles for plaintiffs alleging corporate malfeasance against companies including Goldman Sachs, which Binkow sued in 2006, recovering $29 million for stockholders.
That success has enabled Glancy Binkow to cast a much wider net in pursuit of financial fraud cases. The firm's website is currently soliciting information for 31 active investigations, and the firm regularly issues statements noting it has started investigating additional companies.
Prev Next
For reprint and licensing requests for this article, CLICK HERE.