Shareholders'Suit Risks Rise
law: Class-action attorney shifts focus to only wealthy investors.
Monday, January 19, 2015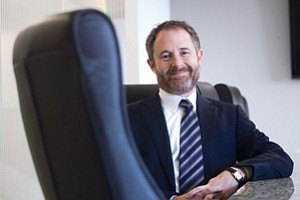 Peter Binkow's office looks fairly typical for that of a successful Westside lawyer, except for the set of poker chips on his small conference table.
He built his reputation betting against big companies as a founding partner of Glancy Binkow & Goldberg, a Century City law firm that represents shareholder plaintiffs and consumers in class actions against corporations.
But now he's starting his own practice, Binkow & Wagner, where he'll represent larger shareholders, such as hedge funds, in the same types of cases. It's a move prompted by three recent court decisions that have delivered a major blow to consumer class actions and fundamentally changed corporate malfeasance suits, Glancy Binkow's bread and butter.
One decision in particular figures to cut into the firm's practice representing shareholders against corporations by potentially forcing shareholders to pay their target's legal fees if they lose. If Binkow were to lose a case under the old system, it would only cost him the time and money he spent pursuing it, and shareholders would be out nothing. But if shareholders face the possibility of paying seven-figure legal fees to fancy corporate law firms, only those with ample resources – such as the hedge funds Binkow now hopes to represent – will be willing to play at such high stakes, even if they have a strong hand.
Remember those poker chips? Knowing when to call a corporation's bluff – and when to fold – is a key part of succeeding in Binkow's line of work.
"Often where there's smoke, there's fire," he said. "And part of the expertise in this business is saying, 'Does that smoke look like the kind of smoke that's worth investigating?' "
Detroit law city
Binkow met his partner and fellow Detroit-area native Lionel Glancy when he was studying law at USC. Their fathers knew each other. When Glancy decided to add an associate to his then-sole proprietorship in 1994, the elder Glancy called the elder Binkow, and the partnership was born. The third name partner, Michael Goldberg, joined in 1996.
Glancy Binkow grew slowly before scoring a few big wins in the mid-2000s, then began to scale up its personnel and pursue bigger cases. It took lead counsel roles for plaintiffs alleging corporate malfeasance against companies including Goldman Sachs, which Binkow sued in 2006, recovering $29 million for stockholders.
That success has enabled Glancy Binkow to cast a much wider net in pursuit of financial fraud cases. The firm's website is currently soliciting information for 31 active investigations, and the firm regularly issues statements noting it has started investigating additional companies.
The high-volume nature of the business attracts natural skepticism from those who view Glancy Binkow and similar firms as financial ambulance chasers or shakedown artists that use nuisance suits to secure big settlements for their own enrichment. Binkow even jokes that some of his friends accuse him of having a computer that automatically puts out a press release about a new fraud investigation every time a stock drops. (The company issued 14 such releases in the first two weeks of this month, although 10 were follow-ups on existing cases.)
There's also the fact that these multimillion-dollar recoveries might look impressive, but when distributed out, can amount to awards of just pennies a share – except, of course, to Glancy Binkow, which gets a much bigger cut, which can be up to 30 percent of the total pot.
Tom Scott, executive director of California Citizens Against Lawsuit Abuse, argues that these types of lawsuits enrich lawyers while hurting the average shareholder.
"What does the stock price do when he files a class action?" he said. "It goes down. Retirees get hurt. Just because he was able to rally a few people to be a class that was victimized. Corporate fraud is not going to be found out because some guy keeps filing class actions. To me, this is the biggest racket that's ever created."
But Binkow says firms like his really do provide a service to wronged shareholders, and they're not just stirring up a tempest in a ticker drop.
"We've had prominent business people and corporate executives contact us and say, "I invested a lot in this company and feel like they misled me,'" Binkow said. "You get a lot more interest than people would think."
Home-court disadvantage
But Binkow said things could soon be very different in the current judicial climate around class-action suits.
James Schurz, a partner at San Francisco law firm Morrison & Foerster, said two recent Supreme Court decisions, AT&T v. Concepcion and American Express v. Italian Colors, have essentially suffocated a large part of the consumer class-action business – one that was a big part of Glancy Binkow's business.
Standard customer contracts – ones with cellphone providers, for instance – usually include waivers that require any dispute with a company to go to arbitration rather than to court. Historically, these waivers have been bypassed at the discretion of various courts, allowing customers to file class actions. But the combined effect of the two recent high court decisions is strict adherence to those waivers.
"They have created a legal environment that has been prohibitive for a broad range of traditional class-action suits," Schurz said.
Binkow has experienced that firsthand.
"We've had people bring us potential cases where we look it up and, as expected, there's a class-action arbitration waiver and so there's nothing to do," he said, noting he would otherwise have pursued many of those cases.
And that's not the only blow courts have recently struck against class actions.
In May, the Delaware Supreme Court ruled that provisions in company bylaws that oblige shareholders to pay the company's legal fees if they sue and lose are at least potentially valid. As more than 60 percent of Fortune 500 companies are incorporated in Delaware, the decision resonates well beyond that tiny state.
Binkow said three companies that went public last year, including Commerce grocery chain Smart & Final Stores Inc., included those legal-fee rules in their bylaws. And while it's uncertain whether such bylaws can legally be adopted by public companies already trading, he's not going to bet against it, given the other decisions.
Having more public companies adopt such bylaws would dramatically change the calculus behind shareholders' decisions to seek legal redress for alleged management fraud. The possibility of being on the hook for millions of dollars in legal fees is going to have all but the deepest-pocketed plaintiffs shelving plans to sue.
Supporters of the loser-pays bylaws say they are likely to cut down on frivolous lawsuits. In 2013, shareholder plaintiffs filed lawsuits against 94 percent of all mergers and acquisitions deals involving public companies, a number even Binkow acknowledges is obviously excessive. But he argues that widespread adoption of these bylaws would give smaller shareholder groups – and their prospective attorneys, who might also have to pay – a risk they couldn't afford to take in all but the most blatant financial fraud cases.
"They would certainly make the bar higher on what kind of case I'd be willing to take," he said. "I would argue too high."
So while Glancy Binkow will continue to practice a wide variety of class-action law – including the consumer cases that can still be pursued – Binkow himself has decided to take his talents to the high-limit tables of hedge and pension funds, which still have the bankrolls to fight things out in court.
"You have to have confidence – and a lot of capital – to be willing to do it," he said.
For reprint and licensing requests for this article, CLICK HERE.