Divided Diagnosis for Hospital Sale
HEALTH CARE: Daughters backs bidder despite union opposition.
Monday, January 12, 2015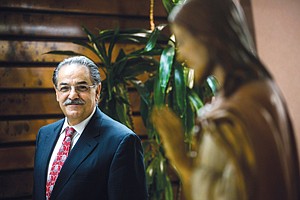 The Daughters of Charity Health System, hemorrhaging $10 million a month and facing bankruptcy, needed a buyer for its six California hospitals.
There was plenty of interest – nearly 30 bidders stepped up. But with a low-income constituency that relies on its safety-net hospitals, including St. Vincent Medical Center in downtown Los Angeles and St. Francis in Lynwood; a complex pension arrangement; and entrenched union interests, closing the deal and stanching the bleeding proved a complex and challenging process.
With so many competing interests, the path Daughters of Charity followed out of the morass was bound to generate controversy.
Indeed, it has. The sale, which has been narrowed to a single bidder, has moved from the boardroom to the streets, as the union representing many of the workers in in the health system has marshaled members and sympathizers to oppose the proposed deal with Prime Healthcare Services.
The union, Service Employees International Union-United Healthcare Workers West, has expressed concern over a federal investigation into Prime's billing practices and fears that the firm would cut jobs and services at Daughters' hospitals in favor of profits.
Prime and its allies have rebutted the claims against the company, casting itself as a white knight that's inspired SEIU's ire because it won't bow to the union's demands.
The battle over the deal comes after a process that began early last year when Daughters of Charity brought in investment bank Houlihan Lokey to help it navigate the complex landscape. The Century City firm guided a process that included reaching out to a mix of 133 for-profit, non-profit, government, Catholic, private equity and real estate sources.
In March, Daughters of Charity received 29 bids: some for its medical buildings, others for just some of its hospitals, some for the system as a whole. Roughly half of the bidders returned for the second round in May, and six were left for the final round in September.
"If someone provided a proposal that didn't achieve our objective or wasn't competitive, we told people this is what you need to do to your proposal going forward," explained Houlihan Lokey Managing Director Andrew Turnbull, who led the transaction. "If they didn't, they self-selected out."
In early October, the health system's board evaluated the bids based on about a dozen criteria, among them the prospect for continuation of health care services, valuations, the likelihood of the transaction closing, union agreements, pension experience and financial wherewithal.
For reprint and licensing requests for this article, CLICK HERE.
Prev Next