YouTube Stars At Play in Suit
INTERNET: Fullscreen alleges ex-exec tried to poach talent.
Friday, January 2, 2015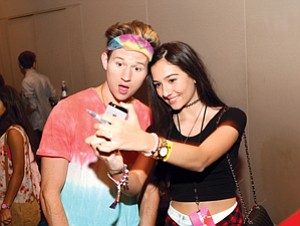 More than millions in venture capital investments, more than the proliferation of A-list stars appearing in original programming streaming online, the one sure sign that content has become king in Silicon Beach is a full-blown fight over talent.
With millions of eyeballs and big money at stake, Culver City multichannel network Fullscreen Inc. is facing off against its former senior vice president and head of its talent management department, Larry Shapiro, after his abrupt defection in October to rival Big Frame, where he performs a similar role as the company's co-president.
Both networks produce a wide variety of lifestyle content distributed through YouTube and primarily geared toward younger audiences, and Fullscreen claims Shapiro violated his employment contract by secretly securing deals for himself and Big Frame while still employed by Fullscreen.
The battle for talent and the people who manage them might be an old story in Hollywood. But this fight, which has landed in court, shows how far the stakes have risen now that old Hollywood has been staking a claim to the digital landscape, making digital networks increasing valuable.
Over the past year, Hollywood film studios and other large media corporations have seen the inherent business opportunities that multichannel networks, and their talent represent, and the sector has become one of the busiest in the L.A. tech market in terms of mergers and acquisitions.
In March, Walt Disney Co. purchased Maker Studios in a deal that could reach $950 million. Most recently, RTL Group bought a stake in Hollywood's StyleHaul for $107 million in November, valuing the fashion-oriented multichannel network, or MCN, at $151 million.
Likewise, Big Frame is a division of West Hollywood's AwesomenessTV, which was acquired by DreamWorks Animation in May 2013. The studio sold a 25 percent stake in Awesomeness to Hearst Corp. in December for about $81 million.
Otter Media, a joint venture of Chernin Group and AT&T, acquired in September a controlling stake in Fullscreen.
These YouTube networks have proved attractive because they offer vast amounts of content at a fraction of the cost of feature films and TV shows. Plus, YouTube stars make videos for niche audiences – an asset to digital marketers who look to microtarget ads. YouTube also offers another platform for studios to create content around popular characters as well as look for new film and television ideas.
Rapid expansion
When you tally the viewership numbers of each YouTube network, their scale becomes apparent.
Fullscreen drew more than 37 million unique desktop viewers in the United States to its channels in October, according to rankings released by comScore, an Internet research firm. Awesomeness, which has fewer channels, drew 6.5 million. And when you factor in smartphone viewing, those numbers spike even higher.
"Their core competency is, in fact, finding a way to connect with audiences in a 'world of abundant supply,'" reads a Dec. 15 report about multichannel networks authored by New York-based technology and media consultant Liam Boluk.
But since YouTube takes a 45 percent cut of advertising revenue from its creators, and MCNs share the remaining revenue with their talent, these companies have increasingly looked to secure revenue streams off of YouTube for their biggest stars. These opportunities include brand deals, live events and merchandising, to name a few.
Prior to joining Fullscreen, Shapiro served as executive vice president of business development at Fourth Wall Studios in Culver City, and he also spent seven years as an agent at Century City's Creative Artists Agency, where he established its video-game department. One of his final responsibilities at Fullscreen included helping to oversee September's Intour at the Pasadena Convention Center, the company's first live event. The show featured performances from some of Fullscreen's top stars, including Jack and Jack, JennXPenn and Ricky Dillon.
That sort of success means the race to sign top-tier stars has become increasingly fierce, mirroring the way Hollywood talent agencies go after in-demand actors.
In fact, said Manatt Digital Media's Peter Csathy, all of the traditional Hollywood agencies are competing with the likes of Fullscreen and Big Frame to sign YouTube celebrities.
"There is kind of a land grab for personalities right now," said Csathy, chief executive of the West L.A. digital media consultancy firm and venture fund. "There's a limited supply of top YouTubers that have mass followings."
Turning up heat
At Big Frame, Shapiro is tasked with "creating opportunities for digital media influencers across all platforms," according to a statement released by the company in conjunction with his hiring.
Fullscreen alleges that his responsibilities are the same as those he performed in his previous job, namely to negotiate brand deals and secure film and TV opportunities for the company's popular YouTube stars.
In a fight that has reached the courts, Fullscreen alleges Shapiro sabotaged its business deals and intentionally deleted thousands of email messages on his work computer before quitting in order to cover up his actions.
The suit, filed by attorneys at Atkinson Andelson Loya Ruud & Romo in Cerritos, also claims Shapiro used Fullscreen's confidential business information against the company while securing deals and continues to do so in his new job.
This information allegedly includes "Fullscreen's business, product, pricing, content, legal and acquisition strategies" as well as "the economic structure of Fullscreen's talent agreements, its prospective talent list, its sales and marketing strategies and its 2015 investment and product strategies."
Some of that information was supposedly obtained at a Fullscreen senior executive retreat during a round of golf with George Strompolos and David Ho, Fullscreen's chief executive and general counsel, respectively.
"Within five business days of the conclusion of the offsite senior executive meeting, Shapiro had absconded from Fullscreen to his new position," the suit claims.
The complaint does not cite specific business deals as examples of this purported conduct, though Fullscreen claims to have lost money as a result of Shapiro's actions in an amount "yet to be ascertained" and is asking for "punitive damages in an amount commensurate with Shapiro's conduct and appropriate to deter others from engaging in similar conduct."
Representatives of Fullscreen and Big Frame declined to comment.
As of press time, Shapiro had not filed an answer to the complaint.
Ongoing battle
The complaint against Shapiro, filed in Los Angeles Superior Court on Nov. 26, alleges he encouraged other Fullscreen employees and content creators to leave the company. Two other members of Fullscreen's talent management team, Andrew Graham and Rana Zand, also joined Big Frame at the same time as Shapiro.
Fullscreen filed suit against Graham, now a senior talent manager at Big Frame, in October, making similar allegations. He has filed a response denying the accusations against him.
In response to charges he tried to poach Fullscreen's contracted talent in his new position, Graham's attorneys at Westwood law firm Crone Hawxhurst also argued in a court filing that some of those contracts are in fact illegal.
"Some or all of the contracts that were purportedly breached were entered into with minors who lacked the capacity to contract and/or violated California's Talent Agency Act," the filing says.
Jeffrey Kobulnick, a partner at Ezra Brutzkus Gubner in Woodland Hills who reviewed the Shapiro case for the Business Journal, said he suspects the lawsuit will survive a possible attempt to dismiss.
"I don't expect this lawsuit to be thrown out on its face," Kobulnick said. "The question at the end of the day is whether the plaintiff succeeds in proving those claims."
A lot, he acknowledged, will ride on whether Fullscreen can recover the emails the company alleges Shapiro deleted, and what they contain. Another question is whether the proprietary information Shapiro supposedly used against the company constitutes trade secrets in the eyes of the court.
According to Kobulnick, a trade secret is a piece of information that a company goes to extra lengths to keep confidential.
"Not everything that's confidential is under lock and key," he said. "It's a challenge to establish trade-secret protection for what an individual has gained in terms of his long-standing experience in the industry."
For reprint and licensing requests for this article, CLICK HERE.