Moving In
INTERNET: RadPad hopes to click in rental listings space with mobile app that lets renters make their monthly payments.
Monday, February 23, 2015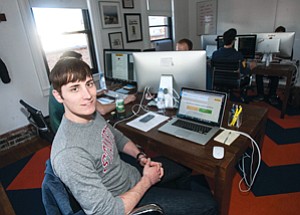 A few years ago, Jonathan Eppers decided it was time to move out of his West Hollywood apartment.
Like others in the same situation, he found the process difficult and time-consuming.
"I was like a lot of renters who want to move and then get so frustrated," the former senior product manager at Santa Monica's eHarmony recalled of his apartment-hunting experience.
So Eppers set out to change things by launching RadPad Inc. in January 2013. RadPad's mobile app allows prospective renters to browse apartment listings, with at least three photos of each unit.
After participating in Venice's Amplify.LA startup accelerator, RadPad raised $4 million in seed funding from firms such as SG VC in Santa Barbara, Social Leverage in Phoenix as well as individual investor Michael Huffington.
Eppers said his Santa Monica company is in the process of securing a larger Series A round.
RadPad operates a website, too, but more than 80 percent of users access its listings on mobile devices, according to Eppers, who's also RadPad's chief executive. Nationwide, about 600,000 listings are posted on the site.
And, Eppers said, it's grown bigger than its major local competitor.
As of Feb. 2, RadPad had slightly more than 4,000 active listings in greater Los Angeles, compared with just under 4,000 for subscription service WestsideRentals.com, according to numbers Eppers said RadPad culled from both companies' mobile apps and presented to prospective investors.
Kevin Miller, president of Westside Rentals, disagreed with Eppers' math.
"We're over 4,000," Miller said. "All of our listings are real and we get permission from all of our owners to list."
In addition to gathering listings from close to 60 online sources, RadPad also receives listing information from many landlords directly. It then cross-references information about units listed on multiple sites to ensure accuracy.
Taking credit
RadPad's service also allows tenants to pay their rent through the app by either debit or credit card, a feature it launched in September.
The company allows landlords and brokers to list their units at no charge. It generates its revenue through a 1 percent fee charged to renters when they pay by credit card. It used to charge a fee for debit card payments, but discontinued the practice in January.
Eppers explained that some renters prefer to pay by credit card because automatic payments are easier and credit card use can generate points. Beyond that, some renters, especially younger ones, don't even have a checking account.
Prev Next
For reprint and licensing requests for this article, CLICK HERE.