Future of Landmark Property on PCH a Mystery
ACQUISITION: Hayman pays $6 million for café owned by Thelma Todd.
Monday, February 23, 2015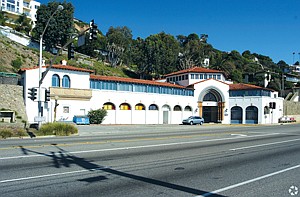 Editor's Note: This article has been updated to report the correct name of Carter Magnin, one of the brokers in the Trunk Club lease.
A storied property along Pacific Coast Highway that has seen its share of monkey business is about to take on a new role.
The former home of a café owned by Thelma Todd, a 1920s-era actress who starred in Marx Brothers movies, has been sold for $6 million, $2 million below its listing price. It came on the market in October.
The property, at 17575 Pacific Coast Highway, was most recently home to Paulist Productions, a producer of religious programming affiliated with the Paulist Order of the Catholic Church. Todd, who died in 1935 under mysterious circumstances, left the property to her business partner, whose widow in turn left it to Paulist Productions on her death.
Christopher Donahue, president of the production company, was out of the country and could not be reached for comment.
The property was purchased by a limited liability corporation registered to Hayman Properties, a Brentwood real estate investment and management company. Michael Treiman, its chief operating officer, did not respond to a request for comment.
The deal closed earlier this year, and Paulist remains headquartered at the site.
It was not clear what the future holds for the beachfront property. In addition to Todd's café, the second floor of the 15,900-square-foot building housed a nightclub for many years. In its second life, it was home to the production offices for Father Bud Kieser's "Insight" television program.
Though the offering sheet on the property highlighted a big downside – there is no on-site parking – it is just feet away from a bridge crossing PCH to the beach.
The property was listed by Jeff Pion, vice chairman at CBRE Inc. and Tracy Rasmussen of Rasmussen Ventures.
Olive Branch
South Florida residential developer Crescent Heights has purchased a half-acre development site in downtown Los Angeles for $11.5 million. The property, at 1045 S. Olive St., at the corner of 11th Street, is four blocks east of the L.A. Live entertainment complex.
Russell W. Galbut, managing principal of Crescent Heights could not be reached for comment about the firm's plans for the site.
In addition to its Miami base, Crescent Heights has offices in Chicago, New York, San Francisco and in Hancock Park in Los Angeles, where the phones went unanswered last week.
The company broke ground in the summer on a $300 million condo development at 10000 Santa Monica Blvd., opposite the Los Angeles Country Club.
Personnel Moves
Jonathan Larsen, former regional managing partner at DTZ/Cassidy Turley's downtown L.A. office, has assumed the role of managing director and principal at Avison Young. Larsen, 55, will be responsible for growing the firm's business in its West L.A., San Fernando Valley and Ventura offices. He started last week.
"I had actually talked to them three, four years ago, before they opened up here," Larsen said. "I made the decision to go to Cassidy Turley to open their practice."
Larsen opened Cassidy Turley's office in April 2012 and brokered a number of large leases and sales downtown, including last year's biggest office lease, representing Lewis Brisbois Bisgaard & Smith in its December deal for 215,000 square feet at the U.S. Bank Tower after its offices were severely damaged in the DaVinci fire. He left the firm Jan. 23 after a shakeup by new owner DTZ that saw 45 people nationwide pushed out. … High-end residential brokers Josh and Matt Altman, who previously worked at Hilton & Hyland¸ have joined Douglas Elliman Real Estate. In making the move, they brought three agents and three support staff with them. The addition comes on the heels of Elliman's hiring of a number of agents away from the Agency earlier this year. Elliman has also seen a subtraction: It parted ways with one of the two people it lured to head the L.A. outpost, Tom Dunlap, who had been group executive vice president at John Aaroe. The company now has more than 40 agents in its Beverly Hills office.
Realty Roundup
Trunk Club, a men's personal clothing service, has leased a 38,500-square-foot retail space at 8886 Venice Blvd. in Culver City, its first location on the West Coast. The company is operating in a temporary space until build-out of its larger storefront is completed. The lease was brokered by Cushman & Wakefield's Carter Magnin and Matt Fainchtein. … Ralph Pucci International purchased a 12,000-square-foot, fully leased flex building at 1025 N. McCadden Place in Hollywood for $6.7 million, or about $539 per square foot. Both sides in the deal were represented by Jeff Jacobsen of Broadway Capital Partners.
Senior managing editor Jonathan Diamond contributed to this report.
For reprint and licensing requests for this article, CLICK HERE.