Mattel, Needing a Hit, Introduces Siri-Like Barbie
Tuesday, February 17, 2015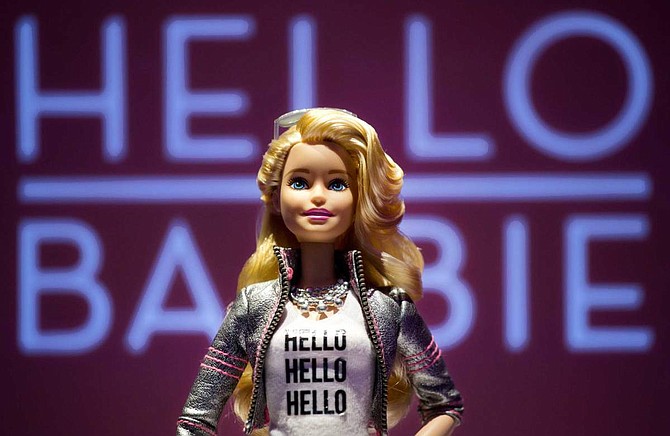 Mattel has been in desperate need of a hit toy. After reporting that Barbie sales had plunged, again, in the final quarter of last year, the El Segundo toymaker's interim Chief Executive Christopher Sinclair told investors the company would make changes "with a heightened sense of urgency."
Apparently, one of those urgent changes is the introduction of the Hello Barbie, an interactive doll that can have two-way conversations with children – a la Apple Inc.'s Siri system – rather than spitting out pre-programmed phrases like the talking Barbies of yore.
Mattel has partnered with the San Francisco start-up ToyTalk, which has developed a speech-recognition platform. Together, they will make a doll that can remember past conversations and take note of its owner's preferences – for, say, the color purple or for strawberry ice cream – to reference in future replies.
The prototype for the Hello Barbie doll, which requires a wi-fi connection, was introduced at the New York Toy Fair on Feb. 14, though it could only really talk about being a Barbie. A release date for the fully-developed Hello Barbie has yet to be announced. It is expected to sell for about $74.99.
Just last week, Mattel announced another technology partnership, hooking up with Google Inc. to sell a new, virtual-reality version of the View-Master, the classic handheld photo viewer first introduced at the 1939 World's Fair.
A spokeswoman for Mattel said that the number one request the company receives from girls is a Barbie that talks back to them. If those requests are any indication of future sales, Hello Barbie could be the hit Mattel seeks – and needs.
In last year's fourth quarter, Mattel's sales of $1.99 billion were down 6 percent from the same period the year before. For Mattel's core brands, sales of Barbie fell 12 percent, Fisher-Price brand sales dropped 11 percent and American Girl sales fell 4 percent over the same period in 2013.
Shares of Mattel fell 21 cents, or less than 1 percent, in Tuesday trading to close at $27.02.
For reprint and licensing requests for this article, CLICK HERE.