Hackman Drums Up Buyer for Beats HQ Site
Sale: Blue-chip tenant helps net $90 million deal for Hayden Tract buildings.
Monday, February 16, 2015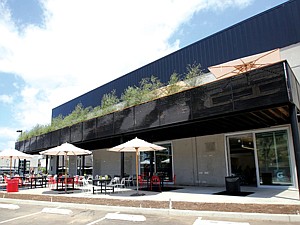 Hackman Capital Partners, a West L.A. real estate investment and development firm that wagered on creative office space in Culver City nearly a decade ago, has seen its bet pay off.
The company has a deal to sell the Beats by Dre headquarters buildings in Culver City to IDS Real Estate Group in a deal valued at about $90 million, more than $700 a square foot. Included in the package are two buildings totaling 109,000 square feet occupied by Beats, acquired last year by Apple Inc. in a $3 billion deal, and a 17,800-square-foot property occupied by digital marketing firm Steelhouse Inc. Beats moved to the site last year after signing a 12-year lease valued at an estimated $51 million.
The last substantial deal in the submarket, LBA Realty's November purchase of the 339,000-square-foot Sony Pictures Plaza at 10000 W. Washington Blvd. in Culver City, clocked in at $159 million, or $470 a foot.
Ryan Smith, managing director at Hackman, confirmed that the properties are in escrow and scheduled to close in March but declined to offer specifics on the transaction.
Representatives of downtown L.A.'s IDS, did not return a call seeking comment.
Hackman collected six warehouses in the Hayden Tract, beginning in 2006, and set about converting them to creative office space.
In an interview with the Business Journal in 2013, Michael Hackman, the firm's chief executive, said he was taking a long-term approach to the project.
"We believe in Culver City long term," he said at the time. "We knew in 2006 there would be potential to do some sort of development there, we just weren't sure how it'd manifest itself over time."
Smith said selling the properties was always an option, but that "with 12 years of Apple credit" it considered holding the property. In the end, the company decided to sell to an investor who could "coupon clip."
Hackman purchased the two Beats buildings, at 8600 Hayden Place and 8550 Higuera St., in 2007 for $25.3 million. It acquired the Steelhouse property, 3644 Eastham Drive, in 2012 for $2.8 million, according to Los Angeles County records.
The package was marketed by Eastdil Secured with an assist from First Property Realty Corp. of Beverly Hills, which was the leasing agent for the buildings.
Big Profit for CIM
The former Beverly Grove home of the pension and health fund for the Directors Guild of America has been sold for $24 million by CIM Group Inc.

Dr. Khawar Siddique, one of four co-owners of Beverly Hills Spine Surgery, purchased the property at 8436 West Third St. in an off-market sale. The transaction, which closed Feb. 5 according to real estate sources, came to about $632 a square foot.
CIM purchased the nine-story, 38,000-square-foot building from the DGA pension fund in July 2013 for just $14 million. CIM intended to remodel and convert the '80s-era office building into a residential property, but the unsolicited offer was too good to refuse, sources said.
Siddique was eager to own a property close to Beverly Hills Spine Surgery's offices at 444 S. San Vicente Blvd. The group intends to occupy a portion of the property, known as the Joseph Youngerman building, using it for medical and administrative offices, sources said.
Siddique and CIM did not respond to requests for comment.
Lynwood Fields and Bob Safai of Madison Partners represented the seller.
Daniel Chiprut, senior managing director of Commercial Asset Group Inc., represented the buyer.
Trojan Trade
The site of popular USC hangout 901 Bar & Grill has been sold, and the deal might portend changes coming to the corner of South Figueroa and 30th streets.
A venture formed by Jade Enterprises, a downtown L.A. real estate investment and development firm run by Brian and Jacob Taban, purchased the site, which also includes a Carl's Jr. and an El Pollo Loco, from a limited liability entity formed by Darryl Holter, chief executive of Downtown L.A. Motors Group. The Holter family had owned the property since 1971. Terms of the deal were not disclosed.
The principals of Jade declined to discuss the purchase, but the site is in the path of a great deal of redevelopment as older properties give way to projects mixing retail and student housing, said Chris Caras, a senior vice president with CBRE Group Inc., who represented the seller.
There are no plans right now for redevelopment, Caras said, "but one would think (the property) would not stay that way forever, based on what's happening."
Staff reporters Jonathan Diamond, Hannah Miet and Carol Lawrence contributed to this report.
For reprint and licensing requests for this article, CLICK HERE.