Food Drive
Online grocery Yummy sweet on slow growth
Monday, February 16, 2015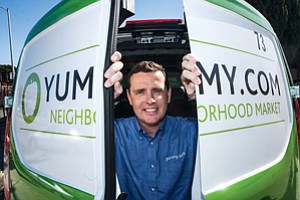 Yummy.com co-founder and Chief Executive Barnaby Montgomery is somewhat of a rare breed among L.A. tech entrepreneurs.
For starters, he launched his online grocery company back in 2002, only a year after the dot-com bust claimed Foster City's Webvan, a pioneering service that crashed after a massive $800 million capital raise.
Another thing that sets him apart: His company has never raised, nor even sought, a penny of venture capital.
What's more, Montgomery has no mobile strategy, generally seen as a prerequisite for
e-commerce startups these days.
"There's no competitive advantage to be obtained by having a mobile app," he explained. "There is a competitive advantage to having a reliable system that can deliver orders in 30 minutes."
That all might seem iconoclastic among today's tech-oriented businesses. Yet Yummy, which delivers groceries to L.A.-area residents from one of five retail stores in about a half-hour, appears to be registering with customers. It opened a store in the Mid-Wilshire neighborhood late last month and a Century City location is expected to open later this year.
Yummy keeps its focus on its back-end, vertically integrated system that includes a proprietary order management platform, as well as a fleet of delivery vans and a team of about 125 full- and part-time drivers.
"We do not outsource," Montgomery said.
"We think the customers are better served."
That's a different model than the one employed by San Francisco's Instacart, which connects customers with other shoppers who pick up and deliver the groceries.
Yummy has also made do with its dated-looking Website for years, though an update to a more responsive design is in the works, according to Montgomery.
"The last thing we think about is our website," he said. "We're always thinking about the back-end systems first."
By doing that, he said, Yummy can focus on keeping its service efficient and accurate.
Competitive market
Despite the entrance of Amazon.com Inc.'s AmazonFresh delivery service into the L.A. market in 2013, Yummy claimed year-over-year sales increased 21 percent in 2014.
That's because the two services are catering to different types of customers, Montgomery said. Whereas Amazon offers scheduled deliveries, Yummy customers tend to be people who need a few items right away.
"They're not attempting to stock up on $150 or $200 worth of groceries," he said.
Yummy's average order is $60, and about half its revenue comes from walk-in customers at its stores in Hollywood, Santa Monica, Silver Lake and Playa Vista.
It charges $4.99 for orders less than $100, while orders more than $100 get free delivery.
AmazonFresh customers pay an annual $299 fee.
Yummy has also taken heed of its predecessors' mistakes.
Despite its huge war chest, Webvan went bankrupt two years after its November 1999 initial public offering. Its failure has been heavily chronicled and studied by tech entrepreneurs, and many experts consider it a prime example of why Silicon Valley's dot-com era mantra of "get big fast" was a bad idea.
"The market spoke when Webvan tried to do too much, too soon," said Brette Simon, an L.A. lawyer and mentor at New York's AccelFoods, a food and beverage startup accelerator.
Yummy has avoided that pitfall by focusing its efforts narrowly on a few L.A. neighborhoods and building customer loyalty through the years. Its original Hollywood store, for example, is still its busiest.
"We really want you to have a pound of ground beef that's convenient and accessible to you without going to the corporate supermarkets," Montgomery said.
Yummy sources its groceries, including fresh meat and produce, from the same local distributors that sell to stores such as Bristol Farms Inc. and Gelson's Markets, he said.
Organic growth
While Yummy doesn't focus entirely on organic products, Montgomery said many customers are conscious about where their food comes from and what goes in it. That demand for so-called "aspirational" items has led him to stock only hormone- and antibiotic-free chicken. Another popular item in that category is milk: Yummy sells more organic than regular milk.
Simon said many shoppers these days like to know everything they can about what she refers to as food's "chain of title" before they buy it.
"Consumers are a lot more sophisticated these days," she said. "They want to be more informed about the supply chain."
That's led many startups to specialize in organic and natural products, such as Culver City online retailer Thrive Market, which launched in November.
One of Thrive's investors is Brian Lee, co-founder of Santa Monica's Honest Co., which sells eco-friendly and nontoxic home products.
While he recognizes the trend, Montgomery said Yummy hasn't gone all in on the organic food niche out of fear that it would cause sticker shock among some customers.
"We're not completely organic because price is a relevant factor today," he said.
For reprint and licensing requests for this article, CLICK HERE.