Medical Benefits
DESIGN: Karten expanded focus on health care devices to meet demand for more functional, elegant equipment.
Monday, February 9, 2015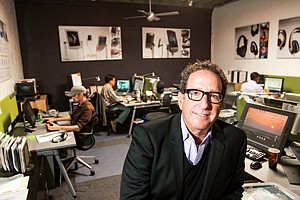 In a world where your headphones, trash can and avocado slicer not only work well but look good, design can't be just an afterthought. It has become essential – even for the medical industry.
Nobody knows this better than Stuart Karten. An industrial designer with more than three decades of experience, he started working on a client's device a few months ago that tracks the airflow of inhaled medications or therapies before the company, RespEQ, even had outside funding.
In fact, the startup, whose core technology came out of a prestigious medical university, asked Karten to help establish the company's look and feel in its pitch to investors, as well as help visualize what the product could be.
"When we identify companies with a very compelling technology in early stages, we'll exchange equity to jump-start them and help them succeed in getting funding," Karten, 57, said of his Marina del Rey firm Karten Design. "RespEQ is an example of that."
Design, once an afterthought, has become a ground-floor necessity.
Raymond W. Cohen, chief executive of Axonics Modulation Technologies in Irvine, called Karten his secret weapon.
"No doubt about it," Cohen said. "I get him involved from the beginning."
Karten's team recently helped design every aspect of Axonics' implantable device for an overactive bladder and a patient remote. A previous joint project, designing and branding a system that treats hypertension through a catheter for Cohen's former company, Vessix Vascular, helped facilitate that firm's sale to Boston Scientific for more than $400 million.

"The medical industry has been behind the times in terms of form and function and design," Cohen said. These days, people not only expect products to work, they need to be better looking and easier to use.
"We're starting to see a convergence of consumer technology or consumer expectations with medical devices," he said. "Stuart's just been really well-positioned to take advantage of that and been on the leading edge of this type of development."
From dolls to docs
After graduating from the Rhode Island School of Design, Karten decided to move to Southern California with his costume designer sister who'd gotten a gig working for TV producer Norman Lear's wardrobe director. Karten thought it would be just a brief fling with the Golden State before getting serious about his career. But he got a job in two weeks and never left Los Angeles.
His early jobs include designing and engineering Barbie at Mattel Inc. and medical devices at Baxter. At the health care giant, Karten had a prophetic experience while improving a bone-marrow biopsy needle.
"I watched doctors using the needle," Karten recalled. "It did what it was supposed to do, but it actually hurt the doctors and left marks on their hands."
Karten redesigned the tool so the forces and pressure used to drive the needle and create the biopsy wouldn't hurt physicians.
After three years at Baxter, Karten launched his own design firm in 1984, handling everything from research to design, engineering and sales.
Today, Karten Design has about 30 employees, including sociologists, anthropologists and cognitive scientists, as well as mechanical engineers, and industrial, digital, graphic and user-experience designers.
The studio, housed mostly in a drab one-story gray-and-white brick building, is anything but dull on the inside. Products hopscotch among rooms for different stages of the process.
A second building in the back, called the guest house, contains a prototype shop with drill presses and other tools, as well as a large flexible stage set where Karten has set up a cozy living room for product market research or parked motorcycles when retooling colors and materials for Kawasaki.
Move to medical
While Karten has designed Bluetooth headsets and other consumer electronics, for the last four years he's focused the majority of his practice on health care.
Demand for medical equipment design has increased over the past five years, and accounted for about 16 percent of the industrial design sector's nearly $3 billion in revenue last year, according to market research firm IBISWorld.
As more consumer electronics products were designed and produced in Asia, Karten said, his firm has focused more on the medical.
"With the pressure to create more value, we're of more value to our clients," he explained. "We don't just do industrial design. We do research and create designs based on that research and help take it to production."
That wider spectrum of work means a higher likelihood of repeat work – and it means projects come with a higher dollar value. For example, a large-scale medical project encompassing research, industrial and digital design and mechanical engineering runs between $750,000 to $1 million and spans seven to 10 months.
Despite the growth Karten Design has experienced, the company still likes to keep a low profile in its unassuming headquarters. Karten said that after 18 years in the building, he hung out signage with the company's name only last year. While Karten needs to keep his confidential projects under wraps, he also likes the element of surprise when clients visit for the first time.
"It's the drama factor," he said. "They don't know what they're walking into."
For reprint and licensing requests for this article, CLICK HERE.