Moving Up
INTERNET: Mobile Majority takes run at growing online ad sector with acquisition of data analysis firm Elastic.
Monday, February 2, 2015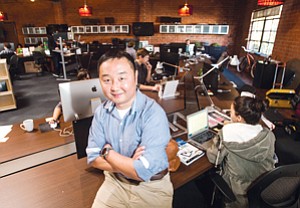 The mobile advertising market is taking off like a rocket, and Santa Monica's Mobile Majority is getting ready for the ride.
The mobile ad network bought Brazilian Web development company Elastic in a deal valued at up to $7 million if certain benchmarks are met. The deal adds a team of computer engineers to Mobile Majority's ranks who are expected to bring significant data-driven insight to the firm's services.
The company's expansion came as it hit $4 million in revenue in October, a 25,000 percent increase over what it generated shortly after launch three years ago, and a pace it expects to maintain, according to co-founder and Chief Executive Rob Emrich.
"Based on the demand for quality mobile advertising, we're just seeing a massive spike in our business," he said.
The company's growth and its pickup of the Elastic team comes as digital advertising is on the rise overall. The mobile sector is set for a particularly strong run due to the rapid proliferation of smartphones and tablets around the globe.
Some 320 million tablets were projected to be sold this year, 4 million more than the number of PCs, according to Stamford, Conn., research firm Gartner Inc. Sales of mobile phones are expected to dwarf those numbers: Nearly 2 billion units are expected to be sold this year according to Gartner, though that number includes devices that can't connect to the Internet.
Against that penetration, brands are expected to spend $64 billion on mobile ads worldwide this year. That expenditure could hit $158 billion by 2018 – a 246 percent jump – according to eMarketer Inc., New York business forecaster.
Data driven
Originally known as PaeDae, Mobile Majority launched in 2012 as a mobile rewards service, but Emrich changed the name and business model in June to focus more on the broader advertising market while simultaneously debuting a suite of products designed to enhance ad viewability and fraud detection.
Mobile Majority places ads for companies on Web pages and within apps, taking a cut of cost of each purchase. Its clients include large national brands such as Paramount Pictures Corp., JPMorgan Chase Bank and Bayer.
Mobile Majority's team, for example, can help Paramount get its ads for a new horror movie in front of teenage eyeballs.
The engineering team Emrich acquired with the purchase of Elastic uses sophisticated software to determine the suitability of each potential venue for Mobile Majority's ads, whether on a mobile Web page or within an app, based on analysis of the site's viewers and whether people can actually see the ads.
Before the acquisition, Elastic sold that service to a number of companies, including Mobile Majority.
Ad viewability is more problematic on mobile-phone browsers than on desktops, according to Emrich, so it's especially crucial for his team to understand how ads perform on each publisher's page.
"Faster software means better results for our customers," Cheolho Minale, Mobile Majority's vice president of technology, said in an email. "We can, generally speaking, be more intelligent about each impression opportunity."
Elastic's six software developers will remain in its São Paulo office, but the added brainpower will boost Mobile Majority's ability to obtain valuable data insights in milliseconds as its inventory passes through real-time, computerized ad-bidding platforms such as Pasadena's OpenX, which connects ad networks with digital publishers selling real estate on their websites.
"We're seeing increased demand from partners such as Mobile Majority," said Rob Kramer, general manager of mobile at OpenX. "It's an ongoing trend that's going to continue through the year," he said of mobile-centric networks.
As the type of deep-data insight offered by Elastic trickles throughout the industry, brands will get added reassurance that people are actually seeing the ads they've paid for, said Joe Laszlo, a senior director at the Internet Advertising Bureau, a trade group in New York, who's in charge of mobile marketing initiatives.
Trend setters
In the next year or two, the market can expect to see a greater number of video ads, more campaigns conducted with advertising agencies as well as better integration of GPS data to create locally targeted ads, according to Laszlo.
These trends have not gone unnoticed by L.A. tech companies – or their suitors. AdColony, a West L.A. mobile video advertising platform, was purchased in July for $350 million by Oslo, Norway's Opera Software.
Santa Monica's NearWoo is poised for success as well.
The two-year-old mobile ad network, which specializes in hyperlocal ads for retailers, generated $1 million in revenue last year.
The company announced last month that its ads will now be sold on Google's Ad Exchange, one of the largest real-time bidding platforms in the world. This deal should result in far more ads placed for the company's clients, and in turn, more money for NearWoo.

While that's good news for the company, co-founder and Chief Executive Jason Crilly said that in the next 18 months he expects a new product, currently in beta release, to be 10 times as successful.
Called AdNucleus, Crilly said the technology combines hyperlocal targeting with consumer-profiling capabilities that can identify when wealthy individuals, particularly those in the top 1 percent of the nation's earners, are within a particular geographic location.
For reprint and licensing requests for this article, CLICK HERE.