Plastic Bag Makers Double Up on State Measures
POLITICS: Sector's latest initiative would shift sack fees away from grocers.
Monday, December 21, 2015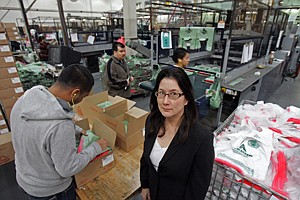 Upset with the state Legislature's passage last year of a ban on plastic bag use in grocery stores, the plastic bag industry is mounting a most unusual attack on the law, with not one, but two initiatives aiming for November's ballot.
Late last year, the American Progressive Bag Alliance – a group formed a decade ago to fight the spread of plastic bag bans – qualified a referendum on the state ban.
Industries that stand to be negatively impacted by a just-passed law often place that law on the ballot with the intention of persuading the voters to reject it, though the track record on such referenda is mixed.
But here's the twist: Earlier this month, the alliance received clearance from the Secretary of State's Office to begin collecting signatures on a second ballot measure. This one says that, under last year's plastic bag ban, the fees grocery shoppers pay for paper and reusable bags must be turned over to the state to be directed to specific environmental programs.
Last year's ban, modeled on one passed by the city of Los Angeles, allows grocery store owners to keep the fees they collect at the cash register. Since grocery store owners never used to charge customers for paper or reusable bags, last year's law is a revenue boost for store owners.
Of course, a measure just redirecting the fee revenue doesn't touch the plastic bag ban itself. And that has people wondering why the plastic bag industry would put forward such a measure.
The APBA's position was explained by Cathy Browne, general manager at Crown Poly Inc. of Huntington Park, the largest local plastic bag manufacturer.
"We are against the bag ban, but if there is to be a bag ban, the money should go toward solving the environmental problems the entire measure was crafted to address," Browne said. "Why should the money go to profit the grocers? It's one of the reasons why we opposed the original bag ban in Sacramento."
But is this new measure an attempt to peel off grocery industry support for the plastic bag ban by depriving store owners of this sudden cash boost?
The answer is no, according to Lee Califf, executive director with the APBA.
"We want to make sure voters … know exactly where their money is going and be able to weigh in at the ballot box next November," Califf said.
New Laws
Prev Next
For reprint and licensing requests for this article, CLICK HERE.