Plastic Bag Makers Double Up on State Measures
POLITICS: Sector's latest initiative would shift sack fees away from grocers.
Monday, December 21, 2015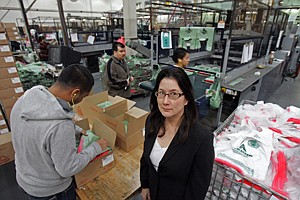 Upset with the state Legislature's passage last year of a ban on plastic bag use in grocery stores, the plastic bag industry is mounting a most unusual attack on the law, with not one, but two initiatives aiming for November's ballot.
Late last year, the American Progressive Bag Alliance – a group formed a decade ago to fight the spread of plastic bag bans – qualified a referendum on the state ban.
Industries that stand to be negatively impacted by a just-passed law often place that law on the ballot with the intention of persuading the voters to reject it, though the track record on such referenda is mixed.
But here's the twist: Earlier this month, the alliance received clearance from the Secretary of State's Office to begin collecting signatures on a second ballot measure. This one says that, under last year's plastic bag ban, the fees grocery shoppers pay for paper and reusable bags must be turned over to the state to be directed to specific environmental programs.
Last year's ban, modeled on one passed by the city of Los Angeles, allows grocery store owners to keep the fees they collect at the cash register. Since grocery store owners never used to charge customers for paper or reusable bags, last year's law is a revenue boost for store owners.
Of course, a measure just redirecting the fee revenue doesn't touch the plastic bag ban itself. And that has people wondering why the plastic bag industry would put forward such a measure.
The APBA's position was explained by Cathy Browne, general manager at Crown Poly Inc. of Huntington Park, the largest local plastic bag manufacturer.
"We are against the bag ban, but if there is to be a bag ban, the money should go toward solving the environmental problems the entire measure was crafted to address," Browne said. "Why should the money go to profit the grocers? It's one of the reasons why we opposed the original bag ban in Sacramento."
But is this new measure an attempt to peel off grocery industry support for the plastic bag ban by depriving store owners of this sudden cash boost?
The answer is no, according to Lee Califf, executive director with the APBA.
"We want to make sure voters … know exactly where their money is going and be able to weigh in at the ballot box next November," Califf said.
New Laws
Employers in Los Angeles County and California will face a raft of new laws taking effect Jan. 1, and while smaller in number than recent years, they will have a broad impact. Among the most noteworthy:
An increase in the statewide minimum wage to $10 an hour from the current $9. This is the final phase of a law passed in 2013. Since then, the minimum-wage landscape has changed. Earlier this year, the city and county of Los Angeles passed increases in the minimum wage – to $15 an hour by 2020. Others are likely to follow suit. The first phase of both the city and county's minimum-wage hike – to $10.50 an hour – will kick in July 1.
The gender equity pay law, which mandates that women at a workplace facility doing "substantially similar" work to men receive equal pay. The old standard had been "equal pay for equal work." The law also prohibits employer retaliation against employees who inquire about salary levels of co-workers. This law had the support of the California Chamber of Commerce, but corporate defense attorneys and some business owners believe it will lead to more lawsuits. (See "Salary Equity Act May Equal Grief," Oct. 12.)
New protections for franchisees as they sign agreements with chain operators. Among the new protections in this "Franchisee Bill of Rights" law: a higher bar for franchisers seeking to terminate a franchisee and, if a franchise agreement is dissolved, the return of equity the franchisee invested upon signing the agreement.
On the positive side for businesses, employers as of Jan. 1 will have the right to correct certain wage statement violations within 33 days before an employee can sue. "Employers have been hit with multimillion-dollar lawsuits for ticky-tack violations such as abbreviating an employee's name on a pay stub," said Jennifer Barrera, a lobbyist with the California chamber, regarding the current law.
Parking Relief?
In highly congested sections of Los Angeles, finding a parking space isn't just a challenge for commuters and shoppers. It can also be a major headache for delivery truck drivers, who often have to park in the middle of roads or park illegally.
Los Angeles City Councilman Mike Bonin wants to change this. Earlier this month, he authored a motion ordering the city's Transportation Department to report back on the top 20 street segments with the largest number of parking citations issued to delivery and fleet vehicles. The department must also look at expanding commercial loading zones.
Staff reporter Howard Fine can be reached at hfine@labusinessjournal.com or (323) 549-5225, ext. 227.
For reprint and licensing requests for this article, CLICK HERE.