Maker of Wireless Charger Losing Investment Power?
TECHNOLOGY: Analysts question uBeam's use of crowdfunding campaign.
Friday, December 18, 2015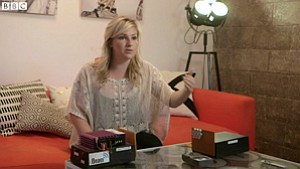 This story has been updated from its original version.
Wireless energy startup uBeam Inc. of Santa Monica seems to be raising its financing in reverse order.
Crowdfunding is usually done by very early stage companies. But uBeam, founded by 26-year-old Chief Executive Meredith Perry, recently closed a $2.6 million crowdfunded round after already raising tens of millions from prominent angel investors and venture capital firms over the past few years.
Enthusiasm for uBeam was sky high during its first three years of existence. As a result, the startup brought in $23.2 million from big names such as Menlo Park's Andreesen Horowitz, Santa Monica's Upfront Ventures, Peter Thiel's Founders Fund as well as billionaire Mark Cuban and Yahoo Inc. Chief Executive Marissa Mayer.
But over the last year, skepticism has grown surrounding uBeam's claims that it can wirelessly charge electronics, such as cellphones and flat-screen TVs, by sending ultrasonic energy through the air.
Now it appears that investor interest is cooling down, since crowdfunding is not typically done by firms that have already attracted deep-pocketed and well-connected backers. Crowdfunding usually involves gathering many investments, often small ones, from individuals online.
"I'm shocked they are going after equity crowdfunding after brining in Andreessen Horowitz," said Patrick Henry, professor of clinical entrepreneurship at USC's Marshall School of Business. "It almost feels like it's desperation."
UBeam's crowdfunding efforts have so far raised $2.6 million of its $4.7 million target, according to a filing with the Securities and Exchange Commission. That amount was raised from 95 investors, who each invested a minimum of $10,000. The crowdfunding effort began in July and is being facilitated by crowdfunding platform OurCrowd of Jerusalem.
The controversy surrounding uBeam revolves around the feasibility of its underlying technology. By transmitting ultrasonic waves through the air and then converting them into electricity, the company claims its technology can generate at least 1.5 watts of electricity at a distance of about 13 feet from a transmitter, enough to provide a trickle charge to an iPhone.
However, last month ultrasound technology experts told the Business Journal that the concept is likely to be inefficient and expensive – at best. Since its founding in 2011, uBeam has declined to demonstrate a working cellphone prototype, so it's not known whether the company can back up its claims.
Mixed signals
Investor enthusiasm for uBeam appeared to peak in October of last year when the company raised a $10 million Series A round led by Upfront Ventures. Since then, uBeam's funding has come with more onerous terms and from individuals with little experience investing in electronics companies.
For reprint and licensing requests for this article, CLICK HERE.
Prev Next