Maker of Wireless Charger Losing Investment Power?
TECHNOLOGY: Analysts question uBeam's use of crowdfunding campaign.
Friday, December 18, 2015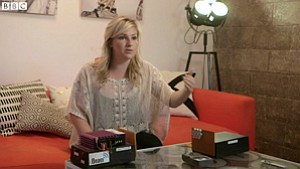 This story has been updated from its original version.
Wireless energy startup uBeam Inc. of Santa Monica seems to be raising its financing in reverse order.
Crowdfunding is usually done by very early stage companies. But uBeam, founded by 26-year-old Chief Executive Meredith Perry, recently closed a $2.6 million crowdfunded round after already raising tens of millions from prominent angel investors and venture capital firms over the past few years.
Enthusiasm for uBeam was sky high during its first three years of existence. As a result, the startup brought in $23.2 million from big names such as Menlo Park's Andreesen Horowitz, Santa Monica's Upfront Ventures, Peter Thiel's Founders Fund as well as billionaire Mark Cuban and Yahoo Inc. Chief Executive Marissa Mayer.
But over the last year, skepticism has grown surrounding uBeam's claims that it can wirelessly charge electronics, such as cellphones and flat-screen TVs, by sending ultrasonic energy through the air.
Now it appears that investor interest is cooling down, since crowdfunding is not typically done by firms that have already attracted deep-pocketed and well-connected backers. Crowdfunding usually involves gathering many investments, often small ones, from individuals online.
"I'm shocked they are going after equity crowdfunding after brining in Andreessen Horowitz," said Patrick Henry, professor of clinical entrepreneurship at USC's Marshall School of Business. "It almost feels like it's desperation."
UBeam's crowdfunding efforts have so far raised $2.6 million of its $4.7 million target, according to a filing with the Securities and Exchange Commission. That amount was raised from 95 investors, who each invested a minimum of $10,000. The crowdfunding effort began in July and is being facilitated by crowdfunding platform OurCrowd of Jerusalem.
The controversy surrounding uBeam revolves around the feasibility of its underlying technology. By transmitting ultrasonic waves through the air and then converting them into electricity, the company claims its technology can generate at least 1.5 watts of electricity at a distance of about 13 feet from a transmitter, enough to provide a trickle charge to an iPhone.
However, last month ultrasound technology experts told the Business Journal that the concept is likely to be inefficient and expensive – at best. Since its founding in 2011, uBeam has declined to demonstrate a working cellphone prototype, so it's not known whether the company can back up its claims.
Mixed signals
Investor enthusiasm for uBeam appeared to peak in October of last year when the company raised a $10 million Series A round led by Upfront Ventures. Since then, uBeam's funding has come with more onerous terms and from individuals with little experience investing in electronics companies.
UBeam began an effort to raise $15 million in uncapped convertible debt in July, a type of loan financing that can be converted into equity at a later date. By September, the company had only raised $9 million from investors including entertainment lawyer Ken Hertz, Twitter Inc. Vice President of Global Media Katie Stanton and talent agency William Morris Endeavor Entertainment.
Convertible debt rounds can be valuable for startups of a certain stage, said Rami Rostami, managing partner of Santa Monica venture capital firm TYLT Lab.
"A lot of times, depending on what the tech is, if it's not 100 percent validated, or if it's not certain it will come to fruition, startups will raise convertible notes," he said during an interview in July. "If you're not sure, (it's) a safe bet, from an investor's point of view."
Additionally, startups sometimes use convertible debt as a way to raise money without selling equity on unfavorable terms, he added.
However, uBeam's uncapped convertible debt round is unusually complex.
"The crowdfunding round was part of the $9 million in convertible notes raised in July," said a source with knowledge of the situation, who was not authorized to comment publicly on the matter.
Using crowdfunding to help raise convertible debt is a feat of financial engineering not seen in tech startup funding, said crowdfunding industry experts.
Moreover, combining convertible debt financing with crowdfunding, especially after receiving a Series A round from cash-flush investors such as Andreesen Horowitz, is abnormal.
"They go from $10 million Series A round to $9 million convertible notes to $4.7 million crowdfunding; that's like a down round all the way through," said Marshall's Henry.
Crowdfunding is typically used by newborn companies as a seed financing tool. When used by later-stage companies, loyal customers are typically asked to invest, said industry experts.
But uBeam does not have a publicly demonstrated product, let alone customers.
"I think it's very untraditional for a company to do smaller angel rounds, do an institutional round and then raise a crowdfunded round," said Vincent Bradley of Santa Monica crowdfunding website FlashFunders. "It's a pretty strange sequence of events."
UBeam declined to be interviewed about its crowdfunding. The Business Journal also reached out to five of uBeam's angel investors and OurCrowd for comment. One angel investor responded, but declined to be interviewed.
However, the combination of angel, venture capital and crowdfunding investments might also be a sign of the times, some industry experts said. As relaxed financial regulations have opened up equity crowdfunding over the past year, the financing tool might become more prevalent for more established companies going forward.
"It validates what we are likely to see more of in the future, which is an integration of institutional capital combined with crowdfunding to create an advantage for entrepreneurs," said Ron Miller, chief executive of Santa Monica equity crowdfunding firm StartEngine. "The existing investors in (uBeam's first) two rounds must have validated and consented to the company raising a crowdfunded round."
The new crowdfunding rules could be an easier way to raise money for startups, said David Choi, director of the Fred Kiesner Center for Entrepreneurship at Loyola Marymount University in Westchester.
"The No. 1 rule in financing is you get what you can," he said. "It's really hard to bring really good tech to the market."
Technology reporter Garrett Reim can be reached at greim@labusinessjournal.com. Follow him on Twitter @garrettreim for the latest in L.A. tech news.
For reprint and licensing requests for this article, CLICK HERE.