Quick Rise, Sudden Fall
MANUFACTURING: Fuhu's bankruptcy prompts bid from giant toymaker Mattel.
Monday, December 14, 2015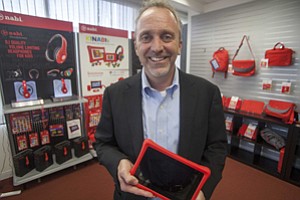 El Segundo's fast-rising star Fuhu Inc. came crashing down to Earth with a filing for bankruptcy last week.
Fuhu – which gained national exposure for its quick growth – blames problems with a supplier. But whether the company can straighten out its issues and remain independent and viable is an open question.
Veteran toy company and El Segundo neighbor Mattel Inc. has offered to buy Fuhu for only $9.5 million, which could be a tactic to attract subsequent – and larger – bids after agreeing to lend emergency funds to the 8-year-old company.
That's far below the roughly $65 million Fuhu had raised from investors such as DreamWorks Animation, Fountain Valley computer chip maker Kingston Technology and Taiwanese electronics firm Acer. Another of its investors, Taiwanese electronics giant Foxconn Technology Group, which Fuhu tapped to manufacture its nabi tablets, wound up being closely involved in its downfall, according to Fuhu.
Should Mattel succeed with its bid, the acquisition could benefit the company if it uses Fuhu's technology to help keep its brands relevant with kids as they age out of dolls and trucks and into consumer electronics.
Fuhu launched in 2008 with its core product, the 7-inch nabi Android tablet for kids. Under parental control features, children can watch licensed content, chat with friends and family members or go online using mobile applications and a subscription service.
Since then, Fuhu has varied its offerings, releasing tablets with TV-size screens and recently kids' versions of fitness wristbands.
The tablets pushed Fuhu to the top of Inc. Magazine's fastest-growing companies list in 2013; its revenue had grown nearly 160 percent since 2010 to $195 million. Fuhu topped the list again last year.
Likewise, the company was No. 1 on the Business Journal's list of 100 Fastest Growing Private Companies in both 2013 and last year. The company did not appear in this year's rankings year, which came out last month.
Fuhu, co-founded by Robb Fujioka, Steve Hui and John Hui, and led by Chief Executive Jim Mitchell, did not provide financial figures to the Business Journal for the list this year.
Rise, fall
Fuhu could be facing a problem with consumer demand for its products.
After growing rapidly since 2010, tablet sales generally experienced their first decline this year, said Shawn DuBravac, chief economist for the Consumer Electronics Association in Washington, D.C. Year to date, tablet sales by unit volume are down 19 percent compared with the year-ago period. Although those figures are for tablets for adults, he assumes much the same is occurring for kids' devices.
Prev Next
For reprint and licensing requests for this article, CLICK HERE.