New Wave
Old shops washed out by Venice's tech scene
Monday, December 7, 2015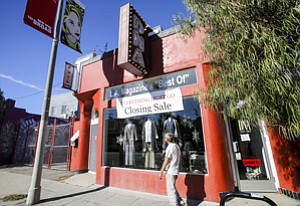 The age of $2 tacos could soon be over on Rose Avenue – a street that symbolizes Venice's transformation from bohemian beach town to sophisticated Silicon Beach hub.
La Fiesta Brava has been handed an eviction notice after 23 years serving affordable Mexican fare, and the restaurant slated to take over that space is more likely to serve salt-roasted branzino and grilled oysters.
A few doors away, 23-year-old DNA Clothing is closing after its rent tripled. A yoga studio reportedly is scouting out the space.
The forced march of Rose's old-timers is a sign that the street is abandoning its past as a sleepy, rough-hewn road you'd pass through to get from Lincoln Boulevard to the beach. Now, an influx of hip restaurants is attracting new tenants as the rest of Venice gets overcrowded with shopping and dining.
While the seaside neighborhood's turn to the trendy and refined has been years in the making, the recent spillover to Rose from popular shopping drags Abbot Kinney Boulevard and Main Street signals a quicker, bigger metamorphosis taking hold. Tech companies are snatching up property and the neighborhood is filling with young and affluent employees.
There's just one problem: There's little room to grow on narrow streets already packed with homes and businesses. That won't change even as tech companies such as Google Inc. and Yahoo Inc. add digs in Playa Vista, about three miles away. Venice will still remain a kind of local home base for them, said real estate broker Nico Vilgiate, executive vice president for Colliers International in Los Angeles.
"Rose Avenue is Silicon Beach in a nutshell," said Vilgiate. "It's not just an office environment. It's where those employees work, live and play."
Cracked sidewalks
A decade ago, investors had little appetite for Rose, a street remembered as kitschy at best and dumpy at worst. Homeless people lived on the cracked sidewalks and in permanently parked RVs. A couple of mom-and-pop markets sold chips and liquor. An industrial facility for the Pioneer Bakery dominated a full block. After the bakery closed in 2006, its weedy lot stood empty for years.
The business landscape started shifting in 2011 when Google moved into the iconic Binoculars Building on Main around the corner from Rose. The next year saw a flurry of activity with a mixed-use apartment complex opening on the old bakery lot, pulling in a vegan restaurant, yoga studio and hair salon. Across the street, Superba Snack Bar from the creator of the Pitfire Pizza chain opened to rave reviews next to an already buzzing wine bar.
For reprint and licensing requests for this article, CLICK HERE.
Prev Next