New Wave
How to make millions flipping in Venice
Monday, December 7, 2015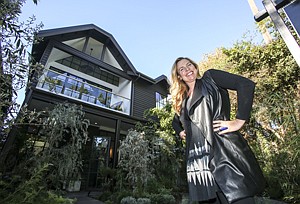 Few people understand the changing face of Venice better than property designer Kim Gordon.
Soon after she moved there 20 years ago, gang members buried a bag of drugs and guns in her backyard.
Today, she designs and develops luxury homes in the area, selling them for millions to creatives who epitomize the new face of Venice.
Gordon, 50, uses her familiarity with both the new and old Venice to her advantage. She acquires shabby houses for as low as $850,000 in off-market transactions, paying cash to owners she knows from the neighborhood. Then she designs luxury transformations with a focus on natural light and warm interiors.
Then, her business partner and fiancé, Mauricio Suarez, helps to renovate them on the cheap, tapping his network of 28 independent contractors. Gordon stages the homes with artsy touches and flips them for as much as $4 million.
Kim Gordon Designs has a 3,000-square-foot house at 911 Nowita Place on the market now – which she acquired for less than $1 million and is selling for almost $4 million – and six more on the way in the coming year.

"People say that Venice has lost its artists," Gordon said, tracing the hem of her black pleather vest while lounging in a linen chair near the floor-to-ceiling windows she designed at 911 Nowita. "There are video-game designers, fashion people. Those are artists."
Buyers of her homes include the likes of TBWAChiatDay creative chief Stephen Butler and True Religion Apparel Inc. alum Kelly Furano and her husband, Keith Eshelman of Toms Shoes.
Scrappy beginnings
Gordon, a New Jersey native, moved to Venice in the mid-'90s, paying $700 a month for a two-bedroom apartment in the 1700 block of Washington Way. It was across the street from the Bible Tabernacle church, which fed the homeless in lines that stretched in front of her building. Random men often appeared outside her bathroom window.
"I was dating and you'd say to guys, 'Pick me up in Venice,'" Gordon said. "They'd look horrified. They'd say, 'What? Do you live alone?'"
Gordon pieced together artistic odd jobs, including antiquing wood for Eagles drummer Don Henley in Malibu. Later, she worked for esteemed designer Kerry Joyce and faux-finished a bowling alley that was under a tennis court at a sprawling estate in Beverly Hills.
But after seeing how the other half lived, Gordon would return home to gritty Venice.
In the early 2000s, she bought her first home with her now-ex-husband in the 900 block of Sixth Ave. The block was hot – and not in real estate terms.
"One night, a guy jumped over our fence and buried drugs and guns in the backyard," Gordon said. "Then (another) gang member knocked on our front door and said he had to go in our backyard."
Lee Johnson, a residential broker at Sotheby's International Realty's Santa Monica office has sold homes in Venice for 16 years. He remembers those pre-Snapchat days, before Intelligentsia sold $5 lattes on Abbot Kinney Boulevard.
"When I first started, Venice was the rough-and-tumble side of town, with a higher crime rate," he said. "Even once Abbot Kinney started to become popular in the early 2000s, you felt unsafe parking one block away. Now, I would feel safe parking anywhere in Venice."
Johnson sold his first home there in 1998 for $180,000, a property which he said is worth $1.8 million today. Over the past five years, he has seen home prices rise 60 percent to 70 percent.
"Tech people can afford those prices, so it's gentrification times 20," he said.
Luxury living
In 2009, Gordon separated from her husband and met Tami Pardee, chief executive of Venice brokerage Pardee Properties, who urged her to buy a house in the 900 block of Nowita.
At that time, she said she also formed a business relationship with a local investor known only as "Uncle Al," a rich, mysterious figure with a 30-year history of investing in Venice properties. She put down 20 percent in cash while Uncle Al paid the other 80 percent. They paid $925,000 for the home.
After fixing it up with Suarez, who was then just a hired contractor, Gordon sold it in 2010 for $3 million.
Pardee has been selling Gordon houses ever since, and Uncle Al has helped her purchase them. She decided to keep working with Suarez, and then proceeded to fall in love with him. Her team had formed.
The signatures of Gordon's homes are huge steel-framed windows; lighting made to compliment artwork; and plaster walls, hand troweled for texture. Gordon interior designs every piece herself.
Her favorite part of 911 Nowita is not a boardwalk that winds through the garden or a staircase that climbs three floors to a rooftop patio. It's the master suite's standalone white bathtub, which is made out of a composite and is soft to the touch.
"I want the Tom Ford gay guys to feel at home here," she said, running an engagement ring-clad finger along the tub. "I also want the pregnant Pottery Barn moms to feel at home here."
For reprint and licensing requests for this article, CLICK HERE.