Hollar Raises $12 Million, A Few Months After Seed Round
Thursday, December 3, 2015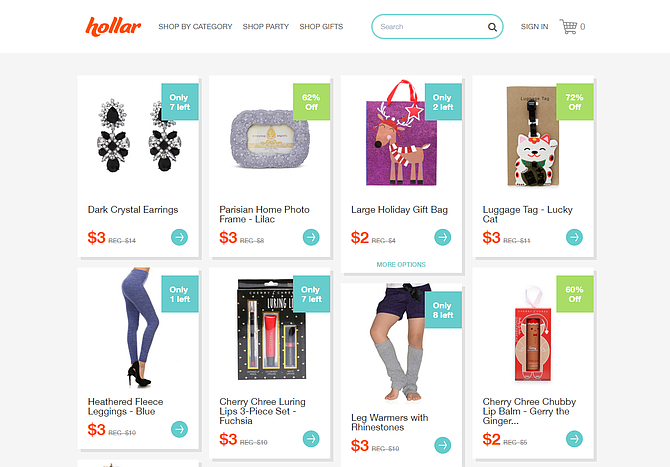 Online discount store Hollar of Santa Monica has closed a $12 million Series A round just four months after raising a $5.5 million seed round.
Hollar aims to put the dollar store experience online, though most of its items actually cost $2. The retailer sells consumer goods such as makeup, coffee cups, decorations and cheap jewelry. The company is trying to set itself apart from brick-and-mortar stores by operating solely online, cultivating a strong brand and selling trendier items.
"We are really trying to chase after the extreme-value segment," said co-founder and Chief Executive David Yeom, noting that the company is targeting female millennial and generation-X shoppers. "We know that moms are going to be incredible targets for us."
Yeom also believes the bulk of Hollar's sales will come from mobile phone browsing and shopping. The 30-person company plans to launch an app in the next couple of weeks, which Yeom said will attempt to replicate the experience of rummaging through bins and finding must-have items, which he considers an appealing aspect of bargain shopping.
Hollar was co-founded by Honest Co. Chief Executive Brian Lee, who serves as the company's executive chairman. Lee has been a prolific tech founder in Southern California over the past decade. In addition to Honest Co., Lee also co-founded LegalZoom Inc. of Glendale and ShoeDazzle, which was bought by Santa Monica's JustFab in 2013.
Hollar's executive team includes a number of Lee's former associates, including former ShoeDazzle executives Eddie Rhyu, who serves as chief creative officer, and Chief Technology Officer Thanh Khuu. Former 99 Cents Only Stores strategist John Um has also joined as chief operating officer.
"Raising a seed round to Series A in a short period of time really has to do with the people we have," explained Yeom. "I pinch myself when I think about our founding team."
Hollar's Series A funding round will be used to acquire customers through advertising, better source imported products and ramp up hiring, he said.
The Series A round was led by Index Ventures with participation from Lightspeed Venture Partners, Pritzker Group Venture Capital, Forerunner Ventures and Brian Lee's venture firm BAM Ventures. Index Ventures Partner Danny Rimmer and Lightspeed Venture Partner Jeremy Liew have also joined Hollar's board of directors.
Technology reporter Garrett Reim can be reached at greim@labusinessjournal.com. Follow him on Twitter @garrettreim for the latest in L.A. tech news.
For reprint and licensing requests for this article, CLICK HERE.