Shop Buyer Might Have Mixed-Use Plan in Store
REAL ESTATE: Sunset Strip property could welcome retail-hospitality project.
Monday, August 31, 2015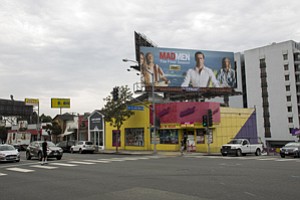 The Sunset Strip has gone through many incarnations over the years, from Rat Pack hangout to rock 'n' roll destination to cocaine-pickup location, but these days it's all about those cranes.
A partnership housed at the Beverly Hills offices of developer Sonny Astani is the latest to snatch up prime property on the Strip, a development site that could add to the 789 hotel rooms and 254 residential units under construction or in the pipeline on Sunset Boulevard between Doheny Drive and the Chateau Marmont.
A limited liability corporation called Sunset BLA 2726, registered at the offices of Astani Enterprises, last month shelled out $11.5 million for a 4,700-square-foot retail building on an 11,000-square-foot parcel at 8874-78 W. Sunset, home to the semi-iconic cheapo Aahs! gift shop. It paid a whopping $2,400 a square foot for the site. The same group acquired the adjacent stores, at 8866-72 W. Sunset, in January for $1,300 a square foot.
Astani isn't talking about plans for the site, but the prices paid have led to speculation that a mixed-use project is on the horizon.
"At that purchase price, it has to be mixed use," said Gabe Kadosh, a vice president at Colliers International who works in West Hollywood. "That goes in line with everything else that's going on (on the Strip)."
Mixed-use uptick
Luxury residential mixed-use projects are, in fact, Astani's bread and butter. The firm is developing two in downtown Los Angeles: the 293-unit 12th & Olive project and the 347-unit 12th & Grand project for Arizona investor Wolff Co.
The sellers of the Aahs! site, Brotherton Family Trust of 1996 and the Morgan Family Trust, could not be reached for comment.
Rachel Dimond, a senior planner for West Hollywood, said the city has not received any proposals. Babloo Sawhney, owner of Aahs!, which has five other L.A. locations, is equally in the dark.
"I have no idea whether we will stay open or not," he said.
Whatever the development plans, a mixed-use property would fit right into the narrative of West Hollywood as of late, and with the combined two properties, Astani would be working with 17,600 square feet of land. The value of a development would depend on a variety of factors, including its height, uses and construction materials.
"Things are trading at high prices, and I think Sunset has always been a desirable real estate play for sophisticated players, but now more than ever," said Jeff Klein, owner of the Strip's Sunset Tower Hotel. "I can't think of another corridor with the same retail and hospitality blend."
Prev Next
For reprint and licensing requests for this article, CLICK HERE.