Outside Box
Oak Paper Products brings partner into fold to build state-of-art, automated facility.
Monday, August 31, 2015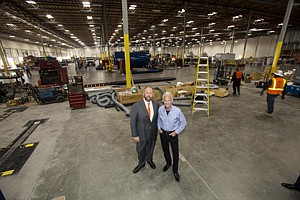 David Weissberg, chief executive of Oak Paper Products Co. Inc., looked at the company's small corrugated-box manufacturing subsidiary and its place in L.A.'s crowded landscape and decided it just wasn't working.
But rather than dump the operation and focus on the company's primary business lines selling and distributing corrugated boxes, paper and packaging supplies, Weissberg got aggressive.
He is shuttering the antiquated Vernon manufacturing operation, AMD Container & Display, and has partnered with western Pennsylvania corrugated packaging manufacturer U.S. Corrugated Inc. to build a
$30 million state-of-the-art, highly automated box plant in Santa Fe Springs. Weissberg and Dennis Mehiel, U.S. Corrugated's chief executive, are partners in the business that will operate the new manufacturing business, U.S. Corrugated of Los Angeles Inc., which they say will expand Oak's manufacturing capabilities and give U.S. Corrugated a West Coast subsidiary for its westward expansion.
The Santa Fe Springs plant, at nearly 240,000 square feet, spans a half-block. Inside, automated cars running on tracks built into the floor will move pieces of corrugated packaging materials from one process to the next. Robotic arms will also automate most tasks that workers did previously.
The automation will increase quality and accelerate production, which are critical factors these days, Weissberg said, as customers now plan two to three weeks into the future versus longer three- or four-week schedules they had in the past. It will also help drive costs down.
Weissberg said the Santa Fe Springs facility will run 85 percent to 90 percent more capacity than the Vernon plant did.
Though he wouldn't specify the savings at the new plant, Weissberg said the 33,000-square-foot, 13-year-old Vernon facility is far smaller and its equipment dated.
"Manufacturing costs will be reduced greatly due to the fact that the machinery in Vernon was quite aged while the new equipment is state of the art," he said.
"More people are getting into (corrugated packaging) with the advent of sophisticated manufacturing equipment, and there's more and more consolidation in the industry," Weissberg said. "This plant will be more efficient, produce better quality and more quickly and the product will be more effectively priced. This makes us the low-cost producer and the most cost-efficient producer."
Indeed, the L.A. market is one of the country's most competitive for corrugated-box plants, said Steve Young, president of Alexandria, Va., trade group Association of Independent Corrugated Converters, with the industry concentrated in Santa Fe Springs, Pico Rivera, City of Industry and La Mirada.
"Box plants are like Starbucks in L.A. County," Young said.
These plants, he said, have also become more efficient, increasing productivity even as competition from lighter packaging alternatives such as plastic wrap has increased.
U.S. Corrugated's Mehiel said that the rise of competitive packaging materials is a challenge, particularly when it came to orders from manufacturing customers, but demand from e-commerce customers has compensated for that.
The market for corrugated packaging has increased slowly but steadily for decades, he said, pointing to an Aug. 17 Deutsche Bank Securities Inc. report that said July's box shipments improved 1.3 percent year over year and the increase in inventory last month was "relatively in line with historical averages." The report also projected stable demand for the product over the coming year.
Mehiel said they don't take time speculating about how the market will react to additional capacity because the new business, which will operate as USC/AMD, had a strong base from which to work.
While U.S. Corrugated put up most of the $30 million to equip the new plant through a combination of new equity and debt, Oak's Acorn Paper Products unit struck multiyear agreements that guarantee the sale of 40 percent of the plant's capacity, thus reducing risk.
Mehiel said he wanted to be sure customers were already on board before building the facility, having learned from the troubles at a plant he built in 2008 without dedicated customers. The result was horrendous and one he refused to repeat for the Santa Fe Springs plant.
"The key was to have committed volume before we committed the capital," Mehiel said. "They (Acorn) buy in quantity and redistribute to their customers. They have thousands of customers and know how much corrugated they are going to buy. They know exactly what they are running and exactly at what price. We understood this before we commissioned this factory, and as a business, we think we will become quite profitable."
Oak Paper Products' roots in Los Angeles date to 1946, when founder Jack Bernstein, Weissberg's grandfather, set up the business after relocating from Chicago. It operates Acorn, Oak Distribution Co. and, until it closes Oct. 31, the AMD manufacturing business. It sells not only corrugated boxes but packaging supplies to wine producers and the foodservice, agriculture, personal care, health and beauty and household goods industries. Acorn also creates custom packaging and designs point-of-purchase displays.
Together, the units generated revenue of more than $100 million last year, and the company has been expanding throughout California and across the United States by opening and acquiring additional distribution sites and sales and packaging design facilities. It recently bought Miami's Aviation Express, a supplier of packaging and security-related items to air and sea cargo carriers and warehouses.
The new facility is scheduled to open in the coming weeks, and Weissberg said he expects to have about 100 employees at the plant if business grows as expected.
The new business is co-owned by Mehiel and Weissberg, and Weissberg's father and cousin, who separately own Oak Paper Products. The distinction was made, Weissberg said, for no reason other than they wanted to do it as individuals.
Hitting the 100-employee number is a benchmark toward receiving the $500,000 tax credit the company was granted by the state's Office of Business and Economic Development.
"Some people would say, You have to have your head examined to manufacture here," Weissberg said. "California is still one of the best states as far as business opportunities go. We want to be part of that."
Mehiel agreed, saying that while they were able to receive incentives that will help reduce energy costs, the partners want to keep manufacturing jobs in California and the nation, so consumers here will continue to buy goods shipped in corrugated boxes.
"There's more and more consolidation in the industry," Weissberg said. "In order to compete, you need to be cutting edge in the manufacturing sector. You have to be either the best or you shouldn't do it."
For reprint and licensing requests for this article, CLICK HERE.