Chinese Banks Go Bicoastal
LENDING: Local duo vault into New York with pair of pickups.
Monday, August 31, 2015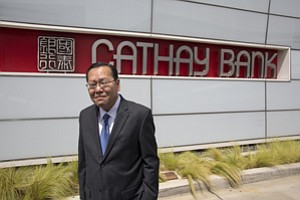 Banks tend to expand the same way most businesses do: by growing their footprint into neighboring territory. But as L.A.'s Chinese-American banks aim to grow, they're looking 3,000 miles away.
Earlier this month, Cathay General Bancorp, parent company of Chinatown's Cathay Bank, completed its purchase of Asia Bancshares Inc., parent of Asia Bank in New York's Flushing neighborhood. And in late July, downtown L.A.'s Preferred Bank agreed to buy all the outstanding stock of a smaller Flushing lender, United International Bank.
More deals could be on the way soon.
With business at home going well, helped by a massive influx of Chinese money into Los Angeles, local Chinese-American banks are likely to stay in deal-making mode, and the Big Apple – particularly Flushing, a heavily Chinese neighborhood in Queens – is a juicy target.
"In order to continue to grow, we obviously have to look outside of our Southern California and Bay Area markets," said Preferred Chief Financial Officer Ed Czajka. "The Flushing area does present a good opportunity. The Chinese population is fairly dense in that area."
While Los Angeles and the Bay Area are epicenters of Chinese America, the New York metropolitan area actually has a larger Chinese-American population than either of the California regions, according to 2012 census estimates. That potential customer base hasn't been lost on Heng Chen, chief financial officer of Cathay, L.A.'s second-largest Chinese-American bank.
"We have almost $2 billion of loans in the New York City area, so it's already a large market for us," Chen said, mentioning Cathay's $5 billion in loans to Southern California borrowers as a comparison. "It's got a large Chinese population and it's a global capital market location."
Balkanized banks
But New York is attractive for other reasons, too. While L.A.'s Chinese-American banking scene includes two dominant players – Cathay and Pasadena's East West Bank, the country's largest Chinese-American bank with $29.8 billion in assets – New York has no dominant player and that balkanized landscape makes the region a good spot for acquisitions.
"There are a lot of small Chinese banks in New York and it's a less consolidated region," said Julianna Balicka, an analyst who covers several banks including Cathay for the San Francisco office of New York investment bank Keefe Bruyette & Woods Inc.
But while there are no dominant Chinese-American banks there, the region still has several banks big enough to be interesting acquisition targets – something that differentiates New York from other cities where Chinese-American banks might exist but be too small, Chen said.
For reprint and licensing requests for this article, CLICK HERE.
Prev Next