Small Fish
Big order, big trouble for 'Shark Tank' winner
Monday, August 24, 2015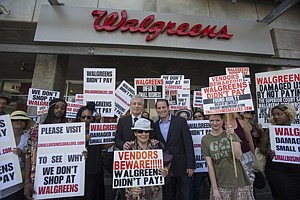 Keith and Brandon Marz swam out of ABC's "Shark Tank" with a big-name investor and into a handful of lucrative purchase orders from Walgreen Co. for Marz Sprays, their vitamin and health supplement company.
Yet three years later, their West L.A. company is treading dangerous water and on the verge of sinking.
The contracts with Walgreens, worth about $485,000, proved to be a devastating blow to the company, said Keith Marz, the company's founder and father of Brandon, its chief executive. Walgreens ordered 60,000 units of Marz Sprays' supplements, delivered through an oral spray, in January last year. But when it came time to pay, Walgreens balked.
"When you get an order from someone like that, it kind of puts you in a different category because you can now see how that success is going to lead to so many other things you want to do," he said. "That quickly changed."
After repeated requests for payment, Marz said he had no choice but to take his claim to court. In April, a Los Angeles Superior Court judge ordered Walgreens to pay the value of its contracts, plus interest accrued at 10 percent.
Marz Sprays finally received its payment – originally due in May of last year – two months ago, but it was already too late.
The company's bills had piled up, Marz said, and the yearlong delay forced him to cut his staff of about two dozen by two-thirds.
For many small-business owners, a massive purchase order from a large retailer such as Walgreens would be a dream come true. But it could put them out of business, warns Thomas Knapp, assistant professor of clinical entrepreneurship at USC's Marshall School of Business.
"They can damage you because you put so much of your energy and efforts and cash in that order," Knapp said. "Traditionally with large companies, it takes them a while to pay. It is a bit of a risky proposition to put all your investment behind one or two companies."
While it's not uncommon for smaller vendors to encounter delayed payments, Knapp said it's rare for a dispute to land in court.
That might be due to the high risk – and cost – of litigation, said David Swift, partner at Kinsella Weitzman Iser Kump & Aldisert in Santa Monica who was not involved in Marz Sprays' case.
"Litigation is unfortunately expensive," Swift said. "And just being involved in it because you got screwed out of money you were owed can really have a detrimental impact on a company, even when you win."
What's more, Swift said, the prevailing business can't be reimbursed for the attorneys' fees unless the contract at the core of the dispute specifically says it can. That makes it even tougher for companies to recover costs associated with a breached contract.
"Let's say somebody was screwed out of $50,000. You're not going to spend $100,000 to win $50,000," he said. "It's just a sad reality of our litigation system that not all wrongs can be righted and certain cases, even if they're valid and strong cases, just aren't economically feasible."
Tough luck
Keith Marz said that he had managed product development and research for weight-loss clinics in Los Angeles for years before he discovered how many Americans can't swallow pills, or have difficulty doing so.
He estimated that 100 million people in the United States have this problem, and his son was one of them.
"Brandon, as a child, could never swallow a pill," Marz said. "It didn't matter if I hid it in ice cream or hid it in cheese. … The bowl would be empty and there the pill would be sitting."
So he teamed up with several doctors to develop a line of oral sprays that could deliver the same nutrients found in vitamins in pill form.
By 2010, Marz had begun selling his first product, Slim Spray, an appetite suppressant, at a handful of weight-loss clinics throughout Los Angeles. Brandon Marz, who has a background in finance, joined his dad at the company in 2012 as chief executive.
By that point, Keith Marz had created a full line of products, including oral sprays that serve as a sleep aid or an energy supplement. Later that year, they were selected to pitch their business on "Shark Tank."
Lori Greiner, one of the show's co-stars, jumped on board. The show indicated she would invest $200,000 in Marz Sprays in exchange for a 25 percent stake in the company, but Brandon Marz said he couldn't disclose the terms of the final deal that was made after Greiner completed due diligence.

"Lori has been and always will be very beneficial from a celebrity perspective and really helpful from a retail perspective," Marz said. "But lately we have not been working together as much."
That, he said, is because the dispute with Walgreens forced the company to scale back its retail presence, which was the component Greiner had helped with most.
Greiner did not respond to a request for comment.
Either way, Marz said "it wouldn't matter if the pope or the president" called Walgreens, the pharmacy chain seemed firm in its decision not to pay.
Arthur Aaronson, Marz Sprays' outside counsel, said his clients were very limited in what they could recover from Walgreens. They ended up getting a little more than $521,000 – the value of the contracts plus interest – but because Walgreens didn't commit fraud, they couldn't collect additional damages.
"I don't know how to say it other than Walgreens just messed up their own records," Aaronson said. "The judge didn't have any qualms about who was right here."
Indeed, Superior Court Judge Lisa Hart Cole pointed out in her April decision that Walgreens admitted it had made a mistake, "but it fails to explain why it should be relieved from its unilateral mistake."
Walgreens spokesman Phil Caruso didn't have much to say about the case.
"We did have a dispute with a vendor called Marz Sprays and we settled the matter in court," he said in a statement. "We fully paid the amount decided by the court and his attorney acknowledged that we did so. Beyond that, we have nothing further that we can share."
Starting over
Even though the litigation is over, the Marzes are still fighting Walgreens.
They've hired a group of protesters to stand with signs in front of the Walgreens near Sunset Boulevard and Vine Street in Hollywood, and in front of the pharmacy chain's headquarters near Chicago.
"It's to bring awareness to anyone and everyone, basically how damaging a Goliath can be to a David with their failure to live up to their obligations," Keith Marz said. "They have a moral and ethical responsibility to make us whole."
At its peak, Marz Sprays products were sold in more than 10,000 retail locations around the world. Today, the oral spray line is sold in fewer than 1,000 independent pharmacies and grocery stores.
The company lost a slew of opportunities, Brandon Marz said, because he and his father could no longer afford to travel to industry trade shows or market their products.
But the younger Marz is planning a comeback.
He said he would launch a pair of online marketing campaigns in the coming weeks and has already established an online platform and fulfillment center, with the intention of beefing up online sales.
"The product online has much higher margins," he said. "It's convenient for customers as well."
Marz Sprays' sales topped $150,000 in 2012 and hit $1 million after it debuted on "Shark Tank," he said. But in the last year, revenue dropped to about $100,000 because of the Walgreens fiasco.
Still, Marz said he expects his company can bring revenue back up to more than $2 million by the end of this year.
"We certainly don't want to cry about the past," he said. "We think we can turn this company into a major consumer brand. We're not backing down; we're going to keep fighting and we're going to persevere."
For reprint and licensing requests for this article, CLICK HERE.