Co-Working Finds Space in Tech Scene
REAL ESTATE: Flexibility, price points prove good fit for startups.
Sunday, August 23, 2015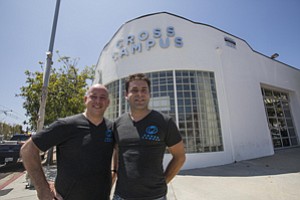 Chad Vanags' startup is growing, but he won't be moving into a formal office any time soon.
Bootstrapped since its inception in April 2014, his four-employee email marketing service Ecommerce Influence is housed in a communal office, commonly called co-working space.
"The word 'lease' just gives me the heebie-jeebies. I don't want to be locked to anything," said Vanags, whose shared office in Venice is owned by NextSpace Inc. "We really never thought at looking at an office space. We knew the flexibility and what a co-working space offered. Everything was set up and ready; just plop yourself down and go."
Vanags is among a growing number of entrepreneurs, freelancers and remote workers who have been drawn to the hundreds of thousands of square feet of co-working spaces that have opened recently in Los Angeles. These spaces, operated by both upstart firms and those backed by many millions in venture capital, have cropped up most notably in Santa Monica, Venice, Playa Vista, Culver City, Hollywood, Pasadena and downtown Los Angeles – the region's tech hot spots.
No hard numbers on the total amount of space taken by these businesses are available, but it is clear they are taking large chunks of office space off the market.
Consider:
After opening in 16,000 square feet of co-working space in Santa Monica in 2012, Cross Campus opened an 18,000-square-foot space in Pasadena in February and is expected to open a 33,000-square-foot space downtown in January.
New York's WeWork, valued at $10 billion by its venture capitalist investors, has two spaces in Los Angeles and has signed leases for three more, including an estimated 90,000 square feet in the Gas Co. Tower downtown.
High-end co-working business NeueHouse of New York has committed to take 93,000 square feet at Kilroy Corp.'s Columbia Square project in Hollywood.
In all, there are more than 50 co-working facilities in Los Angeles, according to website Represent.LA, and more are on the way.
"Penetration into what we think of the addressable market is really low, by our
estimate (just) 1 to 2 percent," said Ronen Olshansky, Cross Campus' co-founder
and chief executive. "I think the scale of demand is going to surprise people in the next few years."
Perks
The co-working business model at its core is simple: The site operator signs a long-term commercial lease, throws out some chairs, tables and Wi-Fi and then sublets space to entrepreneurs, freelancers and remote office workers.
Co-working businesses take on the responsibility of handling more mundane administrative tasks for their subtenants, commonly called members: brewing coffee, supplying snacks, maintaining Internet connections and keeping the printer stuffed with paper. They also allow users to lease a desk, rather than committing to hundreds of square feet of office space for years on end.
Still, argued Dan Dato, Cross Campus' co-founder and chief operating officer, running the business is "a hell of lot more than (providing) an office and a desk. The hardest part of the business is the event programming, the hospitality."
Co-working spaces market both their perks and sense of community.
Cross Campus' new downtown location, for example, will come with a full-service artisanal coffee bar, rejuvenation rooms and member discounts with a masseuse who visits regularly. WeWork locations boast free beer, fruit water and video-game arcades. (Full disclosure: The Business Journal rents a desk at WeWork's Santa Monica location.)
Perks and community aside, the primary appeal is flexibility. And not surprisingly, the expansion of the co-working phenomenon in Los Angeles has tracked the growth of the tech industry, which craves flexibility.
L.A. startup Soothe, developer of an app to order in-home massages, spent its first few unpredictable months at WeWork's Hollywood facility.
"For a corporate headquarters, it's not a scalable option because the price per square footage is incredibly high," said co-founder and Chief Executive Merlin Kauffman, who started the company with $400,000 of his own money. "But if you need to put one person in an office very quickly, it's a great solution."
The cost, indeed, can be high. One two-person office in Santa Monica is about 80 square feet and costs $1,475 a month with a one-year agreement. That figures out to more than $18.40 a square foot a month, more than three times higher than the $5.02 average for Class A space in Santa Monica last quarter. Co-working landlords point out they also supply the office equipment, utilities, Internet connection, coffee and access to larger conference rooms, taking some of the sting out of the high price.
Co-working spaces have also been able to proliferate because of changing expectations of work spaces: So-called creative office layouts allow operators to pack in tenants more densely.
"Five to 10 years ago, it was 250 square feet per person," said Olshansky. "With today's creative office environment, people are working much closer together, 50 to 75 square feet per person."
The typical cost for an unreserved seat at an L.A. co-working table is about $350 a month, a dedicated desk is about $500 a month and private offices for two people range from $1,200 to $1,500 a month.
Packing members in elbow to elbow means fees can add up quickly. And, like gyms, co-working facilities often overbook their open-table memberships knowing that many users will not come regularly.
"With a good operating model, you can book 200 percent of the capacity, assuming not everyone will be there," said Jerome Chang, founder and chief executive of Santa Monica co-working business Blankspaces.
Landlords, too, like leasing to co-working businesses, which take large chunks of space and showcase their buildings.
"All in all, getting more people to see your building, and to be a tenant in your building, spreads the word about the great attributes a building might have to offer," said Gibran Begum, managing director at Newmark Grubb Knight Frank, who brokered the deal for WeWork's 44,500-square-foot space in the Fine Arts Building in downtown Los Angeles. What's more, "they typically will pay market or top-of-market rents to be able to lock up premier locations."
The 10-year lease on WeWork's 40,000-square-foot location on Broadway in Santa Monica has an estimated value of $24 million.
"It's a business that has a very low barrier to entry. Anyone can get a space, staff it up and try to get a lot of people in their space," said Cameron Kashani, co-founder of Santa Monica co-working space Coloft.
With that comes risk. With so many co-working spaces opening their doors, there is a chance they can blow past market demand.
"It's kind of the Wild, Wild West right now. It's really new, so people are figuring it out," said Chang. "There's going to be a tipping point soon, where things start shaking out. We'll see what really works."
For reprint and licensing requests for this article, CLICK HERE.