Revived Hospital Checks In With New Image, Staff
HEALTH CARE: CEO says deadly past did not hamper MLK's hiring campaign.
Monday, August 17, 2015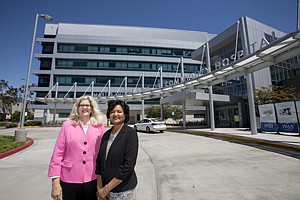 Filling 800 jobs at the new Martin Luther King Jr. Community Hospital might sound like a herculean task, especially given the reputation of the medical center's notorious predecessor.
The old Martin Luther King Jr.-Harbor Hospital in Willowbrook closed in 2007 after a spectacular series of patient care lapses and deaths, leaving a gaping hole in South L.A.'s already stretched safety net system.
Given that history, enticing nurses, doctors, support staff and executives to join the new MLK could've been a chore. It hasn't been. The hospital said it received some 14,000 applications for the 650 positions that already have been filled. The physician groups it works with got an additional 200 resumes for medical staff positions.
Key to the pitch has been a complete break from the old MLK.
"We're still on the Martin Luther King medical campus, but everything else is different," said Dr. Elaine Batchlor, the hospital's chief executive.
And new. The building, medical equipment, governing body, care delivery model and staff are all fresh, said Batchlor, who spent more than eight years as chief medical officer of state-created health care agency L.A. Care Health Plan. Also new, she noted, are the culture, mission and values of the hospital.
That newness, combined with the passage of time since the old facility closed, would make it easier to attract plenty of people to run a top-notch hospital, said Alec Levenson, senior research scientist at USC's Center for Effective Organizations.
"I wouldn't expect the reputation of the old institution would taint the current one," Levenson said. "There was a pretty clean break with the past. It was closed for many years and now opened under entirely new management."
He added that helping restore an important community institution could be a big draw for hires at MLK.
"They're under a microscope, and so the reward from not only opening but successfully running it is much greater than if just opening a new hospital in a place that never had one before," he said.
Stigma to fresh start
The hospital's reboot got an early boost from billionaire Dr. Patrick Soon-Shiong, who provided a $100 million underwriting guarantee to help Los Angeles County secure credit to fund the hospital's renovation, reopening and staffing.
As a result, the hospital, run by Martin Luther King Jr. Los Angeles Healthcare Corp., a private nonprofit created by the county with help from the University of California, has a $170 million commitment from the county, which owns the building and surrounding campus.
For reprint and licensing requests for this article, CLICK HERE.
Prev Next