Revived Hospital Checks In With New Image, Staff
HEALTH CARE: CEO says deadly past did not hamper MLK's hiring campaign.
Monday, August 17, 2015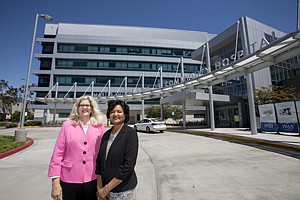 Filling 800 jobs at the new Martin Luther King Jr. Community Hospital might sound like a herculean task, especially given the reputation of the medical center's notorious predecessor.
The old Martin Luther King Jr.-Harbor Hospital in Willowbrook closed in 2007 after a spectacular series of patient care lapses and deaths, leaving a gaping hole in South L.A.'s already stretched safety net system.
Given that history, enticing nurses, doctors, support staff and executives to join the new MLK could've been a chore. It hasn't been. The hospital said it received some 14,000 applications for the 650 positions that already have been filled. The physician groups it works with got an additional 200 resumes for medical staff positions.
Key to the pitch has been a complete break from the old MLK.
"We're still on the Martin Luther King medical campus, but everything else is different," said Dr. Elaine Batchlor, the hospital's chief executive.
And new. The building, medical equipment, governing body, care delivery model and staff are all fresh, said Batchlor, who spent more than eight years as chief medical officer of state-created health care agency L.A. Care Health Plan. Also new, she noted, are the culture, mission and values of the hospital.
That newness, combined with the passage of time since the old facility closed, would make it easier to attract plenty of people to run a top-notch hospital, said Alec Levenson, senior research scientist at USC's Center for Effective Organizations.
"I wouldn't expect the reputation of the old institution would taint the current one," Levenson said. "There was a pretty clean break with the past. It was closed for many years and now opened under entirely new management."
He added that helping restore an important community institution could be a big draw for hires at MLK.
"They're under a microscope, and so the reward from not only opening but successfully running it is much greater than if just opening a new hospital in a place that never had one before," he said.
Stigma to fresh start
The hospital's reboot got an early boost from billionaire Dr. Patrick Soon-Shiong, who provided a $100 million underwriting guarantee to help Los Angeles County secure credit to fund the hospital's renovation, reopening and staffing.
As a result, the hospital, run by Martin Luther King Jr. Los Angeles Healthcare Corp., a private nonprofit created by the county with help from the University of California, has a $170 million commitment from the county, which owns the building and surrounding campus.
The current facility replaced a hospital that was built in the wake of the 1965 Watts Riots but for years was dogged by episodes of patient mistreatment. One of the final incidents came in May 2007 when video surveillance captured a woman writhing in pain for 45 minutes on the ER waiting room floor while a janitor mopped up the blood and vomit around her. She later died.
The old MLK closed later that year after losing its accreditation and funding, shunting patients to other already overburdened hospitals and forcing the neighborhood's underserved residents to go further for care.
But today, the county and the University of California have appointed a new board, which includes current and former executives from Kaiser Permanente, Children's Hospital Los Angeles and Providence Healthcare, that formed MLK Los Angeles Healthcare Corp. The county constructed the hospital building and provides supplemental funding for Medi-Cal and indigent care; the University of California is supplying some medical specialists.
The 131-bed hospital is in the process of a phased opening that started in May. The emergency room began welcoming walk-ins last month and recently started accepting ambulance runs.
Attractive opportunity
While molding a new institution was attractive, working with the new leadership was also a draw, said Rebecca Bales, a senior vice president at El Segundo health care consulting firm Camden Group.
"We showed (potential hires) the board – it's a who's who of health care in Los Angeles," said Bales, who served as interim chief financial officer of the hospital for three years while her firm helped set up the medical center. That, coupled with the new culture, made the pitch to prospective personnel an easy story to tell.
On the physician side, UCLA doctors will provide anesthesiology, radiology and urology services. The hospital also contracts with outsourced physician groups for hospitalists, intensivists and emergency room doctors, which Bales said is common in the industry.
Launching a completely new facility was an opportunity to build something that will outlast the staff itself, said Vice President of Human Resources Susan Burrows.
"I have had the wonderful opportunity in my career to be a part of teams that built new towers, replacement hospitals or acquired hospitals," said Burrows, who had held the same job at Children's Hospital of Orange County. "But never in my career have I been employee No. 7."
And there were those who sought out work at the hospital on their own.
Dr. Antonio Bonet, medical director of the intensive care unit, had been an attending physician at county-owned Olive View-UCLA Medical Center in Sylmar when he heard from a friend that the new MLK was set to open and looking for physicians.
"I had always been interested in treating Hispanic, low-income patients," said Bonet, who'd even spent a little time working with doctors at the old MLK while in a joint medical school program at UCLA and Drew University about a decade ago.
Bonet was struck by the details at the gleaming new hospital on his first tour when he came to interview.
"One of the big things that caught my attention was how everything is in both Spanish and English pointing to the cultural sensitivity behind the hospital," he said of the signage. "Everything was very nice and modern. … I thought it was beautiful."
For reprint and licensing requests for this article, CLICK HERE.