Investors Come Together For M&A Adviser's IPO
FINANCE: Public debut turns into profitable day for Houlihan's parent.
Monday, August 17, 2015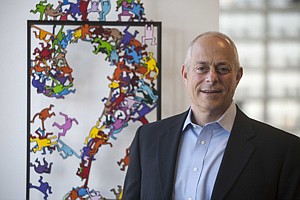 Despite a tumultuous week on Wall Street, where the Chinese economy was the worry du jour, it looks like investors still have confidence that the ongoing boom in mergers and acquisitions is far from over.
That led to a strong trading debut for Century City investment bank Houlihan Lokey Inc., a once-regional outfit that has become a top national adviser in M&A deals and corporate restructurings. The firm went public last week.
At $21 a share, Houlihan's stock was priced below the expected range of $22 to $24, and the size of the offering was reduced to 10.5 million shares from an original 13.1 million. But despite that inauspicious debut and market headwinds caused by concerns about China, investors found Houlihan's shares a solid acquisition target, sending them up nearly 7 percent on the day to close at $22.40, valuing the company at about $1.5 billion.
Houlihan Chief Executive Scott Beiser, who's been at the company for 31 years, was excited about the early response and said the listing on the New York Stock Exchange – where Houlihan trades under the symbol "HLI" – is a crowning achievement for what began as a local valuation firm in 1972.
"This is going to give us more brand recognition," Beiser said. "People know pockets of the firm, but this will lead to more avenues. We believe it's the right destiny for the firm."
It helps that Houlihan's bread-and-butter business, providing M&A advice to middle-market companies, is sizzling right now. Total deal values and individual transaction multiples have bounced back to nearly precrisis levels, and Houlihan has been the most active adviser involved in U.S. deals under $1 billion for the past nine years. Beiser said being public will only help the firm get its name in front of more potential clients.
"The midcap space is becoming so large," he said. "It's about getting out to more prospects and how we can provide them with ongoing advice."
New dawn
Beiser said going public was something Houlihan had considered for years, but it was only within the last year that management committed to an IPO.
The company itself didn't need – and isn't bringing in – more capital. An affiliate of Houlihan's Japanese parent, Orix Corp., and an entity controlled by Houlihan management sold 10.5 million existing shares, reaping a total payout of $220.5 million. Most of the shares, more than 8 million, were sold by Orix.
Houlihan isn't bringing in any new money from the offering. Instead, the offering was about raising Houlihan's profile, giving the company's longtime executives some liquidity and cashing out a sizable chunk of Orix's stake. The Japanese finance giant bought 70 percent of the company for $500 million in 2006. After the offering, Orix now owns about 33 percent.
Beiser said Orix going from a majority to minority stakeholder won't have any impact on Houlihan's business, and that the decision to go public was mutual.
"We've always acted as a partnership and they've been great supporting partners," Beiser said. "For 10 years, they've invested and they continue to be on our board going forward."
Natsumu Tsujino, an analyst who covers Orix for JP Morgan Securities Japan Co. in Tokyo, said she was a little surprised Orix decided to divest so much of its stake, but it appears to her that Orix had determined Houlihan was not core to its business and that this was a good time to cash out.
"We believe Orix has not been able to generate much synergy through working with Houlihan, therefore, it makes sense to divest when the market is good and allocate the money to other investments," she said in an email to the Business Journal.
Orix Chief Executive Makoto Inoue has mentioned his desire to aggressively pursue the acquisition of asset management firms in several interviews this year. After raising $168 million by selling shares of Houlihan, Orix has more cash to pursue deals.
Orix declined to comment for this story. But since Orix's current 33 percent stake is valued at slightly less than $500 million – nearly the amount of its original investment – that appears to make last week's $168 million in proceeds, plus some earlier sales, almost entirely profit for Orix.
Big player
Houlihan has about 1,000 employees in 18 offices around the world, having opened its newest shop in Sydney in January. The company earned net income of nearly $80 million in the 12 months ended March 31.
Beiser, who began at Houlihan when the firm had about 25 employees, said it was a dream come true to ring the opening bell at the New York Stock Exchange, and it was even more special to do so alongside colleagues he had worked with for decades.
Houlihan's executive management team, which includes Executive Chairman Irwin Gold and Co-President Scott Adelson, has an average tenure of more than 25 years. Beiser said their long history and mutual understanding came out in a potentially scary way during one of the company's pre-IPO meetings with investors.
"I was talking and I started choking on a cookie," Beiser said. "Without missing a beat, one of my partners filled in the sentences. It was a seamless conversation – and I swallowed the cookie and survived."
For reprint and licensing requests for this article, CLICK HERE.