Investors Come Together For M&A Adviser's IPO
FINANCE: Public debut turns into profitable day for Houlihan's parent.
Monday, August 17, 2015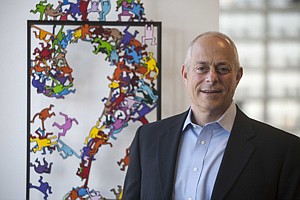 Despite a tumultuous week on Wall Street, where the Chinese economy was the worry du jour, it looks like investors still have confidence that the ongoing boom in mergers and acquisitions is far from over.
That led to a strong trading debut for Century City investment bank Houlihan Lokey Inc., a once-regional outfit that has become a top national adviser in M&A deals and corporate restructurings. The firm went public last week.
At $21 a share, Houlihan's stock was priced below the expected range of $22 to $24, and the size of the offering was reduced to 10.5 million shares from an original 13.1 million. But despite that inauspicious debut and market headwinds caused by concerns about China, investors found Houlihan's shares a solid acquisition target, sending them up nearly 7 percent on the day to close at $22.40, valuing the company at about $1.5 billion.
Houlihan Chief Executive Scott Beiser, who's been at the company for 31 years, was excited about the early response and said the listing on the New York Stock Exchange – where Houlihan trades under the symbol "HLI" – is a crowning achievement for what began as a local valuation firm in 1972.
"This is going to give us more brand recognition," Beiser said. "People know pockets of the firm, but this will lead to more avenues. We believe it's the right destiny for the firm."
It helps that Houlihan's bread-and-butter business, providing M&A advice to middle-market companies, is sizzling right now. Total deal values and individual transaction multiples have bounced back to nearly precrisis levels, and Houlihan has been the most active adviser involved in U.S. deals under $1 billion for the past nine years. Beiser said being public will only help the firm get its name in front of more potential clients.
"The midcap space is becoming so large," he said. "It's about getting out to more prospects and how we can provide them with ongoing advice."
New dawn
Beiser said going public was something Houlihan had considered for years, but it was only within the last year that management committed to an IPO.
The company itself didn't need – and isn't bringing in – more capital. An affiliate of Houlihan's Japanese parent, Orix Corp., and an entity controlled by Houlihan management sold 10.5 million existing shares, reaping a total payout of $220.5 million. Most of the shares, more than 8 million, were sold by Orix.
Prev Next
For reprint and licensing requests for this article, CLICK HERE.