SEC Charges Remain Drain on Generator Firm
INVESTMENT: Settled case still hampers Aura's quest for capital.
Monday, August 10, 2015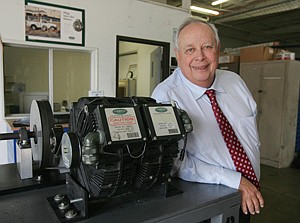 Aura Systems Inc.'s patented power generators have been used by every branch of the U.S. military and have helped foreign navies scour the seas. So popular are they that Aura has nearly $100 million in orders awaiting fulfillment.
Yet the El Segundo company teeters on the edge of bankruptcy, unable to raise the working capital needed to deliver the goods.
Haunted by a decade-old allegation of accounting fraud, Aura has been unable to entice investors largely because of Securities and Exchange Commission charges that, in the end, never amounted to much, Chief Executive Melvin Gagerman said. Aura settled with the SEC shortly after the claim was raised and was never penalized. What's more, the only executive indicted on criminal charges was eventually found not guilty by a federal jury.
But Aura still gets the cold shoulder.
"We've gone to private equity firms, we've gone to individual investors," Gagerman said. "We've lost various critical opportunities because of the allegations that occurred in the past. It's been a real problem."
Earlier this summer, Aura had a deal lined up with a group of individual investors who, he said, were willing to provide enough money to solve the company's working capital needs. But when the investors learned about the SEC allegations, the deal fell through.
"The people were really in the 12th hour and stepped away because their attitude was, 'Oh, there was an SEC investigation so they must have done something bad,' even though nothing happened," he said.
Aura's predicament is not uncommon.
Given the volume of investment opportunities available, many investors shy away from working with a company that has a blemished record, said Jeff Sklar, an attorney in Century City who regularly represents investors in securities transactions.
"When you identify through due diligence that a company in which you want to invest has experienced a fraud or security-type issue, or has gotten the attention of the SEC in any way, it certainly sends alarms to an investor," he said. "An investigation can be nothing more than an investigation, but that doesn't necessarily mean the taint is removed from the company's image."
Oftentimes, investors who come across a company with a tarnished track record will either walk away or ask for a sweeter deal, he said.
"All investments have risk," he said. "So if you have a blemish on a business that goes to credibility or potential fraud or other sorts of issues, then your risk profile for the investment, at least theoretically, has increased."
Military ties
Aura dates to 1987, when it was formed as a defense industry think tank. As it collaborated with defense contractors during the Cold War, it shifted to become a manufacturer.
Today, the company makes the AuraGen, a patented mobile power generator that weighs less than 70 pounds and stands about 20 inches high – much smaller and lighter than competing products.
A version of AuraGen dubbed the Viper is used by militaries in the United Kingdom, France, Israel and Mexico.
Military contracts had the company on the fast track – until the late 1990s.
An SEC investigation led to accusations in 2002 that Aura had overstated its revenue by at least $26.5 million by including sales of computer products the commission said were nonexistent. It also said NewCom Inc., a company in which Aura had a majority stake, had balance sheet overstatements amounting to more than $43 million.
Aura, without admitting guilt, settled with the SEC shortly after the charges were filed and hired new management, including Gagerman, who took over as chief executive in 2002.
Steven C. Veen, Aura's former chief financial officer, was the only executive charged by the Justice Department with criminal allegations. Most details in his case are sealed, but Veen was found not guilty after a 2003 trial.
The SEC's communication office declined to comment on the case and its investigation.
New beginning
Aura has since tried to move past the allegations, but Gagerman said investors haven't been as willing.
The company, which trades on the Over-the-Counter market for a few cents a share, reported revenue of $80,000 for the quarter ended Nov. 30, down from $852,000 in the year-earlier period. Its net loss in both periods exceeded $2 million, and it had assets of just $1.2 million against liabilities of nearly $37 million. (In May, the company filed paperwork with the SEC saying it would not be able to file required financial reports in a timely manner.)
Gagerman said while Aura's profit margin on its generators falls between 40 percent and 50 percent, it has had to survive on the few orders it has been able to fill. It has some $100 million in orders backlogged but lacks the means to fill them.
The company's attorney, Tamara Kurtzman, said in an email that because Aura makes specialty products, banks won't make loans against the value of the orders. Lenders require that orders be fulfilled, but at that point payment would be due from the buyer and the loan unnecessary.
Kurtzman, who did not work for the company at the time of the SEC investigation, said virtually all the problems Aura faces today can be attributed to the decade-old allegations.
"In some ways, all of this is really ancient history," she said. "But it's a history that will not go away and it continues to haunt the company unfairly, even though there has been a management change."
There are businesses that have rebounded quickly after being exonerated of SEC charges, though circumstances vary wildly.
Take Mark Cuban, for example. The billionaire owner of the Dallas Mavericks was accused in 2008 of insider trading and wasn't acquitted by a jury until five years later.
In an email, Cuban, still a mainstay of ABC's business-pitch reality competition "Shark Tank," said the charges cost him only a few deals out of many.
But for companies like Aura, which Gagerman said did not have the means to fight the allegations at the time, it can be tougher to rebound.
"I'm not Mark Cuban and this company is not Mark Cuban," he said. "I have a company with a great technology that's getting great acceptance in the marketplace worldwide, with part of its challenges being the fact that allegations that were never proven have hindered our ability, even today, to raise necessary working capital."
For reprint and licensing requests for this article, CLICK HERE.