SEC Charges Remain Drain on Generator Firm
INVESTMENT: Settled case still hampers Aura's quest for capital.
Monday, August 10, 2015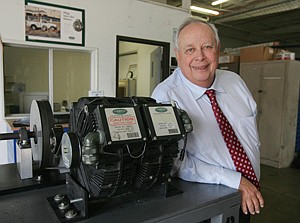 Aura Systems Inc.'s patented power generators have been used by every branch of the U.S. military and have helped foreign navies scour the seas. So popular are they that Aura has nearly $100 million in orders awaiting fulfillment.
Yet the El Segundo company teeters on the edge of bankruptcy, unable to raise the working capital needed to deliver the goods.
Haunted by a decade-old allegation of accounting fraud, Aura has been unable to entice investors largely because of Securities and Exchange Commission charges that, in the end, never amounted to much, Chief Executive Melvin Gagerman said. Aura settled with the SEC shortly after the claim was raised and was never penalized. What's more, the only executive indicted on criminal charges was eventually found not guilty by a federal jury.
But Aura still gets the cold shoulder.
"We've gone to private equity firms, we've gone to individual investors," Gagerman said. "We've lost various critical opportunities because of the allegations that occurred in the past. It's been a real problem."
Earlier this summer, Aura had a deal lined up with a group of individual investors who, he said, were willing to provide enough money to solve the company's working capital needs. But when the investors learned about the SEC allegations, the deal fell through.
"The people were really in the 12th hour and stepped away because their attitude was, 'Oh, there was an SEC investigation so they must have done something bad,' even though nothing happened," he said.
Aura's predicament is not uncommon.
Given the volume of investment opportunities available, many investors shy away from working with a company that has a blemished record, said Jeff Sklar, an attorney in Century City who regularly represents investors in securities transactions.
"When you identify through due diligence that a company in which you want to invest has experienced a fraud or security-type issue, or has gotten the attention of the SEC in any way, it certainly sends alarms to an investor," he said. "An investigation can be nothing more than an investigation, but that doesn't necessarily mean the taint is removed from the company's image."
Oftentimes, investors who come across a company with a tarnished track record will either walk away or ask for a sweeter deal, he said.
"All investments have risk," he said. "So if you have a blemish on a business that goes to credibility or potential fraud or other sorts of issues, then your risk profile for the investment, at least theoretically, has increased."
Prev Next
For reprint and licensing requests for this article, CLICK HERE.